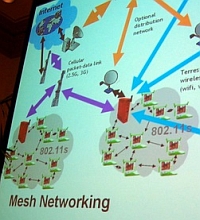 Do you remember when airborne antenna maker AeroSat said it was developing an in-flight Internet system based on an aircraft-to-aircraft relay communications system?
Well, AeroSat is not the only firm that is interested.
EMS, which provides darn near everything to an aircraft but the kitchen sink (see below) and, notably, is supplying the Ku-band antenna for Panasonic's Ku-band satellite-based eXConnect system, is "very interested in mesh networks", says EMS vice-president of strategy and innovation Gary Hebb.
Key quote:
"They are excellent for the military. But you've got to install a lot of them before it works. Is one airline enough to support a mesh network or would all [need to participate]?"
Good point!
So does Hebb rule out a mesh network for the commercial space?
Not exactly.
Hebb says EMS is keen to use every tool in the shed to find the most cost efficient way to send/receive data from an aircraft.
"Something that is its own infrastructure is inherently low-cost. I believe it will happen eventually. My grandchildren might enjoy it."
Cheeky monkey alert – how old are you Gary? I'm trying to get a lock on the timeline you're suggesting here…teeheehee.