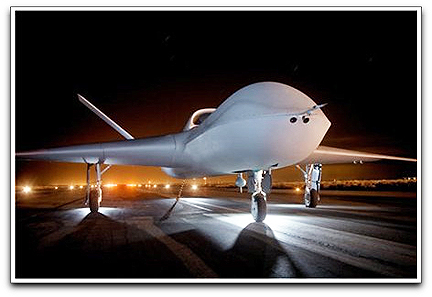 When General Atomics Aeronautical Systems Inc (GA-ASI) unveiled the Avenger last spring, it seemed the entrepreneurial outfit that has made a fortune selling Predators and Reapers to the US Air Force had once again beaten the competition to a lucrative new market: stealthy, jet-powered, tactical-level unmanned aircraft systems.

Well, now we know the US Air Force already has one of those. The Lockheed Martin RQ-170 Sentinel not only exists, it appears to be operational in Afghanistan.

My colleague John Croft attended the roll-out of GA-ASI's Guardian maritime patrol UAV on Monday in Palmdale, California. John's cross-country trip was rewarded by a few minutes of rare face time with GA-ASI CEO Tom Cassidy, a man not known for his embrace of the fourth estate. John gingerly broached the subject of the RQ-170.



John: What do you think about the RQ-170 and how do you think that will affect competition for the MQ-X contract?

Tom: (Silence)

John: ?

Tom: (More silence)

John: So … what's going on with the Avenger these days?

Tom (paraphrased): The first Avenger is flying, but the second Avenger should be flying in the spring. Nothing else is as capable as the Avenger. "We're hoping the Air Force will embrace it."



(Emphasis added.)