Airbus is looking to source rudders for A320neo-family aircraft which will be based on an environmentally-sustainable construction technique.
The airframer is to co-operate with Belgian structures specialist EconCore, German research firm Fraunhofer and the Technical University of Denmark on the proposed rudder – known as the 'EcoRudder' – which will be based on thermoplastic honeycomb sandwich composites.
"Composite sandwich construction has proven to be a very efficient structural concept in structural aircraft parts," says EconCore.
But it says "green composites" are replacing other conventional materials, such as epoxy laminates, while – in the case of aerospace – not compromising crucial mechanical stress criteria.
"Sufficient robustness and structural integrity against service loads, as well as potential recycling of the thermoplastic constituent materials, must also be ensured," it adds.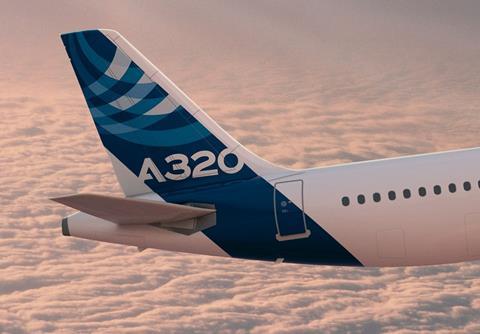 Development of the sustainable rudder structure is part of the European Union's Clean Aviation programme, and comes under the 'Faster-H2' project, which focuses on low-weight fuselage and empennage components.
"It is envisaged that the rudder structure will be redesigned and replaced with thermoplastic materials that have the potential to be recycled after the aircraft has been decommissioned," says EconCore.
EconCore states that the new sandwich structures will be evaluated against rudder requirements and, as part of the project, a recycling concept will be demonstrated.
Alongside conducting analysis to ensure the EcoRudder meets certification requirements for the single-aisle aircraft family, the project partners will show that the component has a lower carbon footprint over its life-cycle.