Tamarack Aerospace is to modify a De Havilland Canada Dash-8 Q400 with its active winglet system over the next year, as part of a joint venture with Italian regional operator SkyAlps.
Under the agreement, SkyAlps will dedicate one Q400 turboprop to Tamarack for the eco-Smartwing modification.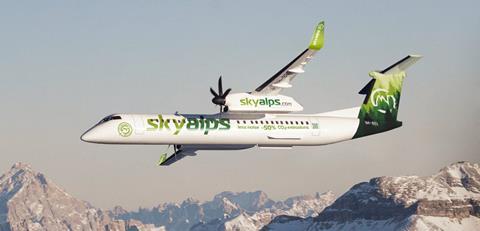 The demonstrator is expected to be flying "in the next nine to 12 months", says Tamarack chief executive Nick Guida, paving the way for eventual certification, which Guida says should happen in about two years.
"After certification, the aircraft will enter service with SkyAlps… we will also get on the schedule with them to retrofit [the rest of their fleet]. We'll be taking orders from other airlines too," Guida adds.
SkyAlps chief executive Alex Spinato says the aircraft will be ferried to Tamarack's Sandpoint, Idaho headquarters for modification works. The operator currently has a fleet of four Q400s, and expects to have an operational fleet of 14 turboprops by mid-2024.
The Smartwing consists of a wing extension, composite winglet and an active load alleviation system the company calls Atlas.
Separately, Guida says progress "is going well" on the development of its active winglet system for the Airbus A320. The company first disclosed its intention to bring its Smartwing system to the narrowbody jet – offering a potential fuel-burn reduction of up to 15% – in October 2022.
"We are working with many airlines now, it's going well… things are accelerating and I think in the next few months we will have an official launch," he says.