Embraer expects by mid-2021 to have revealed more detail on its next two aircraft developments, including a long-trailled turboprop airliner.
The Brazilian airframer has for several years expressed interest in bringing a new turboprop to market. While that ambition appeared to have faded following the failed merger in of its commercial aerospace unit with Boeing in April, in the past months executives have shown renewed enthusiasm for such a project.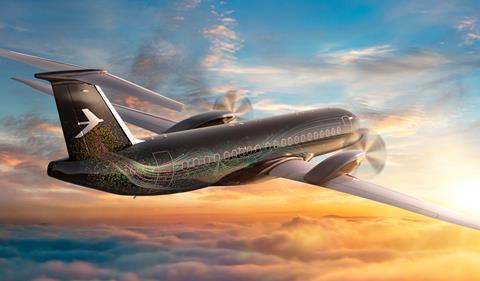 Embraer chief executive Francisco Gomes Neto is the latest to confirm that a turboprop airliner remains high on its list of development priorities.
He describes studies into the turboprop programme as "well advanced", and says that Embraer is seeking partners to accelerate the development.
"We are expected to have concrete news about some potential partnerships in Q1 next year," Gomes Neto says.
"We are exploring different alternatives," he adds. "Financial partners, or manufacturers as well… But also with technology."
While Gomes Neto will not be drawn on a when Embraer might officially launch the programme, he leaves little doubt that the airframer wants to make the 70-100-seat aircraft a reality.
"We like this project very much," he says, estimating the market opportunity to be about "1,000 units in the next ten years".
Embraer has revealed little detail on the design of the turboprop, but in a recent interview commercial aviation chief Arjan Meijer indicated that it would have conventional engines and would likely share its fuselage with the current E-Jet range.
Conventional propulsion is preferred due to the maturity of alternative technologies, he said.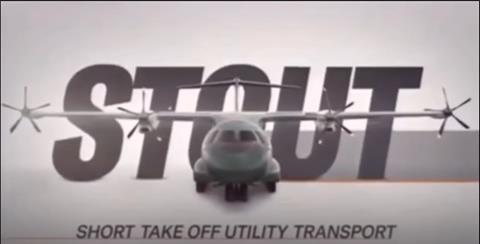 However, the airframer is pursuing a hybrid-electric architecture for its second main development programme.
Called STOUT – or short take-off utility transport – the aircraft is to be operated by the Brazilian air force as a replacement for its EMB-120 Brasilias and already retired De Havilland Canada DHC-5 Buffalos.
Embraer has said little about the project, but Gomes Neto hints that details will be forthcoming.
"We expect to have concrete news about the [development] contract… by Q2 next year," he says. "It's moving very well."
The STOUT would have a range of 1,310nm (2,430km) and capacity to carry cargo or about 30 troops. It will also be capable of deploying paratroopers and operating from short and unpaved runways – notably those in Brazil's Amazon region.
Gomes Neto also envisions civilian applications for STOUT. "We are just now waiting for a contract to accelerate the development," he says. "I think the concept is done… It's a beautiful aircraft."