More airline leaders are starting to openly acknowledge that the extra costs associated with the industry's net-zero transition through to 2050 are almost guaranteed to increase in ticket prices for consumers and impact the pace of the sector's growth.
The most significant of those extra costs is likely to be the purchasing of sustainable aviation fuel (SAF), speakers agreed at IATA's World Sustainability Symposium in early October, which is central to the net-zero effort in most sustainability roadmaps.
"We know today that sustainable fuel is at least twice, if not… four times what jet fuel was costing, so if you think about it, it just demonstrates the scale of the financial challenge that we as an industry face," IATA director general Willie Walsh said on a panel at the symposium in Madrid.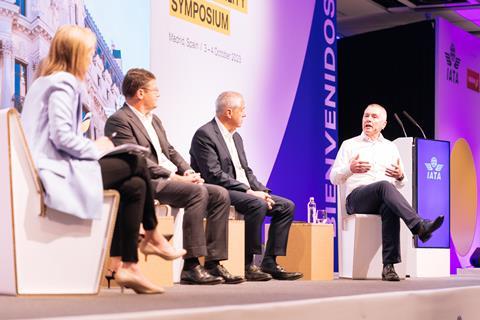 With no other pathways to reduce their carbon footprints by 2050 on the scale that SAF is forecast to achieve, airlines have little choice but to pass those cost on to consumers, Walsh says. Crucially, he notes that jet fuel is already the most significant cost item on most airline balance sheets, meaning any increase will be keenly felt in what is historically a low-margin industry.
"There is no way with margins of 4%, 5% that this industry can absorb [extra costs created by purchasing SAF], so it has to be passed on to the consumer, which will mean higher ticket prices and clearly that will have an effect on demand," he says.
Walsh predicts that structurally higher ticket prices will not be enough to stop industry growth, but it will "definitely impact the pace of the growth".
He recalls that an average airline industry net margin of just 4.4% in the decade 2010-2019 – which is considered a financially successful one – was achieved with Brent crude averaging $80 per barrel and jet fuel $93 per barrel, equating to 27% of the industry cost base. Double those costs – or worse – and the industry's positive margin is wiped out.
Amid that approaching cost challenge, the magnitude of the impact is contingent on how rapidly the nascent SAF production sector can begin to achieve the economies of scale needed to bring down the price of its output, speakers at the symposium agreed.
That is why policymakers must do all they can to stimulate the development of the SAF industry, Walsh says.
At the same time, to avoid an existential impact on the industry's finances, Walsh and other speakers insist that airlines cannot be expected to fund costs associated with the SAF transition, amid an urgent need for governments to incentivise producers to build sustainable fuel plants.
"Governments have to realise that it can't be done by the airline industry on its own," Walsh says. "It's going to require everybody to support it and it will require the right policy decisions to ensure that we get sufficient supply of sustainable fuels at the right price."
Speaking at the same event, Air France chief executive Anne Rigail said the cost of SAF is the biggest challenge facing the carrier in the net-zero journey, noting the carrier would face an annual cost increase of around €1 billion ($1.05 billion) if it were to reach 10% SAF useage by 2030 at today's prices.
To address the cost challenge, Rigail suggests that Europe's SAF mandates must be allied with incentives for fuel producers to develop production facilities in the region. As things stand, the incentives offered to US fuel producers, partly through the Inflation Reduction Act, are being reflected in vast regional pricing disparity.
"The SAF we buy on a voluntarily basis is produced in the US, because it's €2,000 per tonne and in France it's €5,000 per tonne," Rigail says.
On the same panel, LATAM Airlines chief executive Roberto Alvo said that if the group were to cover all of its fuel useage with SAF today, the cost would exceed all of its revenue.
He further explains that Latin American carriers are often operating in "poorer countries" with lower yields and geographies where customers do not have the option to consider alternative forms of transport.
It is therefore important, he suggests, that policy solutions on SAF do not "kill the industry altogether" by bringing about extra costs that airlines and the travelling public cannot afford.
Also speaking in Madrid, Cathay Pacific chairman Patrick Healy said the announcement of a SAF policy framework from China's government cannot come soon enough, as he believes that will be a catalyst for development of the industry in Asia.
"Short to medium term the situation looks pretty dire, to be frank – the numbers don't appear to add up," he states. "There's going to be a shortfall, everyone's going to be struggling to get the SAF to meet those medium-term commitments – you can already see that's unavoidable because of the time it takes to build new SAF plants.
"The policies that exist globally at the moment are not structured in a way which allow rational investment," Healy adds. "And that's the challenge which needs to be met."