The US Air Force (USAF) is exploring the feasibility of developing a fully autonomous cargo aircraft.
The service has contracted with Mountain View, California-based developer of aviation safety technologies Reliable Robotics to complete a study on the possibility.
The firm says it will examine the potential for uncrewed, multi-engined transport jets, including assessments of both full and partial automation features for cargo operations.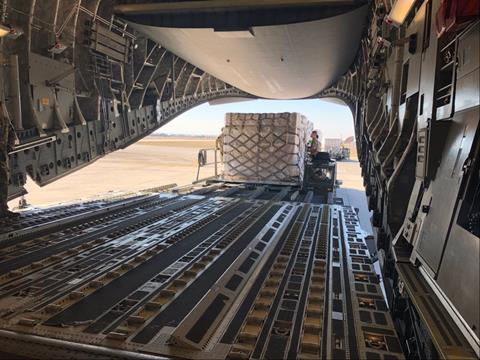 "Our vision is to provide remote piloting capability to a wide variety of aircraft," says David O'Brien, senior vice-president of government solutions at Reliable Robotics. "This contract furthers our focus on automation of large, multi-engine jet aircraft."
Reliable Robotics says it is developing a system "that enables continuous autopilot engagement through all phases of flight, including taxi, take-off and landing, with a remote pilot supervising operations".
The company is pursuing Federal Aviation Administration (FAA) certification of that programme, which it describes as an "advanced navigation and auto-flight system".
The study is the latest in a series of related efforts by the US military, which is pursuing automation across its full portfolio of aircraft. The USAF is currently testing a combat-capable fighter jet controlled by artificial intelligence (AI) with Lockheed Martin, and is hosting a public competition to develop an AI tool for planning aerial logistics.
The US Navy (USN) and Boeing are developing an autonomous in-flight refuelling drone capable of launch and recovery from the service's fleet of aircraft carriers. The USN and USAF are also experimenting with the Kratos XQ-58 autonomous jet as a possible uncrewed wingman for combat fighters.
Rotary aircraft are also being looked at for automation. The US Defense Advanced Research Projects Agency and US Army have completed multiple flights with a Sikorsky UH-60 Black Hawk helicopter, modified to operate without needing a pilot.
The USAF says the "novel approach" offered by Reliable Robotics would allow legacy aircraft to be equipped with automation kits – a capability the service says will help address gaps in the Pentagon's global logistics enterprise.
"This is of great value to the US government," says USAF Colonel Sean McClune. "It will help solve the demand of short- to medium-range point-to-point logistics without the need to manufacture new aircraft, which will ensure critical logistics are available at speed and scale to all regions of the country."
In addition to constraints on new aircraft development, the requirement for fully rested pilots and crew is a potentially limiting factor for airborne logistics during crises. Additionally, crewed aircraft can take fewer risks in contested airspace during military conflicts.
With Washington defence officials increasingly focused on preparing for possible hostilities with China in the massive Western Pacific region, the USAF is pushing its aircraft – and crews – to new limits.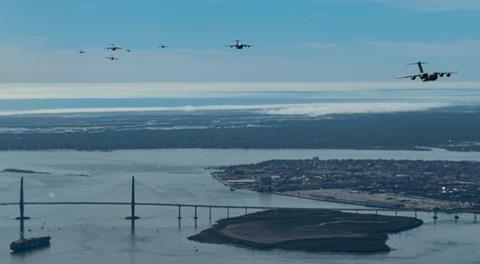 One of the service's Boeing KC-46A tankers completed a record-setting 36h endurance flight in November – travelling 14,000nm (25,928km) on a nonstop, round trip from the Northeast USA to the central Pacific island of Guam.
In January, the USAF conducted the largest-ever launch of Boeing C-17 cargo jets from a single location. Twenty-four of the transports took off from Charleston, South Carolina and dispersed across the region to drop paratroopers, refuel Boeing AH-64 Apache attack helicopters on the ground and distribute heavy weapons and communication systems at multiple landing sites.
The USAF says the exercise demonstrated the service's ability to "rapidly generate and project overwhelming air power". However, that ability currently almost entirely depends on human pilots in the cockpit and human planners on the ground.
While the USAF may be thinking about reducing its need for pilots, Reliable Robotics says its automation systems can also reduce the workload of crew in the air.
"Higher-precision navigation, sophisticated flight planning capabilities and more-robust flight controls better manage aircraft and environmental conditions and improve safety with or without onboard crew," the company says.
Reliable Robotics is also marketing these systems to civil aviation operators.
"Once certified by the [FAA], Reliable's system will reduce the occurrence of common causes of fatal aviation accidents, such as controlled flight into terrain and loss of control," the company says.