Aeroflot Group is in the process of reviewing options for expanding its long-haul fleet, as well as how planned short-haul growth can be maintained despite uncertainty on the Boeing 737 Max family's return to service.
On 28 February, the Russian flag carrier received the first of 22 on-order Airbus A350-900s, which will be used to replace its A330s. It had last year disclosed a cabin-refurbishment programme for its 777-300ER fleet – set to begin later in 2020 – and a follow-up order for three 777s.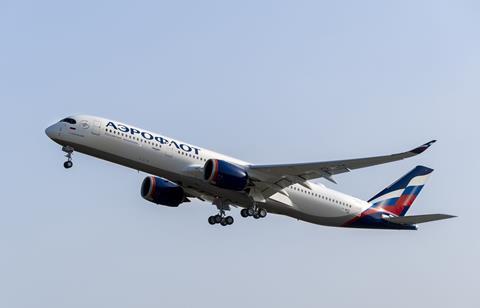 However, deputy chief executive for strategy, service and marketing Andrey Panov told Cirium during an A350 delivery event in Toulouse on 28 February that the airline was evaluating how the 777 fleet could be replaced in the future. He says the review also covers potential future expansion.
The airline's leadership aims to decide on the future fleet strategy in "approximately" a year's time, Panov notes.
He would not be drawn on the likely size of the future long-haul fleet. But he says the carrier is evaluating the A350, A330neo, 777X and 787. Considering the limited number of available "new widebodies", it is "logical" to look at all available options, he argues.
In 2007, Aeroflot placed an order for 22 787s, in parallel with the A350 commitment. But the 787 order was subsequently cancelled.
Aeroflot last month disclosed its intent to grow its fleet from 364 at the end of 2019 to around 520 aircraft – including 80 long-haul jets – over the next three years. In addition to Moscow-based mainline, the group includes Aeroflot, Rossiya, budget carrier Pobeda, and far-eastern Siberian airline Aurora.
Cirium fleets data shows that Aeroflot's long-haul fleet is comprised of 19 A330-200/300s, one A350-900 and 19 777-300ERs. The carrier has another 21 A350s and three 777-300ERs on order.
Sister carrier Rossiya's long-haul fleet includes nine 747-400s and 11 777s of various variants. A single 777-200ER is listed as being in storage. Panov says Rossiya's widebody fleet will "start to change" in 2023-24.
Aeroflot is meanwhile considering options for further development of the group's various short-haul operations, too.
The delay of the Max's introduction to the fleet has not had a "significant" impact on its operations "so far", Panov says. Aeroflot Group has ordered 20 737 Max 8s for Pobeda. Panov adds, however, that the order size represents "a lot of aircraft" and that the company has "a Plan B".
He says the lack of clarity about the Max's service return has put "a question mark" over the order. Noting that "we know what we want to do", in terms of fleet expansion, he says Aeroflot is reassessing its previous order decisions.
Panov acknowledges that its order for in-development homegrown narrowbody the Irkut MC-21 will increase complexity within the group's short-haul operations and is a factor in the strategy review.
Aeroflot has ordered 50 MC-21-300s. Cirium fleets data shows that the mainline's short-haul fleet is comprised of 48 737-800s, 74 A320s, 33 A321s and 54 Sukhoi Superjet 100s. Aeroflot has another 17 Superjets on order.
The carrier will introduce a limited number of A320neos from 2020, but has not committed to a large order for the re-engined narrowbody, Panov says.