Last year the aviation industry marked the centenary of international air travel. While much changed over those first 100 years, the most recent decade has seen some remarkable developments with unprecedented growth in commercial fleets driven by the expansion of the low-cost sector and the rise of new entrants. There have also been some interesting changes in the size and shape of the major airline groups, measured by fleet size.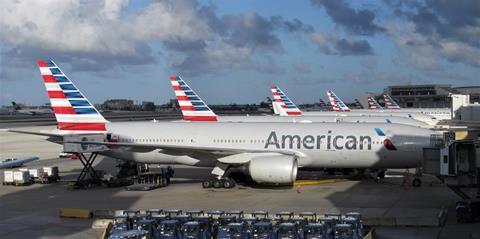 Cirium fleets data shows that the over the 10 years from the beginning of 2010, the Airbus/Boeing airliner fleet has grown by over 7,400 units – or 46% - from 16,000 aircraft to 23,400 aircraft. During the decade, Airbus has made a significant land-grab with its share rising from a third of the total (5,300 units) to 46%. This doubling of the Airbus fleet has increased its tally to over 10,600 aircraft, compared with 12,800 Boeings.
The distribution of the global airline fleet (below) has changed significantly over the decade in parallel with its growth. The Asia-Pacific region, which trailed North America and Europe 10 years ago in third place, has taken over at the top with a fleet of just over 8,000 mainline airliners. This advance has been powered by a doubling of its fleet. North America meanwhile has been relegated to third position having witnessed the lowest growth of any global region (12%).
The growth of the airliner order backlog has mirrored that of the fleet, doubling to more than 10,500 orders over the 10-year period. The Airbus/Boeing backlog (airline operators) has risen from 5,900 units at the end of 2010 to 10,500 a decade later.
While the regional distribution of these orders has not changed – Asia-Pacific leads with Europe and North America following – the volumes have increased significantly. Asia-Pacific airlines now have 3,300 aircraft on order, 1,000 units more than in 2010. The North American carriers have enjoyed the largest growth in backlog, which more than doubled from around 800 aircraft in 2010 to over 1,700 aircraft at the end of 2019.
Within the fleets of the airline groups, the strong have got stronger over the 10 years. The big changes have been driven by consolidation in the US sector, the continued growth of the Chinese mega-carriers and the relentless expansion of the 21st century's global network carriers.
Examining the development of the mainline Airbus and Boeing fleets, American Airlines topped the rankings a decade ago and remains in pole position. However, its fleet has grown over 44% from 661 units to 958.
Delta Air Lines and United Airlines have seen even larger increases in their fleet size – the former has doubled to 923 aircraft while the latter grew 80% to 793 aircraft. The key driver in all three cases is consolidation. Delta began the current round of mergers at the end of 2009 with the take-over of Northwest Airlines, followed by United and Continental's tie-up in 2011 and most recently the American/US Airways integration in 2013.
Southwest Airlines has long been king of the low-cost sector, its fleet ranking second in 2009 and fourth in 2019. Its unit size has increased by more than a third to 754 aircraft partly through mergers (AirTran Airways in 2012) along with organic growth.
Top 20 airliner fleet evolution 2009-2019
Source: Cirium fleets data (active/stored Airbus/Boeing fleets, end-2009/2019)
2009
Fleet
2019
Fleet
1
American Airlines
661
1
American Airlines
958
2
Southwest Airlines
546
2
Delta Air Lines
923
3
Delta Air Lines
461
3
United Airlines
793
4
United Airlines
439
4
Southwest Airlines
754
5
FedEx
386
5
China Southern Airlines
602
6
Continental Airlines
366
6
Air China
423
7
Northwest Airlines
352
7
Ryanair
421
8
US Airways
329
8
FedEx
384
9
China Southern Airlines
296
9
China Eastern Airlines
362
10
Air France
266
10
EasyJet
333
11
UPS Airlines
264
11
Lufthansa
306
12
Lufthansa
259
12
Turkish Airlines
302
13
British Airways
239
13
British Airways
278
14
Air China
230
14
Emirates Airline
269
15
Japan Airlines
202
15
UPS Airlines
253
16
Ryanair
199
16
Alaska Airlines
238
17
China Eastern Airlines
198
17
Hainan Airlines
237
18
EasyJet
180
18
Air France
224
19
Air Canada
157
19
All Nippon Airways
224
20
Qantas
141
20
Qatar Airways
223
Chinese carriers account for nearly a quarter of the top 20 airline fleets in 2019, led by China Southern. Over the decade, its fleet has increased from around 300 units to over 750 – moving it from ninth place to fifth.
The fleets of Europe's big legacy carriers Lufthansa, British Airways and Air France have remained fairly static or even contracted. The region's two big LCCs, EasyJet and Ryanair, have both effectively doubled in fleet size to 333 and 421 aircraft, respectively.
Three "new" global network carriers have grown into the top 20 ranking during the decade. Unsurprisingly these are Turkish Airlines (12th, 302 aircraft), Emirates (14th, 269 aircraft) and Qatar Airways (20th, 223 aircraft).
The story of the last 10 years has been one of growth and consolidation along with the rise of younger players. It remains to be seen how the shape and size of the world's airliner fleets will evolve in the 2020s – but it seems likely that some of the key trends of the last decade will continue into the next one.