Heron Systems, the company behind the artificial intelligence (AI) software that beat a US Air Force (USAF) Lockheed Martin F-16 pilot 5-0 in the US Defense Advanced Research Projects Agency's (DARPA's) AlphaDogfight trials last year, has been acquired by Shield AI.
Shield AI is a venture-backed start-up located in San Diego, California. The company say it is "applying self-driving car technologies to military aircraft". The firm is developing software to control swarms of autonomous unmanned air vehicles (UAVs), unmanned ground vehicles and unmanned submarines. It is also developing a small autonomous quadcopter that would be air-dropped by a small fixed-wing UAV over a battlefield.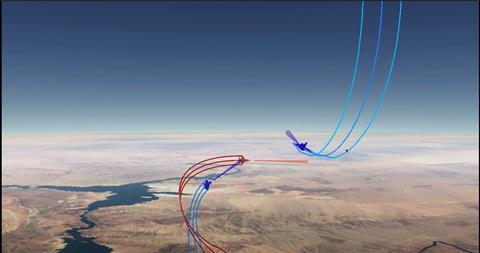 Heron Systems will operate as a wholly owned division within Shield AI. The combined company aims to accelerate deployment of AI-powered flight control software onboard existing and future military aircraft.
"With China already showing comparable results, operationalising Heron's work for programmes such as Next Generation Air Dominance (NGAD) must be a national security priority," says Shield AI co-founder and chief executive Ryan Tseng on 22 July.
NGAD is a classified USAF programme that aims to develop a potential replacement for the Lockheed Martin F-22 Raptor. It is thought that several companies are offering competing versions of NGAD. One full-scale demonstrator aircraft has already been test flown in secret, it was announced in September 2020 by the USAF. The service has talked about incorporating AI and manned-teaming capabilities into NGAD.
"Whoever has the best AI-pilots will have a decisive and overwhelming advantage on the battlefield – inferior AI-pilots will be quickly destroyed, militaries without AI-pilots won't stand a chance," says Brandon Tseng, Shield AI co-founder and chief operating officer. "The combined Shield AI and Heron team is excited and humbled to contribute to the warfighter, national security, and global stability by operationalizing AI-pilots onboard 6th-generation fighters and Group 5 UAS."
Though it was founded in in 1993 and has worked on a number of autonomous vehicle research and development efforts, Heron Systems came to prominence when its AI software, named "Falcon", bested a senior fighter pilot and F-16 Weapons Instructor Course graduate in a computer simulated dogfight that was hosted by DARPA's Air Combat Evolution programme in August 2020. As part of that AlphaDogfight trials tournament, the company's program also beat AI software developed by Aurora Flight Sciences, EpiSys Science, Georgia Tech Research Institute, Lockheed, Perspecta Labs, PhysicsAI and SoarTech.