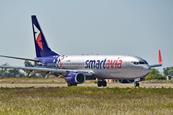 News
Russian carrier Smartavia is to switch to Airbus A320neo twinjets next year, planning to lease three of the type to expand its fleet.

News
Israeli flag-carrier El Al has obtained an agreement to extend the period for taking delivery of its final Boeing 787, pushing the date back to the end of March next year.

News
Mesa Air Group, the parent company of Mesa Airlines has signed a new five-year contract with American Airlines to operate 40 Bombardier CRJ900 aircraft for the Fort-Worth-based carrier beginning on 1 January.

In depth
In this timeline, we recall some of industry body's key moments from an unprecedented period for airlines and the wider travel sector
News
Alaska Airlines will sell 10 of its Airbus A320s, shifting to 13 more-fuel-efficient leased Boeing 737-9 Max aircraft which will be delivered from the end of 2021 through 2022.

Interview
The huge reduction in emissions from commercial airlines in 2020 paradoxically highlights the scale of the challenge ahead for the industry to meet its sustainability targets, according to IATA's director of aviation environment, Michael Gill.

News
Former Russian transport minister Yevgeny Ditrikh has been appointed to head the state transport leasing company GTLK.

News
Southwest Airlines expects there will be a "minority" of passengers who will opt not to travel on the newly re-certificated Boeing 737 Max due to ongoing fears about the aircraft's safety.

Interview
The chief executive of the state-owned carrier explains how a 'financial bazooka' will help it through the crisis, and how it plans to emerge as a premium airline with a continued focus on Europe-Asia routes

News
US pilot unions say they are satisfied with the improvements to the Boeing 737 Max that led the Federal Aviation Administration to unground the aircraft and open a path for it to return to the airlines' respective operating fleets.

News
American Airlines will lead the way in bringing the newly re-certificated Boeing 737 Max aircraft back into its schedule after the Federal Aviation Administration gave the jet the green light to start flying again.

News
Norwegian has initiated a formal financial restructuring for its Norwegian Air International subsidiary and aircraft leasing unit Arctic Aviation Assets under an Irish examinership process.

News
Investigations into the financing of Spanish regional carrier Air Nostrum's fleet renewal have been closed, after the airline reviewed its investment plans in the wake of the air transport crisis.