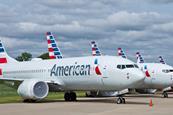 News
American Airlines is reportedly seeking Boeing's help to arrange financing for the purchase of at least one dozen 737 Max jets scheduled to be delivered this year, with the fate of those orders hanging in the balance.

News
Air China has completed its maiden flight of a Comac ARJ21 regional jet on the domestic routing from Beijing Capital airport to Xilinhot.

News
Three Boeing 747-400s formerly part of the fleet of French leisure airline Corsair have been sold to the aviation division of a US-based transport and energy sector investor.

News
European wet-lease operator Hi Fly has brought into service a freight-optimised Airbus A380, which has been temporarily converted from passenger configuration in a project overseen by Lufthansa Technik.

News
Air Mauritius has put three Airbus widebodies and two single-aisle aircraft up for sale, weeks after entering voluntary administration amid the Covid-19 crisis.

News
Aviation consultancy IBA has outlined adjustments to all its commercial airliner market values to reflect the impact of the coronavirus pandemic. Older four-engined widebodies and the Boeing 737 Max are among the worst affected, while "uncertainty" hangs over the Airbus A380.

Opinion
Why market opportunities created by pandemic could propel sector into an increasing share of industry's assets

News
Cathay Pacific Group is considering parking some aircraft outside of its Hong Kong base to protect them from the city's hot and humid summer.
News
Mexican ultra-low-cost carrier Volaris is weathering the coronavirus storm thanks to its variable cost base, but still expects its fleet size to be flat through to 2023 as demand inches back.

News
Lufthansa will halve the number of new aircraft it takes through to end-2023 as part of a second set of restructuring measures announced today.

News
As 2020 passes its halfway point, fleets data from Cirium reveals that the mainline aircraft manufacturers have suffered almost 400 cancellations so far - 80% of which are for the Boeing 737 Max.

News
Ryanair's Irish pilots have agreed to a temporary pay reduction aimed at saving under-threat jobs at the airline.

Opinion
Despite financial pressures, it is wishful thinking that the airline industry might be cut some slack on environmental issues as a result of the Covid-19 crisis.