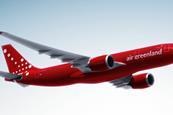 News
Air Greenland has tentatively agreed to take a single Airbus A330-800 to replace the carrier's ageing A330-200.

News
UK-based charter operator Titan Airways is to introduce a pair of long-range Airbus A321LRs later this year.

News
Scandinavian carrier Braathens Regional Airlines has axed a long-standing order for Airbus A220s, and plans to wet-lease Embraer 190s for regional jet operations.

News
Airbus has revealed cancellations for 33 A350s, all the -900 variant, in its end-of-year backlog revision.

News
Airbus has revealed an order for 40 A330neo jets was placed in the last month of 2019, helping to lift the re-engined type's net total for the year.

News
Airbus has disclosed that it took 768 net orders last year and delivered a total of 863 aircraft, up on the previous year's 800.

News
BOC Aviation has placed an order for 20 Airbus A320neos, with at least 10 committed to new customer Avianca.

News
American Airlines says it is still negotiating a compensation agreement with Boeing for the grounding of the airline's 737 Max fleet, now in its 10th month, and that it expects to share the proceeds with its employees.

Analysis
Last year the aviation industry marked the centenary of international air travel. While much changed over those first 100 years, the most recent decade has seen some remarkable developments with unprecedented growth in commercial fleets driven by the expansion of the low-cost sector and the rise of new entrants. There have also been some interesting changes in the size and shape of the major airline groups, measured by fleet size.

Analysis
Consumer confidence in the US economy and a declining unemployment rate drove demand for air travel in 2019. That was good news for the four major US carriers, but for three of them there was the question of whether they would have the aircraft to meet that rising demand.

News
Turkish Airlines has reached an agreement with Boeing over compensation for the financial impact relating to the grounding of the 737 Max.

News
AerCap has disclosed an agreement to provide Pakistani start-up carrier AirSial with three used Airbus A320s.

News
Ravn Air Group on 30 December says it expects schedule disruptions through January as its Alaska-based regional airline recovers from an attack on the company's networks that forced it to cancel flights of its De Havilland Canada Dash 8-100s.