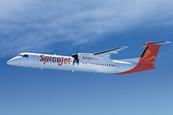 News
Turboprop manufacturer De Havilland Aircraft of Canada was entitled to terminate a Dash 8-400 purchase agreement with Indian carrier SpiceJet after the airline stopped making payments and taking delivery of aircraft, a judge has ruled.

News
Budget carrier Pegasus Airlines saw curfews and lockdowns in Turkey dent demand towards the end of 2020, but it remains hopeful of a strong traffic rebound going into the second half of 2021.

News
Fleet adjustments and the failures of other airlines are likely to offset the impact of an accelerated fall in demand from business travellers in the coming years, according to Lufthansa Group chief executive Carsten Spohr.
News
Spirit Airlines continues to target mid-2021 as the inflection point when its capacity returns to pre-pandemic levels and is betting on new Airbus A320neo and A321neo aircraft for its expansion plans, two executives from the carrier said during an online discussion on 3 March.

News
AerCap chief executive Aengus Kelly believes Boeing is facing an "extremely difficult" time as it tackles problems with its 787 production programme, but he is confident the US manufacturer can resolve its issues.

News
Norwegian start-up Flyr intends to establish an employment ratio comparable to low-cost airlines within Europe, aiming for a figure of 36 employees per aircraft within five years.

News
Breeze Airways' co-founder and chief executive David Neeleman expects his new Salt Lake City-based low-cost airline will be operating flights before this summer, in the process acclimating travellers to an app-centred customer experience.

News
LATAM Airlines will expand its freighter capacity by as much as 80% under a plan covering the conversion of up to eight Boeing 767-300ER aircraft.

News
Qatar Airways has been confirmed as the seller of four Airbus A330-200 freighters to the new air cargo division of French container logistics and shipping giant CMA CGM.

News
United Airlines has ordered another 25 Boeing 737 Max and moved forward deliveries of 45 previously ordered Max, moves the company says will enable to it capitalise on increased demand following the pandemic.

News
China's civil aviation regulator is discussing with Boeing a restoration plan for 737 Max services, but is yet to be satisfied to the extent necessary to advance the type's return to operation.

News
KLM Cityhopper believes the arrival of its first Embraer 195-E2s can help to spearhead the Dutch carrier's recovery from the pandemic downturn as the new jets will offer the wider group greater flexibility.

News
Lufthansa Group carrier Austrian Airlines has agreed to sell three of its Boeing 767-300ERs to a US company, Texas-based MonoCoque Diversified Interests.