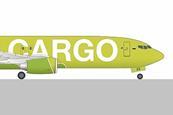 News
Russia's S7 Airlines is to branch into dedicated freighters with the introduction of two Boeing 737-800BCF cargo jets within the next five months.

News
Emirates Airline president Tim Clark is not convinced Boeing is "out of the woods yet" with regards to the certification programme for the 777X, as he awaits definitive details on when deliveries will begin.

News
Cathay Pacific appears to have converted a pair of Airbus A350-1000s to the smaller -900 variant, the Hong Kong-based carrier's half-year accounts indicate.

News
Cathay Pacific has stressed that it is in discussions with Boeing about deferring — not cancelling — its orders for the 777-9 widebody.

News
Brazilian carrier Azul has restructured its payment schedule with aircraft leasing firms which will including cutting operating lease outgoings by more than three-quarters over the last nine months of 2020.

News
EVA Air has entered negotiations with Boeing about its remaining 787-10 orders, hinting at a possible deferral or cancellation of some aircraft.

News
TUI Group's ambition to have fewer assets on its balance sheet means its airline operations will become more "partner-friendly", according to the European travel giant's chief executive.

News
Etihad's strong start to 2020 was thwarted by the coronavirus pandemic as it now plots the reactivation of its network amid a further drive to reduce costs.

News
Lufthansa Group took an impairment charge of nearly €570 million over the first half, including €300 million relating to withdrawal of aircraft.

News
Croatia Airlines has postponed a long-term Airbus A319 lease, cancelled a similar Bombardier Q400 lease and dropped a CRJ1000 seasonal lease as part of measures to rein in costs over the first half.

In depth
Our regular examination of the latest global data for several key airline market indicators, including traffic and capacity in passenger and cargo markets, airport passenger throughput, in-service and stored fleets, jet fuel costs, and share price trends for the world's largest groups.

News
Australia's Alliance Aviation has signed for 14 Embraer E190s — in a move to "position us for the next phase of growth" — but has stressed that its fleet of Fokker aircraft will remain in service for the foreseeable future.

Analysis
Nok Air has followed the lead of compatriot Thai Airways in filing for business rehabilitation amid the Covid-19 pandemic.