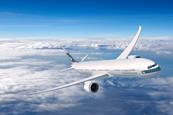 News
Cathay Pacific has given an indication of the timeline surrounding deferrals of its Boeing 777-9 aircraft, confirming that the widebodies will only be delivered "beyond 2025".

Analysis
China Express Airlines has detailed its agreement to take 100 domestically-built jets, with at least 50 set to be Comac ARJ21s.

News
Boeing's 737 Max is "going to have a role" in meeting airlines' future narrowbody needs, and lessors "can be very helpful" in ensuring the airframer is able to place the aircraft once it is cleared to fly again, Air Lease chief executive John Plueger has predicted.

News
US company Global Crossing Airlines is intending to lease 10 converted Airbus A321 freighters from the asset management specialist Vallair, the launch customer for the modification.

News
Wet-lease and charter specialist SmartLynx's Maltese division is to lease a pair of Airbus A321s which have been converted to freighters.

News
Malaysian regional carrier Firefly – most recently the subject of speculation that it might become the country's flag carrier – will commence jet operations from next year, reverting to an earlier plan which was eventually shelved.

News
An airline's ability to invest in new aircraft and other measures aimed at mitigating the industry's environmental impact will become a "differentiating factor" in the future, according to Finnair chief executive Topi Manner.

News
Germany's Lufthansa is to shift a batch of Airbus A350-900s to Frankfurt, where they will take over routes operated by Boeing 747-8s.

In depth
Our regular examination of the latest global data for several key airline market indicators, including traffic and capacity in passenger and cargo markets, airport passenger throughput, in-service and stored fleets, jet fuel costs, and share price trends for the world's largest groups.

News
Lebanese flag-carrier Middle East Airlines has taken delivery of the first Airbus A320-family aircraft to have been assigned a five-digit serial number, with the handover of an A321neo bearing MSN10000.

News
Air Canada has sealed sale-and-leaseback transactions for three Boeing 737 Max 8 aircraft with Jackson Square Aviation and six Max 8 aircraft with Avolon for total proceeds of $365 million.

News
British Airways' final pair of London Heathrow-based Boeing 747-400s have departed the UK hub, following the airline's decision to retire the type from service.

News
Icelandair Group is to sell three of its Boeing 757-200s, which will be converted into freighters following the transaction.