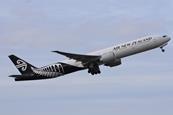 News
Air New Zealand (ANZ) will ground its Boeing 777-200ER and 777-300ER fleets until at least the end of this year as part of organisation-wide cost-cutting measures.

Opinion
Doubts about size and shape of many fleets as operators plan their coronavirus crisis recovery strategies

Analysis
News that the Air France Airbus A380 fleet has become an immediate victim of the coronavirus pandemic is a stark reminder that the collateral damage of this crisis will reach far and wide across the airline industry.

News
Air France has accelerated plans to phase out its Airbus A380 fleet and will retire the aircraft immediately rather than in 2022 as previously scheduled.

News
Investment company KKR has signed an agreement to buy six Airbus A321s from Delta Air Lines, which it will lease back to the Atlanta-based carrier.

News
Cebu Air, the parent company of Cebu Pacific, is reviewing its long-term fleet plans, and has begun discussions with suppliers "to establish flexibility to adapt to current events".
News
Amedeo has agreed in principle to grant lease rental deferrals to beleaguered Thai Airways, though the lessor says the agreement has not yet been signed due to the Thai government setting up a special committee to handle a new business improvement plan for the airline.

News
Singapore Airlines has confirmed that it will accelerate the retirement of its remaining Boeing 777-200ERs owing to the impact of the coronavirus pandemic.

News
Singapore Airlines will fully phase out the older aircraft types in its fleet - such as the Boeing 777-200ER and Airbus A330-300 - within a year, but declines to say whether the retirement of the widebodies has been accelrated by the coronavirus outbreak.

News
Israeli flag-carrier El Al has yet to take delivery of its final Boeing 787, while the airline shuffles its current fleet as part of efforts to reduce cash burn.

News
Delta Air Lines says it will be retiring its Boeing 777 fleet by the end of 2020 as the coronavirus pandemic continues to disrupt global travel, creating openings for airlines to permanently streamline their fleets and save money by shifting to more efficient aircraft.

News
Leading lessor believes government-backed financing in wake of the airline industry crisis created by the coronavirus pandemic.

News
Brussels Airlines is reducing the number of aircraft in its fleet by 30% and slashing its workforce by a quarter in response to the coronavirus crisis.