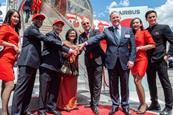 Analysis
The sector is committed to around 25% of the Airbus and Boeing deliveries due by end of 2021, according to Cirium fleets data

News
UK budget carrier EasyJet's founder, Stelios Haji-Ioannou, is threatening methodically to dismantle the company's board if it fails to take action to reduce the airline's commitment to additional Airbus jets.

News
UK budget carrier EasyJet has opted to ground the remainder of its aircraft fleet, after completing hundreds of repatriation flights in the wake of the coronavirus outbreak.

In depth
With aircraft piling up at Asia-Pacific airports amid the coronavirus crisis, airline engineering teams will play a key role in keeping grounded jets ready for the day when demand for air travel returns.

Analysis
Cirium fleets data illustrates size of potential problem facing Airbus and Boeing through next two years
News
Tigerair Australia has suspended all operations from 25 March, as part of deeper capacity cuts by its parent Virgin Australia.

News
IndiGo has, among compatriot airlines, the highest number of new aircraft deliveries at risk as India began a three-week lockdown today.

News
Graham and Lewis talk through the latest figures and thoughts from IATA as airlines across the world ground their fleets in response to the coronavirus outbreak.

Analysis
When IATA outled its latest estimates for the impact of coronavirus on the airline industry on 24 March, the urgency of the situation was front and centre of its messaging.

News
Singapore Airlines will slash schedules and ground almost all aircraft, as the coronavirus pandemic presents "the greatest challenge that the SIA Group has faced in its existence".

News
The timeline for the implementation of ICAO's global carbon offsetting scheme for commercial aviation is one of the myriad issues affected by the uncertainty surrounding the coronavirus outbreak.

Analysis
Worldwide fleet comprises over 25,000 aircraft, but what could effect be across regions?

News
Portuguese wet-lease specialist EuroAtlantic Airways has signed for a pair of Boeing 787-8s, becoming the first operator of the type in the country.