Investigators probing the fatal loss of an Antonov An-12 freighter in Greece last July have disclosed that the aircraft sustained wing damage during a ground collision with a lighting mast less than a month before.
The An-12 had been taxiing, behind a 'follow me' vehicle, to a parking stand at Rzeszow airport on 19 June 2022 when it deviated to the right of the route.
Its right wing struck the lighting installation, damaging the leading edge, states the Ukrainian investigation authority NBAAI in a newly-issued annual review of last year's aviation incidents.
While it has not confirmed any connection with the 16 July crash, the inquiry is still looking into the event, given that the subsequent fatal accident involved a fire on the outboard right-hand engine.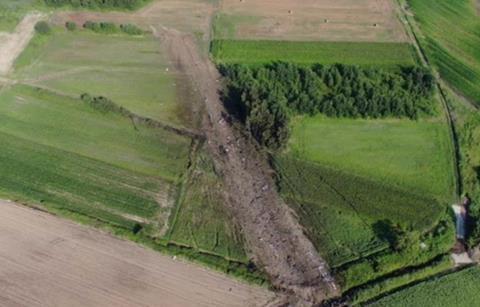 The An-12 had been operating a freight flight from Nis in Serbia to the Jordanian capital Amman, with 12.1t of dangerous cargo as part of its shipment.
Some 16min after entering Greek airspace from North Macedonia at 19,800ft, one of the crew identified a possible fuel leak from the Ivchenko-Progress AI-20 engine.
The captain opted to return to the departure airport and the An-12 turned back. About 10min later the engine was shut down, but it then caught fire.
NBAAI says extinguishing procedures commenced, which were "unsuccessful". The crew of the aircraft, which was flying at 14,300ft at this point, declared an emergency and requested an immediate descent and diversion to Kavala airport on the Greek coast.
From its return course the An-12 turned right 90° and descended to 5,600ft – with a speed of 222kt – before radar contact was lost, some 45km west of Kavala airport, about 4min after the distress call.
The Meridian Airlines aircraft (UR-CIC) collided with trees and overhead power lines a few kilometres further east before striking the ground. None of the eight occupants survived.
Ukrainian investigators are participating in the Greek-led inquiry. German counterpart BFU retrieved cockpit-voice recorder information in October last year which, says NBAAI, has enabled analysis of the situation in the cockpit during the final minutes of the flight.