As the end of 2019 approached, the air cargo sector was hopeful that easing trade tensions between the USA and China could allow a slight recovery for air freight demand between two of the world's largest economies. Those hopes have been dashed as the coronavirus outbreak has brought the Chinese economy to a near standstill.
Carriers around the world have suspended flights to and from China, while Chinese carriers have slashed domestic operations in an attempt to contain the spread of disease, also known as coronavirus. Along with significantly lower passenger traffic in Asia, air freight is also being impacted, Atlas Air Worldwide chief executive John Dietrich told investors during a 20 February earnings call, adding that the extent of that impact is still unknown.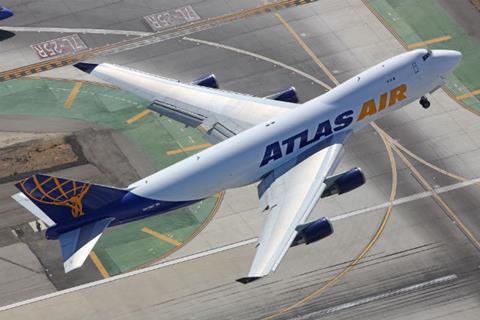 The parent company of both Atlas Air and Polar Air Cargo says it faces challenges going into 2020 from "tariffs, global trade tensions and geopolitical unrest", but the company still believes, even in the face of coronavirus, that 2020 will be a better year for freight traffic than 2019.
"We anticipate that our financial performance in 2020 will be an improvement over 2019," Dietrich said during the earnings call.
The Purchase, New York-based aircraft lessor and air freight company is guiding to $640 million in operating revenue during the first quarter, with full year 2020 operating revenue estimated to be $2.8 billion, depending on developments related to coronavirus. While Atlas has a global reach, it does not disclose specifics about its revenue in the Asia-Pacific region.
Trade tensions between the USA and China were enough to harm the company's bottom line during 2019, as Asia-Pacific accounts for around 35% of the global air cargo market. The carrier also stated "geopolitical unrest in South America" negatively impacted its operations last year.
Atlas, which has a corporate office in Hong Kong, is offering special charter flights from China, but it has been difficult for some crew members to reach their staging areas because many passenger flights have been limited or suspended, Dietrich says.
EVOLVING VISIBILITY
"Our visibility into the full year ahead is evolving," Dietrich said in reference to coronavirus. "There have been some cancellations in the interim period, but also those voids have been picked up by some of the charter activity, which we expect to continue."
Atlas states that air freight is a business poised for long-term growth. Imminent demand in Asia-Pacific cargo, however, depends on how soon the outbreak subsides and China's economy returns to productivity.
Manufacturing in China slowed after Beijing's steps to halt the spread of disease, which included extending the Lunar New Year and limiting transportation within the country, especially in the Wuhan region, where the outbreak began.
Factories have begun to re-open at the urging of China's policymakers, though as of 20 February not all of them were at full power, Atlas chief financial officer Spencer Schwartz said during the call. He expects China's factories will be back at full power by the end of February.
If there is a "surge" in demand for air freight deliveries once Chinese manufacturing recovers, Dietrich says the company is "really well-positioned to take advantage of that upside". Atlas has a memorandum of understanding with its pilots' union which allows consenting pilots to continue flights to China.
"We are taking volunteers for any flying in and out of China and working together with the union," Dietrich adds. "We have implemented some programmes, including premium pay, for those segments into and out of China and been working very cooperatively with the pilots and the entire team and the union leadership."
WORSE THAN 2019?
The air freight industry was already reeling prior to the outbreak, particularly in China. Last year marked the steepest decline in air freight since 2009, according to the International Air Transport Association (IATA), which reported that demand in the Asia-Pacific region fell 5.7%, the largest decrease of any region.
"Trade tensions are at the root of the worst year for air cargo since the end of the global financial crisis in 2009," IATA director general Alexandre de Juniac stated in a 5 February press release. "While these are easing, there is little relief in that good news as we are in unknown territory with respect to the eventual impact of the coronavirus on the global economy."
Atlas endured the downturn in 2019. While IATA reported freight kilometers fell by 3% globally year-on-year during December, Atlas Air's fourth quarter results benefited from the "peak season flying for express customers, an increase in military passenger and cargo flying, lower heavy maintenance expense, lower aircraft rent and depreciation, and a refund of excess aircraft rent paid in previous years". In fact, Atlas made "more than three-quarters" of its income during the second half of a year, according to Dietrich, who expects that trend to continue in 2020.
While Atlas may be ready to charter flights once China's industry returns to normal, contagion fears in both Asia and the USA could drag out the negative impact on air freight, Steve Fortune, a past president of ISTAT tells Cirium.
"The impact of coronavirus is going to take a long time to play out," says Fortune, whose experience includes positions at FedEx and Potomac Capital Investment. "The supply chain disrupted the way it is right now, even if people recover soon it's going to take a while to get back to normal."
The history of pandemics including Severe Acute Respiratory Syndrome (SARS) that stifled air transport for half of 2003 indicates that markets can remain cautious even as the public health risk subsides. Most Asian countries have responded to Covid-19 with increased border control and travel restrictions, including Singapore, Malaysia, Indonesia, Thailand, the Philippines, Vietnam, Australia, New Zealand, Japan and South Korea.
SUSPENDED PASSENGER FLIGHTS
United Airlines, Delta Air Lines and American Airlines have also extended suspensions of passenger flights to destinations in China through April, longer than previous suspensions through March. Carriers around the world began to suspend passenger flights to Beijing and Shanghai at the end of January.
"[In] China, half of the cargo comes out in the belly of passenger planes, which have been virtually halted," Fortune says. "I've never seen anything that has this dramatic an impact on global air freight. Conferences are getting cancelled and people in Hong Kong are relocating. And we're just getting started."
With the Dow Jones falling nearly 1000 points as it opened this morning, the stock market appears to be responding to contagion fears after Italy reported a cluster of over 200 infections over the weekend.
Despite the uncertainty the industry faces around the coronavirus outbreak, Cowen analyst Helane Becker stated in a 20 February research note that Atlas remains an "outperform" stock with the company "adjusting operations to focus on growth customers and maximize cost savings."
By Tom Risen, Cirium