Such has been the magnitude of the pandemic impact on air travel demand that the airline industry has to some extent been in a stasis since March - and with it so too has much of the normal airline failures, mergers and start-up activity.
A slowdown in the appetite for start-ups is hardly surprising given the paucity in air travel demand, which remains stymied by ongoing restrictions and quarantines. Likewise, simply surviving the crisis has been the focus for airlines meaning there is little time or the financial wherewithal to pursue acquisitions.
The relatively small number of airline failures is perhaps more counter-intuitive given the tough climate. It is though explained by the unprecedented levels of financial support governments have provided to keep carriers on life support through the crisis.
As a result much of the activity during 2020 took place or was in motion before the pandemic struck.
Airline failures
Even before the crisis hit, Air Italy was forced to suspend operations after its Italian co-owners pulled the plug on further funding and Taiwan's Far Eastern Air Transport - which had abruptly ceased operations in December only to rescind the closure notice within days - had its operating licence revoked.
But the most high profile pre-crisis failure was UK regional carrier Flybe, which lost its long battle for survival in early March.
While the early hit on air travel demand from the Covid-19 outbreak proved a final straw for the carrier, it had been under financial pressure for many years and its acquisition in 2019 by the Connect Airways consortium had been a final bid to reset the struggling carrier.
Another tipping point for Flybe appeared to be the UK government resisting appeals to directly bail out the carrier. While an earlier intervention by the UK government in January had proved enough to secure further investment from Flybe's shareholders, it stopped short of providing a bailout for the failing carrier.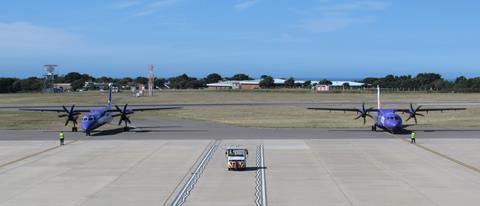 Yet once the pandemic set in, it was to be government financial intervention across the globe, both through direct state aid or wider business support measures such as job protection schemes, that would limit the number of airlines that joined the casualty list during 2020.
Those airlines that did cease operations did so often as a result of strategic decisions by parent carriers to pull back struggling subsidiaries or focus on core operations.
The plug was pulled on the likes of AirAsia Japan, Cathay Dragon, NokScoot, LATAM Airlines Argentina, Level Europe, SunExpress Germany and Tigerair Australia during 2020, as their shareholder airlines focused on dealing with challenges to the core business.
In the USA, the pain was predominantly felt by regional operators – mostly the impact of consolidation in feeder flights for the majors. Trans States Holdings operators Compass Air and Trans States Airlines were the first to go in April, followed at the end of September by ExpressJet Airlines after United Airlines consolidated Embraer ERJ-145 feeder flights around CommutAir.
The year closed with Montenegro Airlines ceasing all operations from 26 December, attributing the decision to the refusal of the country's government to continue supporting the carrier.
While many airlines were kept in the skies by government support packages, numerous others turned to formal restructurings for the necessary breathing space. Latin America's three largest operators - LATAM Airlines Group, Avianca and Aeromexico - all filed for bankruptcy protection in US courts. Norwegian has secured similar creditor protection under Irish and Norwegian law while it continues to restructure.
Virgin Australia successfully emerged restructured under new owners Bain Capital in November, seven months after entering voluntary administration. Virgin Atlantic, meanwhile, completed a privately-funded solvent recapitalisation under a court-sanctioned process in the UK.
South African carrier Comair too emerged under new ownership following a formal restructuring and resumed flights in December.
Start-up moves
While much of the industry remains on its knees, a dearth of air traffic and bleak prognosis for an immediate recovery has not completely put off airline newcomers.
As the year drew to a close, several new operations moved closer to launch and a few had flown.
In December Canadian airline OWG carried out its inaugural scheduled revenue flight, from Toronto's Pearson International airport to Santa Clara Abel Santamaria airport in Cuba.
The airline is a project of Canadian passenger and freight charter carrier Nolinor Aviation, which announced plans to launch the new brand in July, in the middle of the coronavirus crisis. It had originally hoped to launch flights at the end of August.
China Eastern Airlines subsidiary OTT Airlines carried out its maiden flight on 28 December. The unit, plans for which were unveiled in February, will focus on operation of Chinese manufactured aircraft - initially Comac ARJ21 regional jets - on domestic flights within mainland China. The latter market has already returned to pre-pandemic capacity levels.
A new South African start-up Lift Airlines also carried out its first flight in December. The airline, which is a collaboration between investors and South African wet-lease operator Global Aviation, joins the hard hit domestic market at a time of renewed competition.
Alongside the revamped Comair, which operates flights under the British Airways and budget Kulula brands, the newly independent Airlink is operating under its own brand after the end of its long-standing franchise with South African Airways earlier this year.
For its part SAA is still mired in a painful restructuring, more than a year after entering business rescue, while state-owned regional carrier SA Express remains grounded and under provisional liquidation as efforts to secure a buyer continue.
One of the first new operations to launch in 2020 after the pandemic struck was the Abu Dhabi joint venture carrier between Air Arabia and Etihad Airways. While the launch of the low-cost unit was delayed because of the Covid outbreak, the carrier started operations in July on routes to Egypt. It has since steadily boosted its network.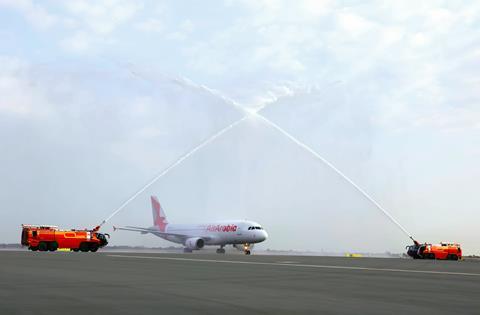 European low-cost carrier Wizz Air had hoped to launch flights during 2020 with its own Abu Dhabi operation, a joint venture with Abu Dhabi state holding company ADQ. However, the launch was pushed back amid continued travel restrictions. The carrier now plans to operate its first flight on 15 January, to Greek capital Athens, part of an initial network of destinations across the Mediterranean and Caucasus regions.
South Korean start-up Aero K - which has been in the works for several years - took a step towards getting airborne when it was granted its operating licence in late December.
Also in December, Brazilian start-up Voe Nella disclosed plans to launch passenger and cargo flights by the end of the first quarter 2021 with ATR and Boeing aircraft.
Plans for a new Ukraine carrier called Bees Airline emerged in November when Swiss AviationSoftware disclosed its AMOS package's selection by the start-up to manage maintenance processes.
Hong Kong start-up, Greater Bay Airlines, moved closer to launch with the South China Morning Post reporting in late December that the carrier has recruited Cathay Dragon's departing chief Algernon Yau to head the airline. Cirium in November reported the carrier had approached leasing companies to acquire its first aircraft with which it hopes to begin operations as early as next summer.
A notable thread among the airline start-ups is familiar faces re-emerging. For example among those leading Lift is former Comair chief executive Gidon Novick, while Erik Braathen - who has been involved with several Norwegian carriers - is working on establishing a new carrier.
In December 'Flyr' was revealed as the brand name for the new Norwegian airline which aims to commence services in the first half of 2021. The airline is being established by a team including Braathen as well as pilots from a number of Scandinavian carriers.
One of the people behind a new Irish carrier Emerald Airlines is reportedly Conor McCarthy - the chief executive of MRO firm Dublin Aerospace and a former Ryanair and AirAsia executive.
Emerald has thrown its hat in the ring to replace Stobart Air when the latter's long-term franchise deal with Aer Lingus expires at the end of 2022. The Irish flag carrier confirms it entered a period of exclusive negotiations with Emerald over a contract to operate Aer Lingus Regional franchise flights from the start of 2023.
In the USA, Breeze Airways - the highest-profile launch project in the country for years - is being led by JetBlue and Azul founder David Neeleman.
Breeze had intended to launch air transport services in 2020, but the Salt Lake City-headquartered budget carrier pushed back its plans to 2021 due to the pandemic. A move to acquire the AOC of defunct US regional Compass was ultimately dropped as it focused on securing a "stand-alone Breeze DOT/FAA approvals/certificate".
Prior to the crisis, former United Airlines and Allegiant Air executive Andrew Levy was working on a US start-up carrier - though there has been little public update on the project since the the pandemic hit.
There is also some familiarity in others projects attempting to fill the space. Moves continue to revive India's Jet Airways - which collapsed in the spring of 2019 - and Flybe.
Jet could be flying again by the summer after its creditors in October approved a bid from entrepreneur Murari Lal Jalan and asset management firm Kalrock.
Flybe administrators meanwhile were reported in October to have sold the assets for the airline to Thyme Opco with a view to resuming regional operations in 2021. Thyme Opco has links to Cyrus Capital Partners, which was one of the backers of the Connect Airways consortium.
Mergers and acquisitions
The biggest airline merger of 2020 was a product of the crisis. In November Korean Air announced plans to acquire rival network carrier Asian Airlines.
Korean's opportunistic move came after a deal under which Asiana's majority shareholder Kumho Industrial was to sell a controlling interest in the carrier to HDC Hyundai Development fell through in September. That deal, originally agreed in December last year, was itself a casualty of the crisis as HDC reportedly in June sought to re-negotiate the acquisition.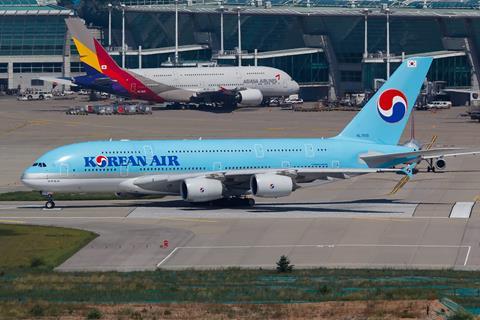 The deal brings together South Korea's two network operators. Korean though says that, unlike other countries with a population below 100 million, South Korea has two full service carriers, which it argues gives it a "competitive disadvantage" compared to countries like Germany, France and Singapore, which have a single major airline. It argues the merger with Asiana will enable it to "compete with global mega airlines".
Korean, a founding partner of the SkyTeam alliance, plans to present an "integration plan" by March relating to its acquisition of Asiana, which is a member of the Star Alliance grouping. The integration plan will also see both carriers' low-cost units — Jin Air, Air Busan and Air Seoul — merged into a single entity.
But a separate tie-up in the South Korean market earlier fell victim to the crisis. Jeju Air scrapped plans, agreed in December 2019, to acquire a majority stake in compatriot low-cost carrier Easter Jet. Local reports suggest an undisclosed Korean firm is now in the final stages of sealing a deal for Easter Jet.
Another planned deal scuppered by the crisis was a move by LOT Polish Airlines' parent PGL to acquire German leisure carrier Condor. That deal was agreed in late January, but as the pandemic struck, within three months PGL walked away.
Doubts have surrounded two other major deals in play before the crisis, though both now appear to be reaching resolution.
IAG had hoped to close by mid-year a deal to acquire Air Europa to bolster its Spanish operations. While it has insisted the rationale behind the deal remains strong, it has been seeking to renegotiate the terms of the deal. Recent Spanish media reports suggest a deal on fresh terms has been reached, though IAG is still to finalise the acquisition.
A deal for Air Canada to acquire Canadian leisure operator Air Transat has also been renegotiated since the crisis. In December shareholders of Transat backed the new sale terms and a Canadian court subsequently approved the transaction.