Qantas Airways recently completed all three of its ultra-long haul research flights, under the auspices of its much-vaunted 'Project Sunrise'.
The three flights, comprising two New York - Sydney and one London - Sydney flights, were flown with Boeing 787-9s that were fresh from the factory.
The 787s saw no more than 50 passengers on board each flight. This was give the aircraft the necessary range to operate these flights.
The Boeing 787-9s traditionally feature a cabin configuration of 236 seats. The business-class section has 42 Thompson seats, arranged 1-2-1 abreast, giving passengers direct aisle access. There are 28 premium economy-class seats with 38in pitch and 22.8in (58cm) width to provide more legroom and space for passengers. Economy class, meanwhile, sees 166 seats.
Even as the 787-9 operating the research flights were lightly occupied, the aircraft itself is no stranger to ultra-long haul flights: it is flying the airline's Perth-London non-stop, which currently stands as the world's third longest flight.
Across the Tasman Sea, another carrier is also making inroads by way of ultra-long haul flights.
In the not-so-distant future, economy class passengers on Air New Zealand could lay down to rest on sleeping pods.
The Star Alliance carrier recently filed patent and trademark applications for the full-length sleep pods, known as Economy SkyNest, as it mulls installing them on its ultra-long-haul routes in the future.
The Economy SkyNest product will feature six lie-flat sleep pods, each about 2m in length. Air New Zealand has not decided on the beds' exact position in the cabin yet.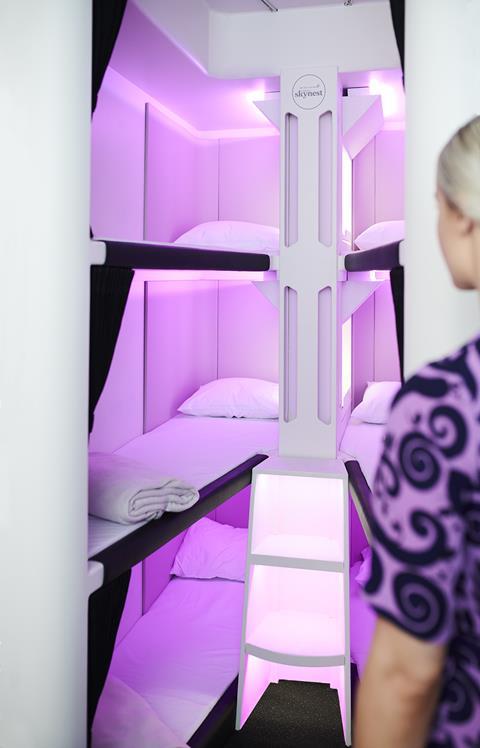 As ultra-long haul flights return to the travelling discourse, attention too has been shifted on its interiors, and how airlines, particularly Asia-Pacific carriers which operate the bulk of these flights, straddle the need for comfort and the need to break even.
Air New Zealand, while it has caught the travelling public's attention with Economy SkyNest, has been coy about whether or not the product will feature on its upcoming ultra-long haul flights.
The Star Alliance carrier is looking to launch Auckland-New York non-stop later in the year, to be operated with 787-9s. The flights will stretch to the region of about 17 hours.
Air New Zealand states that it will assess the performance of the flights before deciding whether or not to install these sleep pods.
At Qantas, the carrier has selected the ultra-long haul variant of Airbus' A350-1000 as its aircraft of choice for Project Sunrise, but not much has been said by way of cabin interiors.
However, in a presentation accompanying the release of its full-year results for fiscal 2019, the carrier states it has already come up with a cabin configuration, should Project Sunrise go ahead. While it did not provide further details, the carrier has been reported to be thinking of an entirely different cabin product for the Project Sunrise flights, should it go through.
COMFORT VS ECONOMICS?
As Project Sunrise gained traction with the launch of its research flights, online chatter too, grew with ideas for the aircraft interior.
Some include having creches, exercise corners, as well as rest corners.
Qantas, when it announced the launch of the research flights, gave some indication of what it was seeking in a cabin interior.
"Customer feedback on food choices, separate stretching and wellbeing zones and entertainment options will also be tested," it states.
Cirium aviation research analyst for aircraft interiors and passenger experience James Mellon argues that Project Sunrise flights will be "considered a premium service", given that it is a point-to-point service, compared to other indirect services between Australia and Europe, as well as the east coast of the United States.
"Qantas will be able to command a premium price in all cabins," Mellon says, which means that the configuration on the A350s would need to be premium-heavy.
He anticipates Qantas to have a significant number of seats in business and premium economy classes, with the remaining space for economy class.
On the inclusion of a communal space for passengers that would be essential on such long flights, Mellon tells FlightGlobal that Qantas will "[need] to attract passengers towards spending time in that space".
"I'm not expecting anything radical from Qantas, but the inclusion of a communal area such as this is a likely feature. However, it will take up crucial cabin space that could be filled with seats," he notes.
While Project Sunrise will set new records in terms of flight lengths, and possibly aircraft interiors, it will not be the first time cabin layouts adapted to suit lengthy distances.
The current record for longest non-stop flight is set by Singapore Airlines, for flights between Singapore and Newark. The carrier relaunched the route in 2018 with A350-900s, having previously operated them in the early 2000s. A subfleet of A350-900s have been configured with a premium-heavy cabin layout.
There are 67 seats in business class, arranged in a 1-2-1 configuration, and supplied by Japan's Jamco. The premium economy cabin has 94 seats laid out 2-4-2. The subfleet also operates the Singapore-Los Angeles non-stop.
When SIA operated the Singapore-New York and Singapore-Los Angeles non-stops in the early 2000s, it did so with A340-500s. The aircraft was initially configured to seat 181 passengers - 64 in business class, and another 117 in what was then known as executive economy. The carrier later reconfigured the aircraft to seat 100 business class passengers only.
Ultimately, SIA suspended these non-stop flights in 2013, citing the lack of economic sustainability.
It would later relaunch these non-stops five years later, with the A350s, which are said to consume 25% less fuel than their four-engined predecessors.
It is this introduction of more fuel efficient aircraft technology that is the biggest difference in the ultra-long-haul operations of then and now, says independent aviation analyst Brendan Sobie.
"[Most] potential ultra long haul routes are still not viable as they don't have sufficient high end demand and enough passengers willing to pay a premium for the convenience of a non-stop option. Singapore-New York and Sydney-New York/London are exceptional in that they have the right passenger mix and demand."
Sobie adds: "Then it becomes the airline's job to make sure they have the product to successfully leverage this demand."
Sobie also disagrees with the idea that such routes' profitability are tied to "where you draw the line on comfort!".
"These are not normal routes where airlines have the option of packing in more passengers to maximise revenues. You simply can't do that given the weight issues and operating challenges of these routes. You need to use the space differently anyway and therefore it's about how to best monetise the fact you have more space per passenger than normal," he says.
Ultimately, he tells FlightGlobal, it is about getting the "right passenger mix", coupled with demand.
" If you have a rare route with the right passenger mix and demand then you also have to get the product right in order to ensure you can command the revenue premium that is required to overcome the high costs of ultra long haul operations," Sobie says.