Outside of the airlines of Airbus's home nations and the Gulf's big three, carriers in the Asia-Pacific have been some of the most enthusiastic customers for the A380.
Operators in the region have ordered a combined 72 aircraft: All Nippon Airways (3), Asiana Airlines (6), China Southern Airlines (5), Korean Air (10), Malaysia Airlines (6), Qantas (12), Singapore Airlines (24) and Thai Airways International (6).
But with the coronavirus pandemic proving particularly detrimental to the future of high-capacity and four-engined aircraft there is a considerable doubt over the double-decker's continued presence in the region.
One particular stumbling block though is the cost of cabin reconfiguration, a particularly relevant point for those aircraft approaching middle age.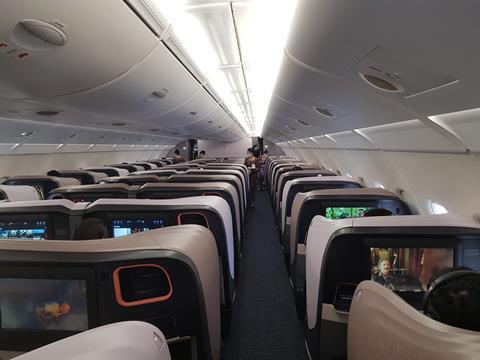 Singapore Airlines (SIA) has arguably been at the forefront of A380 cabin refurbishment. In 2017, the carrier announced it was to modernise the interiors of 14 A380s, at a cost of $850 million, or an eye-watering $61 million per aircraft.
With the addition of five new A380s – which would replace five retired examples – SIA was to have 19 fully updated superjumbos in the 2020s.
The cabin update for SIA's A380 fleet is impressive, and reflects years of experience with the type. FlightGlobal had the opportunity to see it first hand during SIA's recent Restaurant A380@Changi event, where members of the public paid to dine in style aboard a superjumbo – albeit one that remained stubornly parked at the gate.
Cirium fleets data shows that the aircraft viewed by FlightGlobal (9V-SKN) was parked in October 2019 for the cabin refresh, after having been delivered new in September 2011.
The retrofit saw the number of first-class suites halved to six and moved to the upper deck, where the entire business-class cabin is located. This leaves the whole main deck for premium-economy and economy seating.
Other improvements include Panasonic's eX3 in-flight entertainment system, fully updated suites, an increase in premium-economy accommodation, and state-of-the-art lie-flat seats in business class.
From an efficiency perspective, keeping the economy and premium cabins together on the main deck simplifies galley operations. The new arrangement also allows two doors for the boarding and disembarkation of economy passengers. In SIA's original A380 configurations, only one door could be used for the economy cabin, as the airline worried about hundreds of economy passengers trooping through first class, roller bags banging those high-paying customers.
Unfortunately, the only passengers to have enjoyed the comforts of 9V-SKN are customers of Restaurant A380@Changi, as travel restrictions related to the coronavirus pandemic have grounded much of the Asia-Pacific A380 fleet, including that of SIA.
SIA's upgrade programme has been carried out via a combination of Airbus (for service bulletins and cabin parts-kit delivery, as well as providing design knowledge and engineering expertise) and SIA Engineering (SIAEC) – the carrier's MRO unit –which performs the physical reconfiguration work.
But the coronavirus pandemic has put paid to SIA's fleet plans. In a recent results announcement, the carrier said that seven of its 19 A380s in storage at Alice Springs, Australia will be permanently retired.
Of the remaining 12 A380s, five are newer aircraft with the cabin update fitted pre-delivery, and four have undergone the refit. SIA indicates that upgrade work is continuing on the remainder, but stops short of confirming exactly what its plans are.
"Cabin retrofit modification works for the Airbus A380 aircraft are currently ongoing," says the carrier.
"We are reviewing the potential shape and size of our network over the longer term given Covid-19 and its impact on our passenger traffic and revenue. The review will provide better clarity on the fleet size and mix that the SIA Group will need. That said, the A380 remains a part of the group's fleet."
Still, even if SIA fully refits the final three A380s, the recent fleet reductions mean that the upgrade will involve seven fewer aircraft than previously planned.
"Pending the outcome of the review, we will look into the A380 retrofit modification schedule for the rest of the A380 aircraft in our fleet," it adds.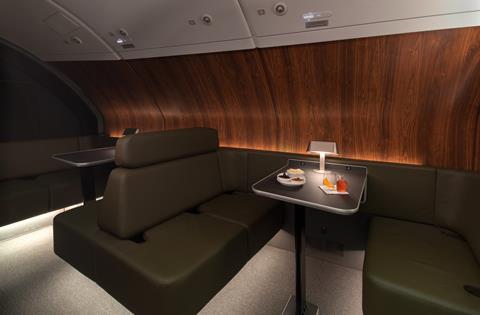 Among the other operators in the region, only Qantas has embarked on a major upgrade of its A380 cabins. So far six have been modified, although its entire 12-strong superjumbo fleet is now in storage where it is expected to remain "for at least three years," says the airline.
When it announced the retrofit in September 2017, Qantas did not provide a cost for the work, but said it would be a "multi-million dollar" project, mainly focused on the upper deck.
Airbus was contracted to perform the work, which the airframer said was to include a new and "unique" business lounge area on the forward upper deck, along with changes in the business- and premium-economy-class cabins.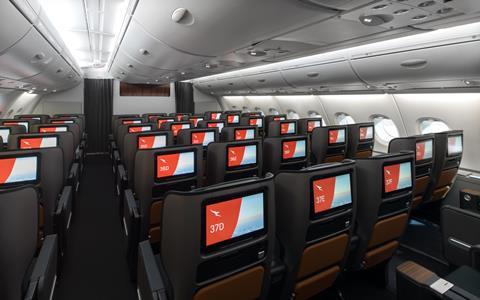 Apart from this pair of high-profile upgrades for the region's star A380 operators, other Asia-Pacific users had yet to outline their refit plans before 2020's coronavirus pandemic struck. Prevailing market conditions and the vast cost of upgrading such a large cabin suggest that most A380 upgrades will never happen, perhaps knocking a decade off the life of some aircraft.
Korean Air confirms that all 10 of its A380s are in storage. With an average age of 5.4 years, its fleet is decidedly middle-aged by A380 standards. One issue for Korean, however, is that their density is relatively low, with just 407 seats.
SIA, Qantas Cabin upgrades
SIA A380s
Old Config 1*
Old Config 2*
New Config
Notes
Seating
First Class
12
12
6
First class suites move to upper deck
Business Class
60
86
78
Premium Economy
36
36
44
Main deck exclusively for premium economy/economy
Economy
333
245
343
Total
441
379
471
Qantas A380s
Old Config
New Config
Seating
First Class
14
14
Business Class
64
70
Update focused on upper deck, including new lounge area
Premium Economy
35
60
Economy
371
341
Total
484
485
*SIA's A380s formerly had two different configurations
Source: Airlines and Cirium fleets data
"While we are considering the retrofit on [the A380s], we will make a decision and specific plans after closely monitoring the Covid-19 situation and aircraft operations," says Korean. "So, our A380s are not likely to be retrofitted in the short term."
Asiana Airlines operates six A380s, with an average age of just 2.5 years, and with a higher density of 495 seats. It confirms that all six "are grounded for the time being," but notes that the superjumbos operated "flights to nowhere" on four days between 24 October and 1 November. It has no plans for upgrade work.
Asiana's small fleet of young A380s is somewhat analogous to that of All Nippon Airways, which numbers just three examples, all with a high density of 520 seats. Its A380s, all of which are in storage, are earmarked specifically for the Japan-Hawaii route – which was extremely popular before the pandemic. Its fleet is relatively young: the first arrived in 2019 and the final example this year.
Among the region's other A380 users, China Southern Airlines has said nothing about reconfiguration plans, if any, for the type. Still, all five of its double-deckers remain in service on domestic routes.
Malaysia Airlines and Thai Airways have six A380s each. The former's plans for its superjumbo fleet, which at one point included a special pilgrimage unit, have been in limbo for years amid the airline's financial travails, which have been compounded by the coronavirus. Thai is in similarly dire straits. Multi-million dollar cabin upgrades for either carrier's A380s are all but inconceivable.
By all accounts, any traffic recovery will initially favour smaller types operating regional routes, ideally with a decent mix of passengers and cargo. The A380, optimised for long-haul international services between massive hubs, is ill-suited to such an environment.
Even when the recovery picks up speed and A380 operations start to become viable again, airlines that have survived the pandemic will be reluctant to invest vast amounts in major work on the type – even assuming they can find the funds in the first place.
In early 2020, before the pandemic destroyed global air travel demand, Airbus itself admitted that the cost of A380 retrofits was a challenge, specifically in the context of a secondary market for the type that never really emerged.
"[The cost of re-configuration] is definitely a major challenge for the A380 or any big aircraft," said Airbus executive Remi Maillard, who at that time headed Airbus Services.
"Everything breaks down the moment you start thinking about the inside of the aircraft," he said, referring to the cost of reconfiguring a second-hand A380.
The cost to refit the cabin to British Airways' specifications "can run to between $30-50 million" per aircraft, he said. "To put that into a lease rate, all of a sudden it takes the aircraft completely out of the market."
In 2019, former British Airways chief executive Alex Cruz cited high A380 reconfiguration costs as the carrier's reason for choosing new Boeing 777-9s over a package of new and used A380s.
Maillard added that Airbus aimed to use its A380 MRO joint venture with SIAEC, Heavy Maintenance Singapore Services (HMSS) to address the cost issue – in August, Airbus exited the joint venture by selling SIAEC its 35% stake.
But Airbus now offers little detail on how it views the upgrade market, saying little other than it is "ready to support customers looking at cabin reconfigurations for Airbus aircraft, including the A380." Questions relating to HMSS were directed to SIAEC.
The A380's popularity among passengers has never been in doubt. Fans flocked to SIA's Restaurant A380@Changi, with many suggesting that it should become a permanent offering. Asiana's use of the A380 for its 'flights to nowhere' was also designed to tap the public's sentiment for the world's largest airliner. The A380's distinctive profile, spacious interior, and quiet cabin make it a preferred type even 13 years after its debut.
Some of the Asia-Pacific's A380 fleet could well find its way to the post-pandemic world, when air traffic resumes on major inter-hub routes such as Singapore-London and Sydney-Los Angeles.
But, the high cost of updating the type's cabin could see a significant portion of the region's double-deckers bow out well before their time.

Greg Waldron is the Asia Managing Editor of FlightGlobal, responsible for the team's airline, aerospace, and defence coverage across the region. He has worked at the company since 2009. In the airline space, Waldron has conducted dozens of interviews with airline leaders in the Asia-Pacific. He also covers areas such as MRO and safety. On the defence beat, Waldron has written extensively about the rise of Chinese airpower, as well as broader airpower developments around the region, such as indigenous fighter programmes, and regional acquisitions of foreign equipment. In addition, Waldron writes about commercial helicopters in the region and business aviation. Waldron worked has a freelance journalist with his work appearing in several business publications.
View full Profile