Any passenger coming to Hong Kong today will be greeted upon landing at the city's international airport by large swathes of construction work.
And the airport terminal is abuzz with activity: the mad scramble for immigration, the scores of milling crowds at duty-free shops, the intermittent announcements reminding passengers to mind their safety.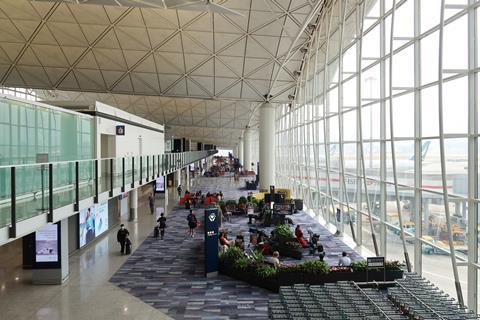 It is a far cry from more than a year ago, when Hong Kong international airport (HKIA) – one of the world's busiest airports – was virtually a ghost town featuring shuttered shopfronts, empty gates, and – for as far as the eye could see – aircraft parked at gates with nowhere to go.
But while passenger numbers have made a quick rebound since borders reopened earlier this year, Hong Kong is eyeing a vastly different recovery strategy.
RECOVERY 'IN SIGHT'
Speaking at the two-day Hong Kong Aviation Day held in early August, the city's finance secretary Paul Chan says recovery "is in sight"; a prognosis commonly echoed by speakers at the event.
"The end of the pandemic has breathed life back to the aviation sector… and full recovery is now in sight. The future is bright for Hong Kong as an aviation hub," says Chan.
Indeed, HKIA and home carrier Cathay Pacific have made strides in recovery, and in a shorter span of time compared with their regional competitors.
According to HKIA traffic statistics for July, the airport saw about 3.8 million passengers during the month, a 15% increase compared with June traffic levels and around 60% of pre-pandemic passenger traffic.
It is a similar story for Cathay, which recently posted its first half-yearly profit in more than three years. For the six months to 30 June, the Oneworld carrier swung to a HK$8.8 billion ($1.1 billion) operating profit, versus a HK$1.3 billion operating loss in the year-ago period.
The airline is rebuilding its network and is targeting to operate at around 70% by the end of this year, and fully recover by end-2024, in line with IATA forecasts.
Vivian Cheung, the chief operating officer of HKIA operator Airports Authority Hong Kong, says the airport aims to reach 80% by the end of this year and fully recover by the end of 2024.
HKIA is also quick to stress that even while passenger numbers dwindled to a fraction of pre-Covid numbers during the worst days of the pandemic, its cargo operations "never stopped".
The airport's third runway – part of the broader Three-Runway System airport expansion project – opened in 2022, even while the city was mostly shut to international traffic. Work is also ongoing to build a second passenger terminal, with the full system expected to be operational around 2024.
Amid the glowing optimism it was IATA director general Willie Walsh – also in attendance at the Aviation Day event – who perhaps best described Hong Kong's recovery story.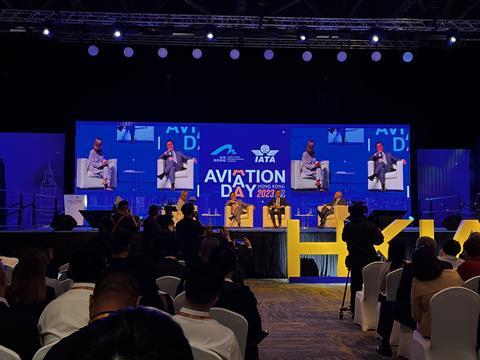 "Hong Kong is back, but for me… Hong Kong is not trying to go back to where it was… Hong Kong is looking at a future that is completely different," he told a packed hall during a roundtable discussion.
Yet, Walsh himself in April 2022 had harsh words when asked about Hong Kong's – and to a larger extent, Mainland China's – continued closure. At a briefing, he said Hong Kong was "effectively off the map" as a global aviation hub, adding that it was "disappointing" that the city stuck to 'zero-Covid' restrictions even while other countries globally were working towards reopening their borders.
A DIFFERENT FUTURE
The different future that Walsh now alludes to is one that sees Hong Kong part of the Greater Bay Area (short for Guangdong-Hong Kong-Macao Greater Bay Area). At the two-day event, much talk focused on how the city – once its own international hub in its own right – can position itself as part of the Greater Bay Area.
Chan, from the Hong Kong government, says Hong Kong is "the heart" of the Greater Bay Area, and that its airport is the "premier gateway" to the wider area.
There are already plans in place to develop the Greater Bay Area connectivity. On the passenger side, Hong Kong is beefing up intermodal transfer options to HKIA from neighbouring cities – by land via the Hong Kong-Zhuhai-Macau bridge or by sea from Shenzhen's Shekou port, for instance.
Cathay chief executive Ronald Lam stresses that being based in Hong Kong "is our advantage" – the airline has an extensive international network, especially to cities "popular with our Greater Bay Area customers", such as in Japan.
"Many secondary cities [in Japan], other airports in the area may not have direct connections.I think it's very important that we… as airlines… keep these advantages so that we can provide the international network they want," Lam says.
HKIA chief executive Fred Lam adds that the airport does not "see ourselves simply as an international airport [for Hong Kong's] 7 million people [commercially]".
"We see ourselves very much as the international aviation hub for the Greater Bay Area of over 80 million people, and to serve such a large catchment area, the land and sea infrastructure [are] very important," he says.
But if there was optimism about the opportunities of the Greater Bay Area, there was also quiet concern that this came at the expense of Hong Kong's old standing as an international hub, or that it would increase competition on the airline front with other carriers in the area vying for passenger demand.
Cathay's Lam concedes there needs to be a "mindset shift" within the carrier.
"[We] treat the Greater Bay Area as our [extended] market. So Hong Kong, of course, is our market. But in the future, I think the entire Greater Bay Area will be our external market. So there [has to be] a mindset shift within our group to see [the Greater Bay Area] that way," he says.
HKIA: COLLABORATION, NOT COMPETITION
As the airport moves along to full recovery, HKIA's Cheung acknowledges that the sluggish recovery of Mainland China traffic will be one potential challenge. China in pre-pandemic times was its top source market for passenger arrivals, alongside other North Asian countries such as Japan and South Korea.
However, current statistics show Chinese travellers have slipped to third position (13% of all arrivals) – after Southeast Asia (30%) and Japan (16%) – due partly to China's slower reopening, as well as a quicker ramp-up in flights to Southeast Asia and Japan.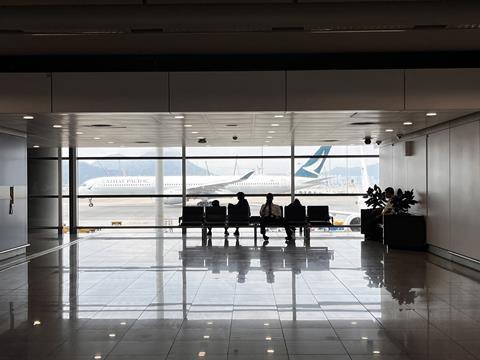 Still, she points out that the rate of recovery HKIA has experienced is "faster than most of other airports", including that of regional competitor Changi airport in Singapore.
"We only opened fully earlier [in 2023]… relatively later than Singapore or London… and a few months later, we are already more than 60% [pre-Covid traffic]," she says.
She is also confident that the Chinese passenger arrivals will return to being the top source market in the near term.
In its post-pandemic future, Cheung says HKIA is looking at opportunities in connecting countries under the Belt-and-Road Initiative, referring to Beijing's global infrastructure development strategy to invest in more than 150 countries.
Cheung adds that the increase in slots from airport expansion will allow HKIA "to build connectivity" with secondary cities in North America or Europe, something the airport was not able to do pre-pandemic "as we did not have enough slots".
"Our focus in the past was on major trunk routes… but now with additional slots we have different opportunities to serve more routes, and we have been studying many markets," she adds.
Cheung adds that Hong Kong "has a very unique position" in the Greater Bay Area: "We have independent air services agreements with many countries."
This, she notes, allows for direct flights to Hong Kong, but "not anywhere else" within the Greater Bay Area. Cheung also points out that Hong Kong has visa-free arrangements with more countries than the neighbouring cities in Mainland China — an advantage in attracting travellers for business events, for instance.
Still, she plays down any notion of stiff competition within the Greater Bay Area, which includes international airports such as Guangzhou, Shenzhen and Macau.
HKIA's broad strategy, Cheung stresses, is that of collaboration. She cites the example of a recently signed agreement with neighbouring Zhuhai, for the 'Fly-Via-Zhuhai-HK' passenger link services, which sees Zhuhai residents travel via road to HKIA, and vice versa.
She notes that there are also complementary strengths that HKIA can tap into with neighbouring airports. For instance, while HKIA sees more than 80% of its traffic from international flights excluding Mainland China, neighbouring Guangzhou airport has 80% of its traffic from domestic flights.
"In the last 10 or 20 years, everyone is talking about the competition. We think that [it is better] to be helping each other, to boost the economy, to boost demand and to make the pie bigger," says Cheung, echoing the sentiments of Hong Kong aviation executives.
"That's the better way to work – rather than compete."