Despite enormous reductions in aircraft noise since the dawn of the jet age in the late 1950s, the issue is once again amplifying as a critical challenge for the airline industry.
The problem is not so much the noise created by modern aircraft, which continues, but has been reduced by some 90% since the deafening days of the Boeing 707, Douglas DC8 and Vickers-Armstrong VC10.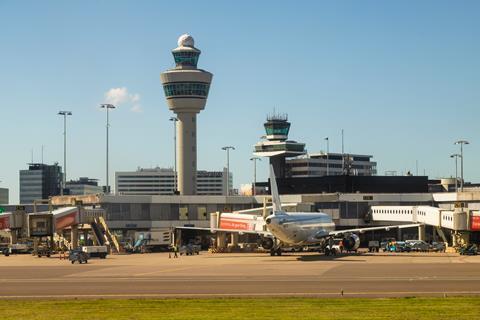 It is the rapid and staggering increase in the number of flights, as airlines return to and build upon their pre-pandemic growth trajectories. Passenger volumes are projected by the IATA to double from 4 billion in 2024 to 8 billion by 2040.
The flashpoint for new tensions was the announcement by Amsterdam's Schiphol Airport, one of Europe's busiest hubs, it would reduce flight movements as early as the coming winter season and follow-up proposals to ban most midnight-to-dawn flights and to scrap plans to build an additional runway.
It cited a desire to reduce the noise created by aviation. Instead, it caused the reverse.
The uproar from airlines was so loud that it could be heard across Europe, the Atlantic, and the entire air transport industry, with major operators serving Amsterdam collectively claiming they were blindsided by the announcement, and others pre-emptively protesting for fear that success at Schiphol would become a dangerous precedent for similar cutbacks elsewhere.
The Dutch Government, the airport's biggest shareholder, had already publicly floated a staged reduction of Schiphol's flights from 500,000 to 440,000, prompting the move for a first-step reduction to 460,000 starting later this year.
Airlines loudly disagreed. "We're astonished by this unilateral decision," spluttered the airport's biggest and most affected operator, the KLM Group, which accounts for 60% of aircraft movements at Schiphol.
Together with other airlines and IATA, KLM sought, and won, a court injunction against the airport and the government for, at the very least, failing to consult, as required, before declaring such an impactful change.
But whether their stay of imposition is approved or overturned, the episode is a big red flag for an airline industry which has been totally focused on survival, reconstruction, and how to meet steep and growing expectations to achieve net zero carbon emissions by 2050.
HISTORY OF DEALING WITH AIRCRAFT NOISE
A brawl over aircraft noise would be a big additional problem for airlines – but not a new one.
Noise has been both a delicate and bitter issue for almost 75 years, since Britain's De Havilland Comet jet first took to the air, the pioneer and catalyst for long-range, high-speed air travel.
Next came the long-haul 707s, DC8s, and VC10s, the medium-range 727s and Tridents, the DC9s and BAC1-11s, the supersonic Concorde, ever-larger widebodies, and many more, including assorted noisy offerings from former Soviet bloc airframers.
Each jet's introduction incrementally delivered new social and commercial connectivity within and between nations. But for those living near airports or beneath flight paths, that progress came at a price.
With increased aircraft noise came worsening political headaches, and generations of mitigations including flight curfews, restrictions and exclusions of the noisiest jets, aircraft movement caps, airspace redesigns, and rapid technological evolution, from modifications to all-new airframes, powerplants and components.
ICAO says that since the introduction of jets, huge and continuous investments across the airline and aerospace sectors have reduced the noise of modern aircraft by 90% compared to their ancestors.
But success at Schiphol could threaten the very fragile peace which the industry long believed it had achieved, after earlier tough battles over noise.
No matter how much airlines, airframers and engine manufacturers argue, with strong evidence, that technology has significantly silenced aircraft, they have not silenced those impacted by noise, whose voices once again are being raised as the number of flights grows.
Anti-noise campaigners question how aviation's recovery and deployment of many more aircraft can possibly occur quietly, arguing that increased volumes of flights will create higher volumes of noise.
IATA fears the new rumblings could elevate aircraft noise well beyond battles at local levels to potentially impact flight connectivity and international agreements including bilateral air traffic rights and open skies policies. They could even ignite trade wars.
"The technology has only gotten better. But the 'curfew science' is based on the 707," says Neil Hansford, chairman of Australian consultancy Strategic Aviation Solutions.
Hansford is a veteran of aviation's noise wars. In the 1980s, he was one of the architects of an audacious strategy by freight company TNT to introduce night freight flights in Europe without breaching stringent noise limits at key airports.
TNT jointly-owned Australian domestic carrier Ansett, which operated passenger versions of the British Aerospace 146, then billed as the world's quietest jet. Seeing potential for cargo, TNT worked with British Aerospace to develop the 146QT (Quiet Trader), then ordered and optioned up to 72 – the entire production line for up to five years.
"We saw the way things were going as far as aircraft noise," says Hansford. "What sold the 146 was its short runway performance and its low noise. So we went with it."
Marnix Fruitema is chair of the Board of Airline Representatives in the Netherlands (BARIN), a group which represents all airlines operating there. It is caught in the eye of the Schiphol storm, which it warns could extend to other markets in Europe. "Noise has not significantly increased," he says. "For many airlines it has even decreased due to the introduction of new types of aircraft and engines.
"After Covid and its silence, resuming flights has led to an increase in perceived noise. We have also seen a more and more active role by environmental groups, and those representing citizens living around airports. A very small percentage of those complaining is responsible for the majority of total complaints. Some complain, for which we have an established platform, more than 20 times a day."
The German Aerospace Federation, BDL, reports the same trend. "More and more individual complainants are submitting thousands of automatically-generated complaints, thereby distorting the picture of actual noise exposure."
It says every five years the German Federal Environment Agency assesses the impact of aircraft noise across the country. In 2018, when the last research was undertaken, the agency found that during the day, 8.7 million people were affected by street noise, 6.4 million by rail noise, and 800,000 by aircraft noise.
"While the objectively measurable exposure to aircraft noise is decreasing, the number of people who feel subjectively annoyed by aircraft noise is increasing," the federation says.
As well as expediting the introduction of new, low-noise fleets, it says "a responsible residential settlement policy in the vicinity of airports is also necessary in order not to increase the number of people affected by aircraft noise."
TURNING UP THE NOISE ISSUE
Between its 1958-model 707 and the first 787 Dreamliner in 2011, Boeing said it had cut noise by 60 decibels, and reduced aircraft 'noise footprints' by 90%.
As well, between its 737NG series, launched in 1993, and today's 737 Max, Boeing claimed it had roughly halved that footprint, and, like all manufacturers, was striving to cut noise even more as part of its sustainability programme.
During Covid, as part of its ecoDemonstrator programme, Boeing used a 787-10 testbed equipped with 200 external microphones, and monitored by another 1,000 on the ground, to assess the noise of the airframe, aircraft systems, and even modified landing gear.
"Noise is back as an issue to address mainly due to population growth, increasing demand in air travel as we come out of the pandemic, and continued expansion of the commercial fleet," says Graham Webb, chief sustainability officer at engine manufacturer Pratt & Whitney
"Although noise reduction has emerged as a critical factor in engine design and development, the battle against climate change still gets the lion's share of attention from customers, environmentalists, and regulators. But it cannot be done at the expense of increasing noise.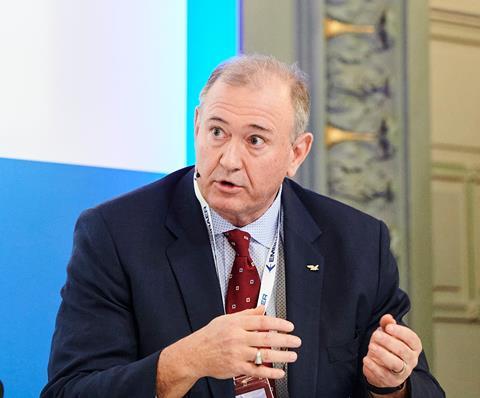 "Most noise comes from the fan, generated by the tips of the fan blades breaking the sound barrier," says Webb. To address the problem, the company's new GTF engine uses a fan drive gear system, developed over 20 years at a cost of $10 billion, to enable the fan to work at a lower speed, keeping blade tips subsonic.
Rival manufacturer CFM International, a joint venture between GE and Safran, is concurrently progressing its RISE (Revolutionary Innovation for Sustainable Engines) programme, which features open, or exposed, engine fans, to increase efficiency, and reduce both CO2 and noise levels to below those of today's best ducted engines.
"A key enabler that we have in our toolbox now for designing new engines, that we didn't have before, is supercomputing capability," says Arjan Hegeman, general manager of Advanced Technology at GE Aerospace. "This gives us the ability to model noise sources with high fidelity for next-generation engine development."
REGULATIONS LAG TECHNOLOGY DEVELOPMENT
But while noise reduction technology evolves, regulations don't, often persisting to guard against noise from aircraft types no longer flying.
One of the toughest examples is in Sydney, Australia's largest air hub, where long-term restrictions eclipse much of what Schiphol is proposing.
When a new parallel runway was commissioned in the mid-1990s, the political price of approval included a ban on most flights between 11pm and 6am, an hourly 'slot cap' of 80 arrivals and departures, and an aircraft 'movement cap' between 6am and 11pm, measured in 15-minute blocks, and documented by staff hired purely to count aircraft.
In a recent submission to a government white paper, Australia's Aircraft Noise Ombudsman also flags the need for more stringent oversight of airport planning to help minimise noise nuisance.
"The impact of aircraft noise on overflown communities is an inevitable result of airport operations," said the ombudsman, "and discussion of aircraft noise management should begin with regulation on the planning and approval processes of airports."
The observation is timely, as the issue of aircraft noise has just exploded in another Australian city, Brisbane, which opened a new parallel runway just as the pandemic took hold. Now, as air traffic returns to the city, so do public protests about noise – including in areas not previously impacted.
The Brisbane Flight Path Community Alliance, a lobby group opposing flight paths to and from the new runway, surveyed 2,000 residents across 81 areas of the city, concluding that 80% of those questioned were not impacted by aircraft noise before the new runway opened.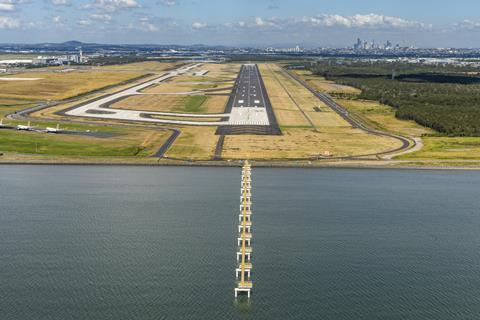 The sample group was small. But the issue demands delicate handling, not only because of increased complaints about noise, but because Brisbane Airport is curfew-free, and desperate not to lose this designation – particularly as the city will host the 2032 Olympic Games, and the airport has huge growth plans.
Following an initial independent review, Airservices Australia has been trialling Simultaneous Opposite Direction Parallel Runway Operations (SODPROPS), in which more of Brisbane's arrivals and departures are flown over water, not houses, with expansion of the programme planned by year's end.
The trial will be closely watched, not only in Brisbane, but in other cities facing new or intensified resistance to increased flights.
In Amsterdam, despite their initial win in court, airlines are nervous about what will happen next, and are bracing for the result of appeal by the Dutch Government expected to be heard later this month.
"The government has done this for one and one only objective – to reduce flight movements," said BARIN's Marnix Fruitema.
"The industry wants to reduce noise, but via different means. We don't need to reduce flights to reduce noise. Many EU countries outside the Netherlands are following closely what's happening. It's a possible threat for other countries if the shrink scenario continues."