Air France would face an annual cost increase of around €1 billion ($1.05 billion) if it were to reach 10% sustainable aviation fuel (SAF) useage by 2030 at today's prices, according to the carrier's chief executive Anne Rigail.
Speaking on a panel during the IATA World Sustainability Symposium in early October, Rigail explained that cost is the biggest challenge faced by Air France in relation to sustainable fuel, in a region where public, corporate and governmental pressure on airlines to address their environmental footprints is perhaps greatest but SAF production lags that seen in the USA.
"At the moment we put a bit more than 1% of SAF in our aircraft departing Europe [and] the cost is €100 million for Air France," she states.
"We want to be credible on our targets – 10% SAF useage by 2030 – [but] if there is not a big investment incentive [for fuel producers], it will be more than €1 billion on our cost."
Putting that extra cost into context, group-level data shows that Air France-KLM's total fuel bill in the second quarter of 2019 was €1.66 billion.
In the notoriously low-margin airline industry, the question facing Rigail and airline executives around the world is: "So how does that fit with the business model?"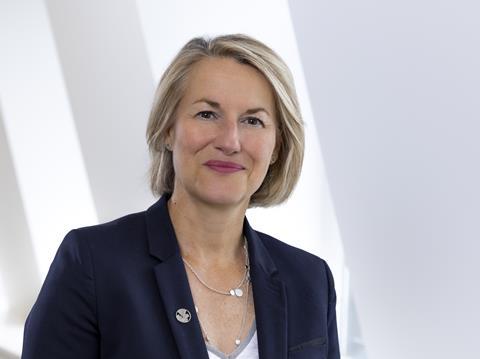 To address the cost challenge, Rigail suggests that Europe's SAF mandates must be allied with incentives for fuel producers to develop production facilities in the region, thereby increasing the availability of local SAF and bringing prices down. As things stand, the incentives offered to US fuel producers, partly through the Inflation Reduction Act, are being reflected in vast regional pricing disparity.
"The SAF we buy on a voluntarily basis is produced in the US, because it's €2,000 per tonne and in France it's €5,000 per tonne," Rigail says.
"So we definitely need some incentives, like the ones we see in the US."
Rigail notes that she is keen to avoid the "totally stupid" situation where European carriers are forced to carry SAF "in a boat" from the USA to meet mandates.
FEEDSTOCK ANSWER
A key part of the SAF production ramp-up, Rigail suggests, should be the diversification of feedstocks.
"We need SAF from biomass but we all know it won't be sufficient by 2030," she says. "We need eFuel, [which] at the moment is a lot more costly."
The power-to-liquid facilities that produce eFuels take "five to seven years" to build, she says, "so it's now that we need to take the decision [and have] the incentive [in place] for the energy suppliers, so that they take the right decisions".
Rigail says eFuels are particularly important because evidence suggests they could make a significant contribution to contrail-reduction.
"More and more, there is this question of 'is the airline industry only 3%' [of global emissions] or, as there is discussion in France, is it 6-9% because of contrails?" she says.
"The beauty of power-to-liquid fuels is that they should prevent most of the contrails, because that is becoming the next challenge for us."
PUBLIC PRESSURE
Such factors only make SAF more critical to the net-zero effort, Rigail explains, especially given that when it comes to long-haul flights, "we know that there will be no electric aircraft or hydrogen aircraft in the 50 years to come".
Adding to the pressure on Air France, employees and the wider general public in its home country have notably strong views and high expectations on sustainability. Broadly, they expect businesses to take timely actions that directly reduce their environmental impact. And they expect shorter-term targets on the road to achieving net-zero emissions in 2050.
For Air France, ramping up SAF useage, accelerating investments in new aircraft – currently running at about €1 billion a year, Rigail says – and implementing operational improvements have therefore become the three key levers for delivering emissions reductions in the required timescales. Rigail estimates that the arrival of new-generation aircraft will contribute about 50% to Air France's carbon reduction effort by 2030, for example, with the majority of the rest coming from SAF. The latter then takes a bigger role heading towards 2050.
"The pressure from our staff [and] from our customers is huge in Europe, and maybe even bigger in France and [the Netherlands]," she explains, referencing the markets covered by parent company Air France-KLM Group.
"The beauty of power-to-liquid fuels is that they should prevent most of the contrails, because that is becoming the next challenge for us."
Already there is evidence of structural demand reduction on some routes relating to the availability of modes of travel with lower environmental footprints.
"We had to stop flying when there was an alternative by train of less than two hours 30 minutes," Rigail says of French government policy on domestic flights. "And very lately there was a huge shift to the train, even for travel of four to five hours.
"We had to divide by two our point-to-point traffic and it's still decreasing."
Corporate customers are also becoming more discerning, Rigail says, as they adopt science-based targets (SBTs).
"The only offer we can bring them compliant with SBT is a SAF contract," she says.
Concern about addressing Air France's environmental footprint further extends to the SkyTeam carrier's pilots, who are "very keen" on exploring "greener ops", Rigail says.
"They are very aware of the impact on public opinion to show that we are doing everything that is available at the moment," she states.
Sustainability measures that do not bring blockbuster emissions reductions – be they "eco-piloting" or the long-desired improvements to Europe's ATC network – can still deliver outsized financial benefits to the business, she insists.
"Each percentage that we gain will be 1% less SAF to buy – so in terms of cost it's huge", Rigail notes.
'DON'T MENTION OFFSETS'
In contrast, carbon offsetting has fallen off the public agenda in France.
"There is a regulation in France to offset all of the emissions on point-to-point domestic flights," she says. "But we never talk about it. Why? Because we get a lot of backlash from the public opinion because everyone is saying 'okay, you are planting trees, but look at the [wild]fires, it's useless, you should put less CO2 into the air'.
"We switched all our environmental offers to our customers to only SAF, not offsets and trees plus SAF, but only SAF, because of the public opinion."
Rigail adds, however, that the industry "will need offsets" to reach its 2050 net-zero target.
Still, pressure from its customers is not necessarily a bad thing for Air France, Rigail says, particularly if the carrier can provide answers to their concerns.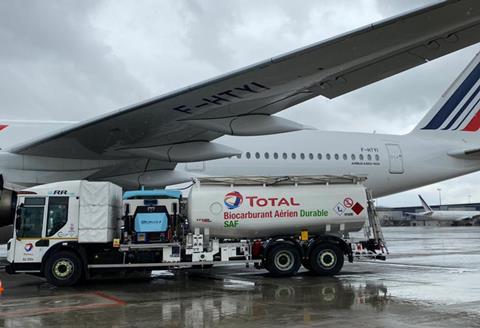 Recently, she has seen strong evidence that passengers are willing to accept extra costs to fund SAF purchases.
"The customers' reaction when we send them an email saying 'we will put a surcharge; it's only €8 in economy and €24 in business'… was very positive," she states.
Indeed, Rigail insists that a key lesson from such experiences is that "transparency and credibility" are vital for airlines to keep their customers on side when it comes to sustainability.
In that context, Rigail is happy to state her belief that Air France can achieve its net-zero targets.
The carrier has, she notes, already secured around one-third of its SAF supply towards its 10% target for 2030, giving her confidence that momentum is building and that breakthroughs in the ramping up of production are likely.
"For sure, in the short term, it will be costly for the airlines," she says of the net-zero journey, bringing the inevitable risk of air travel becoming more expensive. But she adds: "I am quite confident that we see only the difficult parts at the moment… [And] I am quite confident that it will happen."