There appear to be no simple answers to the operational challenges being experienced by the air transport industries in countries such as Canada, Ireland, the Netherlands, the UK and the USA.
Unfortunately for businesses and travellers alike, a multitude of factors is combining just as passenger demand returns, with several independent developments required to ease the situation – some of which are outside the travel sector's control.
Those issues are led by a shortage of staff at points throughout the travel chain and beyond, which is being exacerbated by high levels of illness-related absence, a slowness among governments to provide security clearance for new employees, a reluctance among potential candidates to work in an industry with sometimes unappealing conditions, and a speedier demand recovery than most forecasts suggested.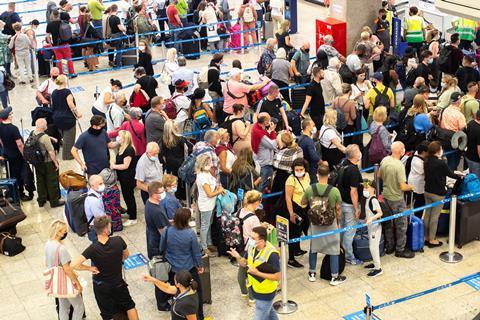 On top of that are issues that would have existed regardless of the pandemic, including air traffic control delays, IT breakdowns, extreme weather and a structural shortage of pilots.
With so many issues in play today, more airline operations are on a knife-edge, meaning one minor adverse event can trigger outsized consequences for customers, including long airport queues and cancelled flights.
Amid the negative press coverage generated by that situation, the industry has also faced arguably galling allegations – most recently made by ministers in the UK government – that the problems represent a failure of the sector to plan for the return of travellers.
Speak to airline chief executives and they will tell you that the toughest decisions made during the pandemic were around cutting staff at a time when there was little light at the end of the tunnel. And having been through two years of stop-start, unpredictable travel restrictions imposed by governments, it is hardly surprising that airlines, airports and other suppliers were not rushing to over-staff for a tentative recovery.
It also remains the case that the industry is taking it on good faith that restrictions will not be reintroduced when the next Covid-19 variant of concern achieves critical mass.
Regardless of the causes of the current issues, airline association IATA and other stakeholders have been seeking to reassure travellers that the disruptions will abate over the coming months.
The important question is what will drive that change. Will it be because the key problem with staffing levels is being resolved? Might the industry be forced to adapt to a sub-optimal operating environment? Or might it happen simply because economic pressures and the northern hemisphere winter season provide some demand respite?