The Delta variant of Covid-19 has crushed hopes of a 2021 air travel recovery in the Asia-Pacific region, with extreme caution keeping borders all but entirely closed.
According to the Association of Asia-Pacific Airlines (AAPA), the total number of international passengers carried by the region's airlines came to 1.5 million in July, just 4.6% of the corresponding number in July 2019.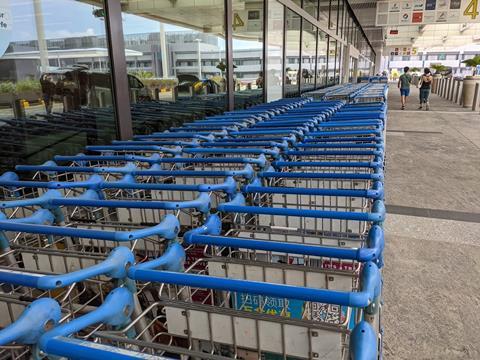 The rise of the highly infectious Delta variant, however, has gone one further, hurting domestic markets in previously resilient countries such as Australia, China, Thailand and Vietnam.
Reporting an operating loss for its financial year ended 30 June, Qantas called the 12 months 'diabolical,' reflecting comments from other Australian carriers, as a series of lockdowns in New South Wales and Victoria stopped air travel. Australia's long-delayed air travel bubble with New Zealand, which started on 21 April after a year of delays, snapped shut on 27 June, further dimming the outlook for Australian carriers and Air New Zealand.
Still, Qantas chief executive Alan Joyce remained confident enough in Australia's vaccination drive to anticipate a December restart for international travel.
A Delta outbreak in China, meanwhile, resulted in strict restrictions on domestic travel during early August, although in the absence of international travel the country's 'big three' carriers – Air China, China Eastern and China Southern – all saw big year-on-year traffic jumps in July, albeit from a depressed base in July 2020.
While China claims to have Delta under control, it is inevitable that carriers will suffer an earnings hit for August.
THAILAND'S CORONAVIRUS PARADOX
Thailand, meanwhile, found itself in the paradoxical position of opening up to international travellers via its "Phuket Sandbox" scheme, while temporarily restricting domestic flights to tamp down a major Delta outbreak.
The Phuket Sandbox, which opened on 1 July, imposes an onerous testing regime and other requirements for vaccinated travellers. As of 8 September, it attracted 29,654 visitors, although Tourism of Thailand had hoped to receive 100,000 by end-September.
Moreover, Thailand is pressing ahead with plans to reopen major cities such as Bangkok and Chiang Mai for vaccinated travellers from 1 October.
Vietnam, viewed in 2020 as a paragon of Covid-19 management, is undergoing a major lockdown in cities such as Hanoi, Da Nang and Ho Chi Minh City. Domestic travel restrictions are in full force, with the Vietnamese government reiterating standing orders to airlines that domestic tickets must not be sold. The Civil Aviation Authority of Vietnam is also considering whether to make full vaccination a requirement for domestic air travel.
Domestic air travel markets in other key markets such as Indonesia, Malaysia, Japan, the Philippines and South Korea also remain weak.
India, however, appears to be recovering from the Delta variant, which battered air traffic in the second quarter. According to government figures, daily average departing passengers for the week ended 4 September rose to 220,000. This is well below the 400,000 passengers routinely recorded pre-pandemic, but a massive improvement from May and June, when daily passenger numbers fell to 50,000.
SINGAPORE EXPERIMENTS WITH OPENING – VERY CAUTIOUSLY
Tiny Singapore, meanwhile, has successfully pushed its full vaccination rate to 81%. While large parts of its economy formerly relied on air travel, not least Changi airport and Singapore Airlines, the city state's leaders are taking a very cautious approach to opening.
From 8 September, Singapore started accepting vaccinated traveller from two countries, Germany and Brunei, without imposing quarantines. Brunei is somewhat moot given that it still imposes quarantine on travellers from Singapore.
On the face of it, the Germany opening marks a significant step, albeit a largely symbolic one. There is one flight a day to Singapore under the country's Vaccinated Travel Lane (VTL), but it comes with numerous restrictions, such as four expensive PCR tests, comprising pre-departure and arrival tests, plus two additional tests during one's stay in Singapore. Because a vaccine for children has yet to be introduced, they cannot fly under the VTL arrangement. Instructions for using Singapore's VTL run to 2,700 words.
The first Singapore Airlines flight from Frankfurt only carried 100 passengers, some of whom were German media. FlightGlobal understands that bookings under the arrangement have been weak, likely due to the vast range of less restrictive travel options available for Germans.
PAL ENTERS CHAPTER 11
Perhaps the most significant Asia-Pacific airline story in recent months relates to Philippine Airlines, which entered Chapter 11 bankruptcy on 3 September.
The long-anticipated move covers lenders, lessors, airframers and engine suppliers, as well as its majority shareholder. Prior to filing, lessors and creditors agreed to over $2 billion in payment reductions.
"The restructuring plan, which is subject to court approval, provides over $2 billion in permanent balance sheet reductions from existing creditors and allows the airline to consensually contract fleet capacity by 25% and includes $505 million in long-term equity and debt financing from PAL's majority shareholder and $150 million of additional debt financing from new investors," says PAL.
The carrier will also cut 22 aircraft, reducing its fleet to 70. It hopes that a revamped financial structure will help it better compete. The carrier is also likely to shed unprofitable international routes, such as to Europe and the Middle East, and focus mainly on the US West Coast.