Asia-Pacific airlines continue to enjoy a strong cargo market, but indicate that Russia's war in Ukraine and China's supply chain issues could start to slow momentum.
In recent financial results filings, key Asia-Pacific cargo players reportedly uniformly upbeat numbers amid strong demand for air cargo. Still, there are some signs that cargo load factors are starting to slip, likely due to bellyhold capacity creeping back into the market with a resurgence of passenger flights due to the loosening of pandemic-related travel restrictions.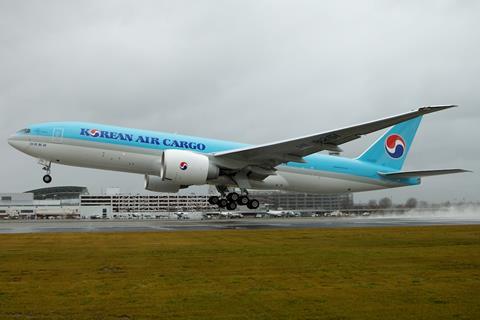 Geopolitical concerns around China and Russia are also starting to emerge.
KOREAN, ASIANA RIDING HIGH
In the first quarter of its 2022 financial year to 31 March, cargo bellwether Korean Air's freight capacity as measured by ACTKs rose 7.4% year on year. CTKs rose by a more modest 5.2%, and load factors slipped 1.8 percentage points to 83%.
In its results presentation, Korean indicated that it would retain flexibility amid market volatility and maximise profits from industrial demand for shipping high value items such as semiconductors, batteries, car parts, and Covid-19 test kits.
It warned, however, that Russia's war in Ukraine and lockdowns in China have added uncertainty to the market. It also notes that cargo capacity will inevitably increase as quarantines are being lifted for passenger travel.
Despite the uncertainty, cargo propelled Korean to a record high quarterly operating profit of W788 billion ($631 million). Korean operates a major cargo operation, with 23 widebody freighters.
The cargo business at South Korea's other big carrier, Asiana Airlines, also enjoyed a strong first quarter, with cargo revenue jumping 45% year on year to W884 billion. During the quarter, cargo accounted for 77% of overall sales.
As with Korean, cargo propelled Asiana to an operating profit of W177 billion.
The Star Alliance carrier said it has focused on longer-term cargo charters. This helped quarterly cargo sales on routes to the Americas jump 57%, to Southeast Asia jump 35%, and to Europe jump 23%. Still, airspace restrictions over Russian created a challenge for its European cargo business. At the end of the first quarter, Asiana – which is in the process of being taken over by Korean – had 19 maindeck widebody freighters.
Over in Japan, All Nippon Airways and Japan Airlines continued to benefit from a buoyant cargo market, as reflected in their full-year results to 31 March.
ANA's international cargo revenue doubled to Y328 billion $2.5 billion in its 2021 financial year, with freight carried rising 49.1%.
"The continued strong performance in international cargo services can be attributed to robust demand and a shift to air transport as a result of congestion in marine transport," says ANA.
Citing similar market dynamics in its results, JAL saw similar strong international cargo demand, with its full-year cargo revenue nearly doubling to Y218 billion.
CATHAY CARGO CAPACITY STILL BELOW 2019 LEVEL
Cathay Pacific, whose passenger business remains stalled owing to Hong Kong's tough coronavirus quarantine measures, carried 92,400t of cargo in April. While this was up 26.3% from April 2021, it is still 62.4% below its April 2019 figure, well before the pandemic started in China.
RFTKs fell 13.2% year on year, and cargo load factors fell 2.7 percentage points to 80.2%. Capacity as measured by AFTKs fell 10.2% year on year.
"Demand was mixed, with cargo exports from Shanghai affected by the city's lockdown, which has disrupted supply chains in the eastern part of the Chinese Mainland," says Cathay.
"On the other hand, demand from Hong Kong began to recover as cross-border bottlenecks began to ease, driven primarily by sea feeders that helped offset the impact from cross-border trucking services remaining constrained. Elsewhere in our network, demand remained healthy with machine parts and industrial products from Northeast Asia and the Americas particularly active. Across many of our markets, we saw a strong end of the month coinciding with the pre-holiday rush ahead of Labour Day and Golden Week in Japan."
CHINA AIRLINES, EVA AIR IMPROVE CARGO YIELDS
Revenue and traffic figures to 30 April show that Taiwanese carriers are still enjoying a strong cargo run.
Taiwan's China Airlines reduced cargo capacity as measured by FATKs during February to April, with FRTKs also falling. Cargo load factors have strengthened: in April this metric rose 5.9 percentage points to 80.1%. Also, cargo yields strengthened to NT$20.41 ($0.70) per FRTK from NT$15.19 in April 2021.
This boosted China Airlines' cargo revenue for the month by 11.6% to NT$10.7 billion ($364 million).
At EVA Airways, April cargo revenue leapt 41.7% year on year to NT$9.2 billion. AFTKs were up 11.9% while FTKs rose 6.5%. Load factors softened, declining 4.9 percentage points to 91.2%. Cargo yields, however, improved 33%.
Singapore Airlines, whose passenger business is recovering amid the lifting of regional and international travel restrictions, saw cargo revenue in its second half to 31 March rise sharply, with cargo yields up 22.1% and cargo load factors up 7.6%.
"Cargo demand is expected to experience near-term volatility as a result of the Russia-Ukraine conflict, as well as the knock-on effects of pandemic controls in China on the supply chain," says SIA.
"Cargo yields, however, are likely to remain healthy due to the continued industry capacity crunch on key trade lanes."
In its operating statistics for the month of April, SIA's cargo load factor dropped 25.4 percentage points year on year, reflecting a 35.1% increase in cargo capacity with more bellyhold capacity coming into its network. Actual freight carried slipped 2.1% year on year.