The chairman of Cathay Pacific believes China will eventually release a sustainable aviation fuel (SAF) policy that will provide a much-needed catalyst for investment in the nascent sector amid a "pretty dire" outlook for availability today.
Speaking on a panel during IATA's World Sustainability Symposium in early October, Patrick Healy acknowledged that like other regions around the world, "Asia is well behind the USA" in terms of SAF production, but that he is confident China will release a SAF policy that starts to redress the balance.
"What is most important for our medium-term [net-zero] goals is China's policy; obviously China has yet to release a SAF policy but I'm very confident that it will," he states.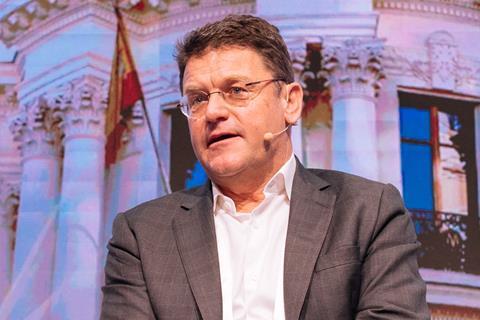 Before China makes its move, however, Healy acknowledges that the current outlook for SAF production in Asia is poor. That makes interim targets such as those for 2030 seem overambitious.
"Short to medium term the situation looks pretty dire, to be frank – the numbers don't appear to add up," he states. "There's going to be a shortfall, everyone's going to be struggling to get the SAF to meet those medium-term commitments – you can already see that's unavoidable because of the time it takes to build new SAF plants.
"The policies that exist globally at the moment are not structured in a way which allow rational investment. And that's the challenge which needs to be met.
"But that doesn't mean we are doomed," he adds.
For starters, an advantage of being a later mover on policy, Healy notes, is that China can learn from experiences elsewhere, including the "carrot"-focused policies in the USA, which are seen to encourage production of SAF, and "stick"-focused policies in Europe, where airlines face SAF mandates alongside what some see as a lack of producer incentives.
"They have a number of experts from various parts of the industry working together and evaluating different approaches," he says of the Chinese government.
"I imagine that [China's SAF policy] will include an element of mandates, but it will also include the sort of stimulation for investment in production which is so necessary for everyone to achieve our goals and… that will be then a major catalyst in that region."
Against that market backdrop, Cathay has been relatively active in the SAF space compared with peers in the region. Its 2014 investment in Fulcrum BioEnergy, for example, "will get us 20% of the way to 10% SAF commitment by 2030", Healy says.
EXPONENTIAL GROWTH?
Furthermore, his hope is that while the production outlook does not match net-zero targets today, the situation could change rapidly for the better.
He points to the "exponential curves" that can develop when new technologies or industries achieve critical mass.
Power-to-liquid SAF production is a potential process that could contribute to exponential growth, he suggests. And that is fortunate, because Healy's view is that biomass-based SAF has its limits in terms of production potential.
"When you look at 2030 with current SAF, which is mostly HEFA with biomass feedstock… most models show that there is going to be a significant supply gap by the time we get to 2030," he says.
That supply gap is potentially exacerbated by the competition for biomass feedstocks that airlines face.
"One of the things we've done at Cathay is sign an MoU with the state power investment company in Beijing," Healy explains. "When they talk about their HEFA facilities, at the moment none of that is producing aviation fuel; it's basically going to bunker fuel for the shipping industry or road transport. That is a huge concern… we are competing for that same demand.
"The feedstocks for the HEFA pathway are likely to be limited – they are likely to be broader than they are today… but still, it's unlikely to be able to get us where we need to go."
That is why, in common with many of his peers, Healy views power-to-liquid SAF as a compelling and important proposition.
"I was at the New York Climate Week a few weeks ago… and one of the key takeout messages was how we are tending to underestimate the exponential nature of technological change," he recalls. "And I believe that this is going to be true of SAF as well.
"When you look at the opportunities of power-to-liquid… as it matures and the costs come down for green hydrogen based on the vast amounts of renewable energy that we are now seeing installed… combined with lower electrolysis costs, combined with lower carbon-capture costs… it's perfectly plausible that you will see the removal of [SAF bottlenecks caused by limited biomass availability] early in the 2030s, which could lead to exponential growth."
Cathay's MoU with the state power investment company is all about the airline being able to "help those suppliers" of future power-to-liquid SAF to understand the potential market opportunity, he states.
"It's an incredibly important technological development which we see as being absolutely key to the future of SAF, certainly in our part of the world," Healy says of the power-to-liquid process.
China's track record on its energy transition gives him further hope the country will get its SAF policy right.
"If you look at China's track record, when they develop a policy they put a line in the sand, then you see it's been a rational policy. It's been very effective. And I would expect exactly the same to hold true for SAF policy once it's published," he says.
BIG OPPORTUNITY
With the right policies in place from government, SAF producers will have incentives to invest in what will likely be a lucrative industry for those who deliver what airlines need, Healy argues.
"The investments will pay off for the winners in this transition," he says of SAF producers. "The rewards will be enormous for the people who get it right."
Still, the huge investment required to develop the SAF industry is not something airlines should be paying for, he adds.
"The investment that's required industry-wide between now and 2050 is enormous; I think the last number I saw was $3 trillion… something like 5,000 SAF plants by 2050.
"So these are eyewatering sums of money. And one thing I can say for sure is you're not going to find that with the airlines
"You look at our balance sheet… it's completely out of the question."
Moreover, Healy says he finds it "odd" that people think airlines should foot the bill, noting that no one would expect train operating companies, for example, to fund the development of low-carbon grids.
"It's an entire infrastructure that needs to collaborate from governments, to OEMs, to financial investors, to fuel suppliers, etc," he says.
"And of course, we have a role to play, the most important of which is to give very clear demand signals through our commitments and through our willingness to pay the premium that's required."
PRESSURE POINTS
In Asia, the stakeholders applying pressure to airlines regarding their net-zero efforts may be different to those in Europe, for example, where it is more "consumer driven", Healy notes.
"But that's not something I'm worried about," he says. "I think there will be enough pressure from the central government to achieve the same goal."
While SAF will make the biggest difference to the airline industry's environmental footprint by 2050, there are also some "lower hanging fruits" for Cathay to reach for, Healy acknowledges.
"There is no path to net zero for any airline, certainly not for us, without offsets," Healy says. He also points to the investment in newer, more efficient aircraft as making a significant difference to the net-zero roadmap, albeit the airline industry's growth trend does wipe out some of that benefit.
"The issue is, even adding all of that up and comparing it to where we need to get to by 2050, industry-wide, SAF will still be at least 65% of the solution," he says.
"The real effort, the real emphasis, the real focus has to remain on SAF."