After a summer in which travel demand was everything European carriers could have dreamt of, accompanied by nightmare operational challenges, attention is turning to what extent both trends might reappear next year
As the sun sets on the key northern hemisphere summer season, it is evident that for most of Europe's airlines it has been one where demand has hit hoped-for highs – even if that proved too much for the region's airport ecosystem.
Given that European carriers spent much of the winter with the threat of the Omicron variant weighing heavily on their prospects, the positive demand should not be taken for granted.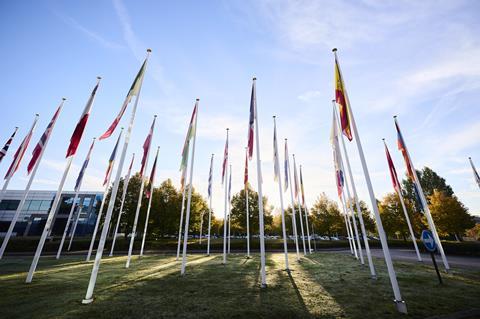 "Aviation is not in a bad place," said Eurocontrol director general Eamonn Brennan at the start of the Where to Next For European Aviation conference it hosted in Brussels on 4 October. "But it still hasn't recovered."
The pan-European air navigation body's data for June-September shows flight activity at 87% of pre-crisis levels.
While not a precise proxy for the extent to which commercial passenger traffic has returned – the data includes cargo and business aviation flights – it is one of the most timely illustrations of the direction of travel for the market.
And in some directions that is pretty much back to pre-crisis levels. For example, Eurocontrol data for the week ending 2 October shows transatlantic flights back within 4% of the same week in 2019.
However, it is a different story for many other long-haul markets. Most notably flight levels between Europe and Asia during that same week remained 29% below pre-pandemic peaks.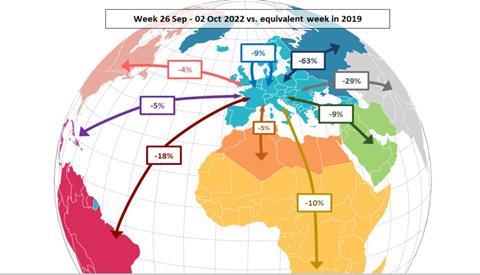 That reflects both the slow reopening of Asian markets to international travel – which remains all but impossible in China – coupled with the closure of Russian airspace making it less viable for European carriers to serve Asian destinations.
Brennan notes that this is what is preventing long-haul network carriers like Air France, KLM and Lufthansa from full recovery to pre-Covid levels.
"Because they are not getting the traffic that's going to Asia and they are not getting the connecting flights," he explains. "When you close China, you affect Lufthansa heavily, because they have a lot of dependent flights there – one flight to China generates three flights throughout the network."
Eurocontrol data shows Lufthansa flight activity for the week ending 2 October was 25% below pre-pandemic levels. It was not alone. British Airways flights were similarly 25% down, while Air France and KLM were 14% and 16% respectively below 2019 levels during the week.
Indeed, only two of the Europe's 10 biggest operators for that week were flying more than in 2019: Ryanair and Wizz Air. The two low-cost carriers have been among the most aggressive in restoring capacity since the pandemic.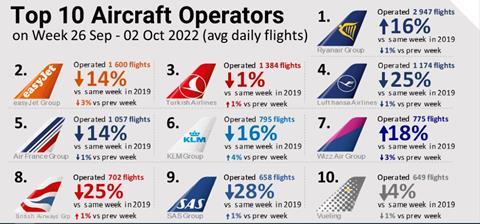 LOW-COST CARRIERS DRIVING RETURN
Speaking at the same conference, ACI Europe director general Olivier Jankovec similarly flagged the strength of Europe's low-cost carriers as markets have opened up this year.
"Clearly looking at the capacity airlines have put this summer into the European airport market, it is very clear that the intra-[European] low-cost carriers are the winners," he says.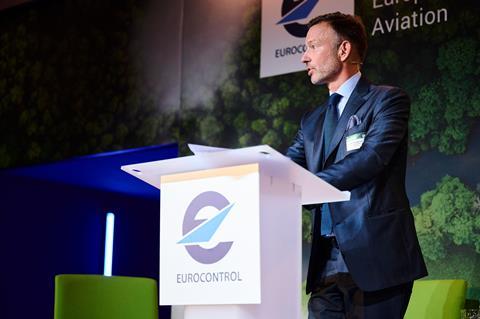 "Network carriers have retrenched and for the moment, they are chasing yields, they are not chasing volumes and putting capacity in the market as we would like."
Jankovec cites August data from ACI Europe showing the recovery picture; passenger volumes within what it terms the EU+ market (comprising the European Economic Area, Switzerland and the UK) were only 14% below 2019 levels.
"What is quite striking is how the smaller and regional airports have been outperforming in this recovery compared to larger airports and hubs," he says. "That is not so much a surprise, because we know parts of Asia are still closed and that's impacting in particular the performance of the larger hubs, and it reflects the fact that the recovery very much remains driven by intra-EU demand, leisure and VFR traffic."
He adds: "Although we are talking about recovery, there is a lot of divergence between national markets. Three national markets having exceeded in August their passenger numbers in 2019 – Luxembourg, Greece and Iceland – and more generally we see those markets serving tourism destinations performing better.
"[But] you can see also the impact of the war in Ukraine, with in particular airports on Finland and Latvia being very much impacted."
OPERATIONAL HEADACHES
However, if the demand side was positive, it may not have felt that way for airlines and airports given the operational headaches that accompanied the ramp-up. A number of airports, notably including the hubs at London Heathrow and Amsterdam Schiphol, had to impose capacity caps amid chaotic scenes earlier in the summer.
One of the 'winners' during the pandemic, Wizz Air, is not unscathed. Its chief executive Jozsef Varadi says it has been forced to put more slack into the system to counter operational challenges.
"Personally I think the industry got it completely wrong in terms of recovery [on labour]. We were one of the very few airlines that started back in January, February, saying the recovery is going to be much quicker than [people] think.
"Yes Asia is still down because of the still prevailing restrictions in those countries, but from a European perspective… the market is wide open and demand is back. We are a 30-40% bigger airline today than in 2019. We have been prepared to carry some inefficiencies in the system, so we have been essentially overstaffing during certain periods when we were grounding quite a significant portion of the fleet for the benefit of the times when demand is back."
Such were the operational challenges that Wizz has had to adjust. Eurocontrol figures show Wizz cancellations over the summer at a rate of 6.8%, slight above the industry average for the period, and Varadi says it is a particular challenge for operators like his own, which are built on the efficiency of the low-cost carrier model.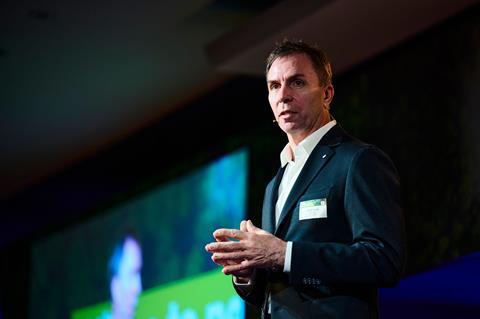 "The current operational supply chain for aviation in Europe does not support efficiency, certainly not airline efficiency," he says.
"As a result, we are redesigning the model to make sure we build in more slack in the system, so we will be losing some efficiency. So this dysfunctional supply chain challenges the entire operating model of an airline, like our model.
"We somehow survived but it was not great, and it should not be happening again," he says. "We have to look at the operating model [airports/ATCs] and the needs for efficiency and how to address those, and we need to put appropriate resources in the system."
Eurocontrol's Brennan notes cancellation rates of 6.6% over the key summer months.
"Generally the performance of the system is a little bit sub-optimal at the moment, there is no doubt about that," he says. "We got ourselves into a bit of a knot this summer with airports because the airlines came back to an extent much stronger than the airports."
Much of the challenge was around hiring back security and ground staff at airports.
"A lot of these people had been furloughed and left, and people who were on low wages, had moved on and were not rehired," says Brennan. "We have to be looking at things like the ground handling directive to make sure we keep a supply; if you are not paid enough, you are not going to work there."
While noting Brussels airport was able to respond well during the ramp-up in demand, the airport's chief executive Arnaud Feist says: "It has been a challenging summer for our industry and also for the image of our industry. I think it comes from two factors combined. One is the faster traffic increase compared to what was expected and an acute shortage on the labour market."
He says the challenges of rehiring staff are impacting other sectors too, but aviation faces a challenge to attract people back into the sector.
"Our biggest challenge is the working conditions, the salaries, I think they should be reviewed to make the sector attractive again. We are not attractive any more. It is not just airports, we see it with border control," he says.
"Also maybe [we need to] think about ways of automating some of these tasks which are not attractive to people, to digitise. Baggage is still a very manual process, how can we automate it?"
Livia Spera, general secretary of the European Transport Workers Federation (ETF), also highlights the problem in securing staff in the sector.
"People do not want to work in ground handling any more," she says. "It doesn't come as a surprise, why should people go and work unsocial shifts to be paid much less than what they are paid in towns? The job is very hard. If you want to have people involved in a tough profession, you need to pay them."
STRIKE IMPACT
Labour though is itself also a factor given industrial action has added to disruption. While several airlines, including Lufthansa and SAS, have faced industrial action of their own, the conference was held against the backdrop of French air traffic control disruption – an issue airlines have been railing against since long before Covid disruption.
Spera argues the blame for Europe's summer of disruption should not be heaped on to industrial stoppages. "The major delays [this summer] are not caused by strikes. Maybe in some certain countries, but not in general," she says.
"And I think we should ask ourselves, why are there strikes? The strike is always a last resort for the union. So if there are strikes, it's because there is no proper social dialogue, and one of the problems that characterised this summer's crisis is the lack of social dialogue."
One of the major frustrations for airlines when it comes to national ATC strikes in particular is their impact beyond that country. Airlines for Europe has previously been pressing for protection of overflights during such stoppages, a theme picked up by Brennan
"We need to start looking at doing practical things to help the system and one of the things we are advocating is the protection of overflights," says Brennan."Something that keeps this system moving but doesn't interfere with anyone's right to strike."
WHAT LIES AHEAD
The elephant in the room is, of course, whether there will be a repeat of these same trends into winter and next summer – both the positive demand picture and negative supply problems.
From a network perspective Brennan sounds a warning for next summer. Alongside the impact of any industrial action and the question of whether airport ground handlers and border forces can staff-up sufficiently, this warning reflects an additional supply/demand challenge that European airspace has faced this summer: as a result of the closure of Russian skies, it has effectively been handling 90% of 2019 capacity in 80% of the airspace.
That is an issue that will only intensify as capacity further returns.
"Next summer doesn't look that good at the moment," Brennan says. "Why? The carriers are all putting extra aircraft on – we can see that from the deliveries and we have discussed it with the main carriers. We still think there will be airspace closures. What I mean by that is the war [in Ukraine] is not likely to go away or the effect of the war by next summer. It might, but we don't think so."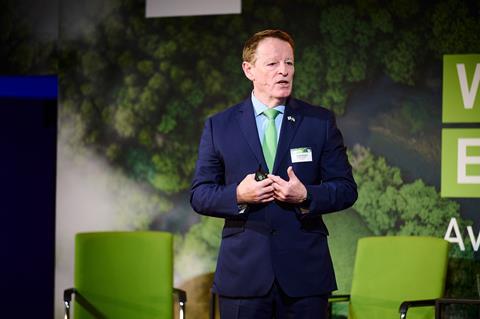 Ironically, while an increase in capacity provides some additional headaches for Europe's airspace, it is concerns of a softening in demand that preoccupies airports.
Jankovec flags demand concerns resulting, either directly or indirectly, from the war in Ukraine. "Now we get a spike in jet fuel cost, as well as the appreciation of the dollar and that will probably make airlines more risk averse over time in terms of how much capacity they will be ready to put in the market. Already we are seeing an increase in fares – that was already a trend before the war. It is getting worse and there is probably more to come.
"That translates into new demand pressures as we go into the winter. Apart from air fares, I think these demand pressures are coming from the wider macro economic impact of the war.
"All that means increased downward traffic risk," he says. "I think there is a lot of uncertainty as to how the market will behave this winter and into next year, and I think this is part of the reasons why we still see a full recovery in traffic volumes at Europe's airports only in 2024."
From the airline side, IATA similarly sees European passenger levels – which currently stand at around 88% of 2019 levels – returning to previous highs in 2024.
"I think the good news is supply and demand, certainly within Europe, is very well matched," says IATA director general Willie Walsh.
"We are seeing seat factors in this period at around 90%, so we are back to very efficient levels of seat factor and I would expect that to continue," he says, but adds: "The assumption is that the air navigation system will function and that airports will be able to address the challenges that we have seen this summer, which have clearly had a big impact on the pace of recovery within Europe."