A guide to some of the most significant impacts of the coronavirus crisis on European airlines, their tentative steps to restore passenger services and the structural measures being taken to resize for an expected smaller market
While the short-term focus among European carriers has been on finding ways to survive the crisis and resume services, airlines in the region have been quick to signal sizeable cuts to their operations, with few expecting traffic to return to previous peaks before 2023.
Lufthansa Group was among the first to do so in early April, moving forward the retirement of six Airbus A380s, as well as seven A340-600s, five 747-400s and 11 Lufthansa-operated A320s. But others quickly moved to initiate consultations around potential job and fleet cuts.
This was set against the widely held view that passenger traffic would not return to pre-pandemic levels before 2023.
IAG chief executive Willie Walsh says the group's "optimistic" prediction is that it will take until 2023 or 2024 for demand for air travel to return to the level seen in 2019. However, he adds that "some people are predicting it won't be until 2026".
Air France-KLM is planning a structural capacity reduction of at least 20% of its fleet next year versus 2019, as the group expects passenger demand not to recover for "several years".
Lufthansa group chief executive Carsten Spohr told shareholders in early May that in less than 65 days, "we have returned to the levels of 65 years ago in terms of air traffic volume". The group sees a slow recovery. Even in 2023, the carrier believes that passenger demand will be significantly below levels seen before the coronavirus pandemic.
This outlook has prompted a series of cost-cutting measures aimed at resizing airlines for this lower demand environment. That has comprised a range of accelerated aircraft retirements, deferral of deliveries over the next two and a half years and the start of talks with unions over planned job cuts or productivity concessions.
The result is that European airline fleets will be notably smaller when full services resume.
European airline pre-crisis fleet and backlog as of May 2020
Fleet on 31 Jan 2020
May 2020
May 2020-Dec 2021
Wizz Air includes Wizz Air UK, Norwegian includes all units
Operator
In service
Stored
TOTAL
Backlog
Planned deliveries
1
Ryanair
457
12
459
114
6
2
EasyJet
335
1
336
131
64
3
Lufthansa
285
17
302
163
26
4
British Airways
276
2
278
60
25
5
Turkish Airlines
265
28
293
177
52
6
Aeroflot
243
7
250
91
42
7
Air France
218
7
225
95
10
8
SAS
151
3
154
45
12
9
Wizz Air
120
120
268
32
10
Norwegian
124
33
157
183
54
11
Vueling Airlines
118
3
121
24
4
12
KLM
115
1
116
21
8
13
Swiss
101
2
103
25
9
14
S7 Airlines
97
6
103
18
14
15
Eurowings
95
7
102
0
0
16
Alitalia
90
4
94
34
0
17
Jet2.com
88
5
93
0
0
18
LOT Polish Airlines
87
12
99
10
12
19
TAP Air Portugal
84
4
88
36
16
20
Austrian
83
2
85
0
0
21
Iberia
83
1
84
34
13
Source: Cirium fleets data, EasyJet includes EasyJet Europe and EasyJet Switzerland; Ryanair includes, Buzz, Lauda Air and Malta Air;
The rate at which Europe's operators have had to address these changes may have been dictated by the health and liquidity of carriers before the crisis and the extent to which state support has been available.
Airlines have secured some breathing space through the alleviation in regulations, notably Europe's "use it or lose it" slot rules. But given the extent to which scheduled passenger flights have been brought to a standstill − and with notable challenges restricting their ability to restart − carriers have been seeking more.
Significantly, airlines have been left distinctly underwhelmed by the European Commission's position around the thorny issue of issuing vouchers instead of refunds. Operators had been seeking the lifting of requirements for them to issue refunds within seven days − a liability heaping pressure on cash-strapped airlines. Industry associations estimate airlines have been facing €9.2 billion ($10.2 billion) in cash reimbursements for the period from the grounding until the end of May.
But Commission guidance on 13 May instead recommended that airlines enhance the appeal of voucher rather than amend regulations. Europe's airline associations, together with IATA, argued that the "unclear and non-binding" recommendation has created further confusion and ignores the request for an emergency amendment to the regulations. Its hopes had been raised by 16 member states backing the issuing of vouchers.
European carriers have been offering vouchers in a bid to preserve liquidity through the crisis.
European regulators have eased state aid rules. But the differing approaches from governments, in both the extent and form in which state support has been offered, have raised concerns around its distorting impact on competition. Several carriers, notably among Europe's healthier pre-crisis operators, have also hit out at the distorting impact of state aid.
Differing government approaches across Europe − in part a product of the varying status of the outbreak within countries − also mean differences in the pace at which travel restrictions are being eased. Central and eastern European countries − among the first to introduce restrictions in Europe − have also been among the earliest to open up for commercial services.
There are also initiatives aimed at reopening tourism in several European markets in an attempt to save some of its key business before the season ends. Greece, for example, has been among the most proactive in opening up for tourism, albeit with conditions in place.
Airline losses to deepen in second quarter
European carriers have already either swung to a loss or seen their financial positions worsen in the first quarter. Given that it was not until March that a significant impact from the outbreak began to be felt in the continent, all carriers have warned of deeper losses to follow for the second quarter.
Operating losses have in particular been compounded by a hit on fuel hedging as a result of the sharp fall in oil prices. European carriers were among the most heavily affected by this, given that they have relatively high levels of fuel hedging in place. As a result, net losses were far heavier in the first quarter and it will take these operators longer to see the full benefits of the drop in oil prices.
Selected European first-quarter 2020 financial results
Airline group
Operating loss
Net loss
Guidance
Air France-KLM
(€815m)
(€1.80bn)
Significantly negative EBITDA in full year 2020 and a significantly higher current operating income loss in the second quarter than the first quarter of 2020.
Lufthansa
(€1.20bn)
Expecting a considerably higher operating loss in the second quarter versus the first quarter.
Ryanair
The group expects a loss of over €200m in the first quarter, with a smaller loss expected in the second. The group currently expects to carry less than 80m passengers in full year 2021 (almost 50% below its original 154m target).
IAG
(€535m)
(€1.86bn)
Second-quarter operating losses before exceptional items to be significantly worse than in the first quarter.
Finnair
(€91m)
(€143m)
Comparable operating loss "will be significant" for 2020.
Icelandair
($208m)
($240m)
Aeroflot
($214m)
The virtual standstill of flights in April will lead to a significant deterioration in financial results for the second quarter.
Source: FlightGlobal analysis of company announcements. Aeroflot results under Russian accounting standards
Ryanair
Pan-European low-cost giant Ryanair has been all but grounded since the end of March. In April, the airline operated just 600 scheduled passenger flights, less than 1% of the capacity it had originally planned.
The carrier has warned that it expects to cut up to 3,000 jobs from July and close a number of European bases, as it projects that a post-crisis recovery will take at least two years. An early casualty is the Vienna base of its Lauda unit, the biggest of the Austrian carrier's bases, which it closed at the end of May after failing to reach agreement with unions.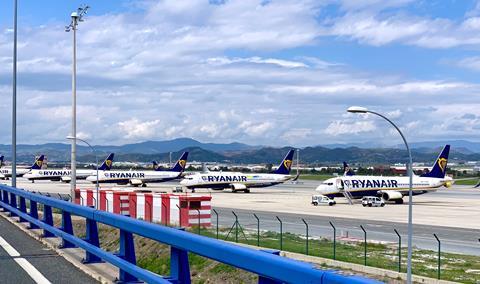 The airline is negotiating with Boeing to reduce planned deliveries of new 737s for the next 24 months, and is holding similar discussions with lessors of Lauda's Airbus A320 fleet.
The company is expecting a net loss of more than €200 million for the first quarter – the three months ending 30 June 2020. It has not given any guidance on net profit for the year, citing the uncertainty over the duration and impact of the pandemic. But it is expecting a "substantial decline" in traffic and "significant price discounting" on fares.
Ryanair is aiming to reinstate flights across some 90% of its network from the beginning of July, But while much of the network will be available, with most bases active, the overall schedule – around 1,000 daily flights – will only amount to 40% of the airline's normal flying timetable.
Cirium fleets data shows that the airline has the biggest backlog of aircraft due to deliver over the next year and a half, although that total comprises the currently grounded Boeing 737 Max.
Lufthansa Group
Lufthansa Group grounded the vast majority of flights from late March as it introduced a repatriation schedule involving around 80 services, which it ran until the end of May. From the start of June, the airline doubled the number of aircraft operating to 160 as it opened up more of its network.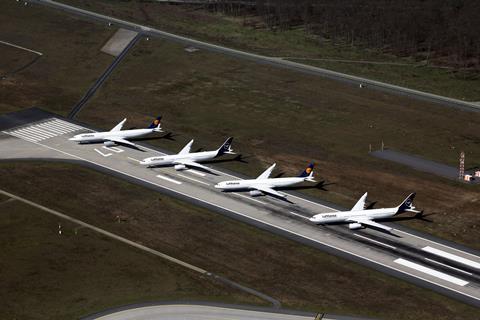 Losses at the group were expected to stand at €1.2 billion in the first quarter, and to deepen in the second quarter.
This prompted it to open financing talks with its various governments. The Swiss government agreed a SwFr1.5 billion ($1.6 billion) support package for Swiss and its Edelweiss Air unit, but talks with the German government stumbled on a €9 billion package for Lufthansa over the airline's concerns about the state's role.
Agreement was eventually reached on the bailout through the German government's WSF economic stabilisation fund. Under this deal, the WSF will take a 20% holding in the airline. But confirmation was further complicated by the Commission's requirements over the number of slots at Frankfurt and Munich the airline was required to release to new entrants as a condition for the deal, although agreement was finally reached on this at the end of May.
The airline group was among the first to signal permanent fleet reductions, moving forward the retirement of 24 aircraft. Chief executive Carsten Spohr later said the group would remove older, less environmentally sustainable aircraft, reducing the fleet by around 100 jets, and that it was negotiating with manufacturers to postpone deliveries of new equipment. Such cuts will leave the group with around 10,000 excess staff, opening up the possibility of large-scale redundancies
Several of its airlines have since announced cuts. Brussels Airlines is reducing the number of aircraft in its 54-strong fleet by 30% to 38 and slashing its workforce by one-quarter.
Austrian Airlines is to halve its Boeing 767 fleet and withdraw all seven of its Airbus A319s as part of a strategy to adjust to reduced demand. It had already been planning to remove 18 Bombardier Q400 turboprops by 2021, and increase the number of A320s by 10 – measures that would have taken the airline's overall fleet down to around 70 aircraft. But it now envisages a more conservative fleet of 60, amounting to an overall capacity reduction of 20%.
IAG
While different government measures for state support have resulted in some stark differences in approaches from carriers within IAG, the group has been clear that in the longer term it does not see passenger levels returning to pre-crisis levels before 2023.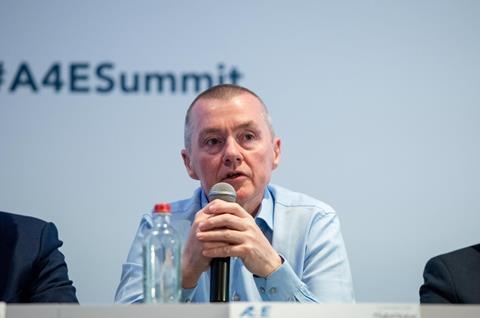 In the short term, plans for Willie Walsh to step down were pushed back – Iberia chief Luis Gallego will now succeed him in September – and the group quickly pulled back capacity. It has since outlined plans to cut the number of incoming aircraft deliveries across the group over the next two and a half years by 68 to 75.
While Iberia and Vueling have been able to tap more than €1 billion in state-backed loan guarantees from the Spanish government, the absence of such a funding package in the UK means the most significant cost measures have so far focused on British Airways.
It has launched a consultation on the potential loss of 12,000 jobs – around one-quarter of its staff. Part of that consultation is focused on the extent to which BA wil return to London Gatwick, having retrenched to its London Heathrow hub during the crisis.
Talks have been taking place too at IAG's Irish unit, Aer Lingus, over cost savings. Irish union SIPTU says management have informed staff they are looking at 20% job cuts in line with the projected fall in revenues. Irish media have since reported job cuts have been pushed back while talks continue on changes to working practices.
IAG is targeting a "meaningful" return to service in July, but since then, both the UK and Spain have detailed plans to introduce a 14-day quarantine period on international visitors. While Spain is to lift its quarantine by the start of July, uncertainty remains around the UK scheme and how it might jeopardise IAG carriers' restart plans.
Further uncertainty rests around IAG's pre-crisis plan to acquire Spanish carrier Air Europa. Walsh says the acquisition, which was due to close in the middle of the year, still makes "strategic sense" but talks to renegotiate the purchase price are continuing.
Air France-KLM
Air France-KLM has so far shown a cautious view on how quickly scheduled passenger services across the group will resume. The group has been operating a skeleton programme providing just 5% of previously planned capacity during the second quarter and its leisure subsidiary Transavia suspended all operations.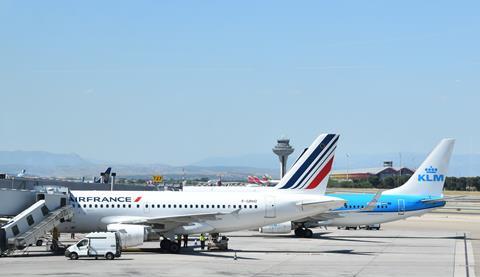 The carrier expects to operate one-fifth of previously planned capacity during the third quarter but raise the level to 60% by year-end. And it sees a "structural capacity reduction of at least 20%" of its fleet versus 2019.
Air France-KLM has already pushed back to 2021 delivery of three Airbus A350s that were scheduled to join Air France's fleet this year. The group had earlier accelerated retirement plans for Air France's A340s and KLM's Boeing 747s. But its highest-profile move has been the 20 May announcement that it would not be bringing its nine remaining Airbus A380s back into service – accelerating the retirement of the type by two and a half years.
Much attention has focused on the "green" terms of a package of financial support the group has secured from the state. France's government is providing Air France with an "initial" liquidity injection package worth €7 billion – comprising both loan guarantees and a direct shareholder loan – while the Dutch government is considering a €2-4 billion support package for KLM.
Air France-KLM is currently preparing "a new transformation plan to ensure economic and financial sustainability over the medium and long term", it says. This includes adoption of more stringent environmental targets set out by the French government as part of its financial support package.
France's government has demanded that by the end of 2024, Air France must halve carbon dioxide emissions from "metropolitan flights" against 2019 levels – and effect a "drastic reduction" of domestic routes where alternative train services with a maximum 2h 30min travel time are available, the airline notes. However, feeder flights to Air France's Paris Charles de Gaulle hub will be exempt from the rule.
Group chief executive Ben Smith says he will meet with unions in June to discuss the group's transformation and "how best to address the much lower activity" foreseen beyond the crisis.
EasyJet
With the exception of Norwegian, arguably no other European airline has seen its post-crisis plans play out so publicly than EasyJet. The crisis reignited criticism of a long-standing Airbus order from the airline's founder and vocal shareholder Stelios Haji-Ioannou.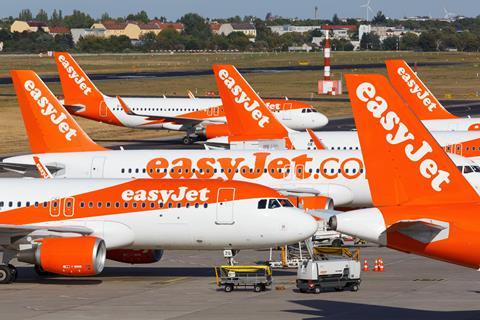 A move to defer 24 aircraft originally due for delivery before the end of 2022 did little to mollify Haji-Ioannou. He called for a resolution to remove four members from the EasyJet board of directors – including its chairman, chief executive and chief financial officer – in an attempt to terminate an order for 107 Airbus aircraft. Shareholders backed the board and the resolution was rejected on 22 May.
EasyJet has now initiated talks on cutting up to 30% of its more than 15,000 staff as it expects to operate a fleet of 302 aircraft by the end of 2021 – some 51 fewer than originally expected.
In April, EasyJet expressed confidence it had enough cash to survive a nine-month grounding of its fleet after securing additional loans totalling around £400 million ($500 million). The airline had in early April said that it had been successful in issuing £600 million of commercial paper through the UK government's Covid Corporate Financing Facility. It is also in sale-and-leaseback talks for additional aircraft from its fleet, which it expects will generate proceeds of £500-650 million.
Norwegian
Ambitious low-cost carrier Norwegian was already fighting for its survival even before the coronavirus crisis pushed it to the very brink.
The airline had retrenched capacity and sold its Argentinian subsidiary as part of a strategy to focus on securing profitability. But such were its liquidity challenges that the airline on 13 March sought a bailout from the Norwegian government – a day before the latter announced that it was shutting down airports in the country because of the pandemic.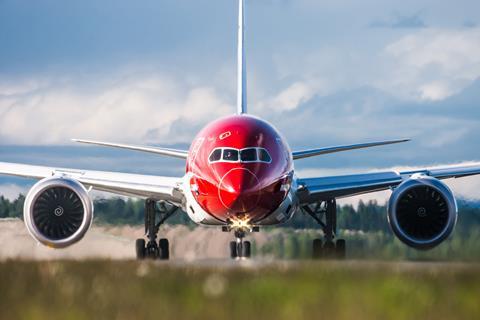 While some of that financial support was forthcoming, Norwegian had to implement a controversial debt-to-equity restructure in order to meet the criteria to unlock the remaining NKr3 billion ($311 million) bailout funds.
After drawn-out talks eventually secured sufficient bondholder and lessor support for the scheme, Norwegian's shareholders in early May voted in favour of its plan to convert debt to equity and relaunch operations with a smaller fleet and fewer destinations from 2021.
The airline says it will remain in a "hibernation phase" – in which 95% of its fleet is grounded and just seven aircraft are operating state-subsidised domestic operations only – until the second quarter of 2021, when a gradual ramp-up will begin.
It does not expect "normal operations" to resume until 2022 and the airline that emerges then will operate fewer aircraft and a "right sized" network focused on the most profitable routes. The carrier forecasts that its fleet will reduce from 168 aircraft before the pandemic to between 110 and 120 jets.
Wizz Air
Central European budget carrier Wizz Air has been among the most bullish of European carriers in its post-crisis plans.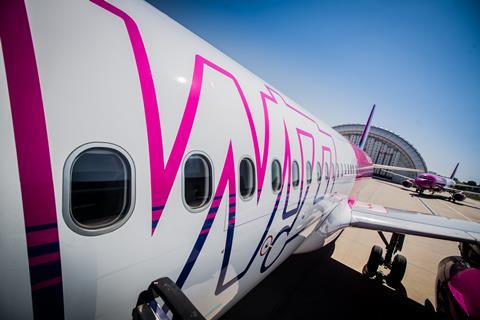 Wizz operated around 3% of its schedule in April, but has since the start of May also resumed some operations from London Luton airport and Vienna. It has since announced plans to open four new bases in July, the largest of which is a five-aircraft operation at Milan Malpensa airport. It is also moving ahead with its plans to launch flights from Bucharest and Budapest to Abu Dhabi from June as part of its new United Arab Emirates operation.
In April, Wizz said it was cutting 1,000 positions, nearly one-fifth of its staff, after its operation was reduced to a bare minimum by the coronavirus crisis. It has also said it is planning to return 32 older aircraft by the end of 2022-2023 as their leases expire, as part of its measures to trim costs and improve liquidity.
Chief executive Jozsef Varadi has also said the carrier is interested in growing its position at London Gatwick airport if slots become available from carriers cutting back operations there.
SAS
Scandinavian carrier SAS has begun work on cutting up to 5,000 full-time positions from its future workforce as it warns it is likely to take "some years" before air travel demand returns to pre-crisis levels.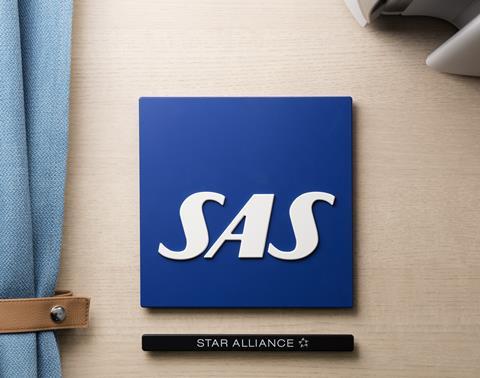 SAS is holding talks with unions over the proposed cuts, which will apply to staff across Denmark, Norway and Sweden, on possible measures to mitigate the number of jobs lost. It also notes that as those affected have an average notice period of six months, initiating the action now gives it flexibility to ramp up the business if demand returns quickly.
At the end of May, the carrier disclosed that it had agreed with Airbus to delay delivery of four A320neos and was in talks with the airframer on further deferrals.
In early May SAS signed an agreement for a SKr3.3 billion ($352 million) three-year revolving credit facility that is 90% guaranteed by the Swedish and Danish governments. The airline is also in talks with Norway's government for an additional NKr1.7 billion of state-guaranteed funding.
Virgin Atlantic
UK long-haul carrier Virgin Atlantic is planning to cut over 3,100 jobs and retire some of its Boeing 747-400s in an effort to address the financial pressure of the coronavirus crisis.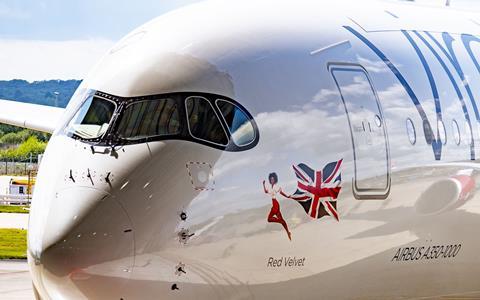 The airline says it will "no longer use all" of its seven 747-400s and is planning to retire four Airbus A330s in early 2022. It says its fleet will comprise 36 twin-engined aircraft, including Boeing 787s, from 2022.
It is temporarily shifting its operations away from London Gatwick, moving its flight programme to London Heathrow instead – although it stresses that it will be retaining its Gatwick slots in order to return once demand improves.
Virgin Atlantic says the post-coronavirus recovery could take up to three years.
While it is still holding "constructive" discussions with the UK government and other stakeholders, as it explores funding options, the carrier says it needs to reduce costs. Virgin group founder Richard Branson also aims to use the proceeds from the sale of a stake in Virgin Galactic to help prop up its struggling travel businesses.
Snapshot of other European carrier developments
German leisure carrier Condor ultimately secured state funding support after its planned acquisition by LOT Polish Airlines parent PGL fell through in April.
Irish regional operator CityJet entered formal examinership in April, giving it protection from creditors to enable it to restructure. Its planned merger with Spanish regional carrier Air Nostrum is still to be completed.
Italy is moving ahead with plans to nationalise Alitalia after the coronavirus crisis signalled the end of a fruitless three-year search for fresh investors.
German regional carrier LGW in April filed for insolvency after Lufthansa low-cost subsidiary Eurowings terminated a wet-lease agreement.
Stobart Group in late April agreed a deal with the administrators of Connect Airways to buy back Irish regional carrier Stobart Air and aircraft lessor Propius in a move aimed at managing outstanding financial commitments.
Icelandair Group is folding the activities of Air Iceland Connect into its mainline operation and has eliminated the position of the regional arm's managing director.

Based in London, Graham has been with FlightGlobal for over 20 years predominantly working across its online news platforms and Airline Business. With a focus on developments across the airline industry as a whole, and within Europe in particular, Graham has also edited FlightGlobal daily papers from events such as the IATA AGM, moderates industry panels and co-presents the Airline Business podcast.
How the airline industry has been hit by the crisis
1

2

3

4

Currently reading

European carriers aim to cut their way through the crisis

5

6

7