Consolidation within Europe post-pandemic has largely focused on opportunities for the big three airline groups to bolster their presence in the south of the continent.
Plans to privatise TAP Air Portugal, given the formal green light a week ago, came after Lufthansa Group's move for ITA Airways in Italy and IAG's renewed attempt to complete a deal for Spanish carrier Air Europa.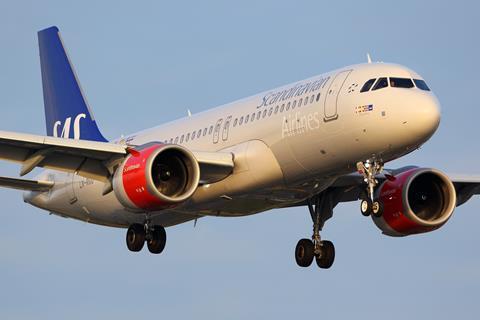 However, this week's news that Air France-KLM is to take a 19.9% stake in struggling Scandinavian carrier SAS turns attentions north.
The SkyTeam carrier is investing $144.5 million as part of a consortium set up to rescue the airline, which has been restructuring under US Chapter 11 protection. That will see equity firm Castlelake become the biggest shareholder in SAS with a 32% stake.
"With its well-established position in Scandinavia and strong brand, SAS offers tremendous potential to Air France-KLM," says Air France-KLM Group chief Ben Smith.
Under the plans, which still need to be approved under its restructuring process, SAS will leave Star Alliance and join its new partner in SkyTeam.
That would mark a significant change in the alliance landscape in Europe given that SAS was a founding carrier in Star Alliance, with investment flirtations with Lufthansa over the years, while SkyTeam has had limited partnership opportunites in Nordic markets, especially given Finnair's long-standing membership of Oneworld.
It comes amid a period of likely fluidity among alliances and partnerships within Europe as consolidation moves play out. One of the reasons a move for Portugal's TAP may be attractive to Air France-KLM is because existing southern European partners ITA and Air Europa are set to leave the SkyTeam camp under their respective planned acqusitions. All three European airline groups have expressed interest in TAP, dependent on conditions related to the sale.
However, the challenges IAG has found in structuring a deal which both it and European competition regulators could accept for Air Europa – and with reports surfacing last month of Italian unhappiness at the Commission's progress in clearing Lufthansa's move for ITA – illustrate that completions of significant planned mergers cannot be taken for granted.
While all three deals being structured initially as minority shareholdings theoretically eases the regulatory process – IAG already has a 20% stake in Air Europa – the value of such investments is impacted without a pathway to majority control.
Interestingly, while Air France-KLM is only taking a minority stake in SAS, there are "specific provisions" which provide a potential pathway under which it could ultimately become a controlling shareholder in the carrier. Such a route, to be outlined in the definitive SAS investment agreement between the consortium members, would though be subject to financial performance and regulatory conditions.