Budget carrier SpiceJet, which has grounded its fleet amid a three-week lockdown in India, could face a monthly bill of over $20 million for 100 leased aircraft – most of which are in storage.
Cirium fleets data shows that 13 of the aircraft are Boeing 737 Max jets, which have been grounded globally since March 2019, but most are of other aircraft types and have been placed in storage within the last 60 days. 84 of the aircraft entered storage within the past two weeks.
Only seven of the airline's 113 aircraft remain in service as of 3 April. These are three Boeing 737-700s, three 737-800s and one Bombardier Q400.
The indicative lease rental total, which is based on Cirium data, does not take into account any rental payment reductions, deferrals, or other measures the airline may have negotiated with its lessors. At the current monthly rate, its lease payments would amount to at least $180 million from now till the end of the year.
SpiceJet would not comment on any negotiations with lessors, saying only that because of India's three-week lockdown, which started on 25 March, all domestic and international passenger flight operations are suspended.
The airline is a darling of India's fast-growing low-cost market, having orchestrated a successful turnaround after difficulties in 2014. But now SpiceJet is facing another threat to its business as the coronavirus causes what many are calling the biggest disruption to global aviation in history.
"What we are facing is a global phenomenon, and no airline in the world is immune to the impact. Tough times don't last, tough people do. SpiceJet was born of adversity, and it is the same adversity that brings out the best in each and every one of us," chairman Ajay Singh said at the end of March.
The pandemic has forced the Gurgaon-based airline to slash capacity and staff salaries, and its credit rating was recently downgraded.
CRISIL, a company affiliated with ratings agency S&P Global, has downgraded its rating on the long-term bank facility of SpiceJet to "B/Negative" from "BB-/Positive", though it did reaffirm its "A4" rating on the short-term facilities.
The ratings agency says it is concerned about heightened business risk arising from SpiceJet's discontinuation of international operations until 30 April and the suspension of domestic flights.
"Against a modest revenue expectation, the company will have to continue to incur fixed costs such as lease rentals and workforce costs," says CRISIL. "This will result in operating losses and a weakening of the financial risk profile."
At the end of March, SpiceJet cut staff salaries by 10-30% for employees across "top and mid-rung levels". Singh is taking a 30% cut. The airline also enforced unpaid leave from 25 March to 31 March.
China's ICBC Leasing is the most exposed lessor to SpiceJet, with 12 aircraft – four Max 8s, three 737-800s and five Q400s – generating around $2.7 million a month for the lessor. Other lessors with large exposure include Carlyle Aviation Partners, with 10 737-family aircraft and around $2.1 million in monthly rentals, and Avolon, with nine 737-family aircraft (including two Max jets) and around $2 million in monthly rentals.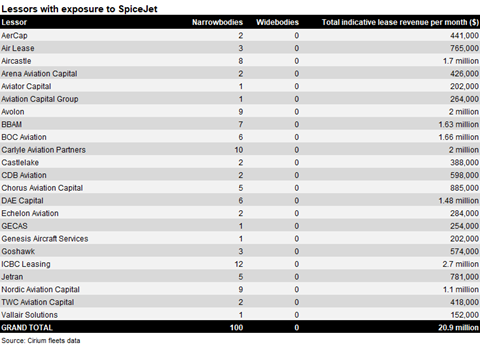 This analysis was written by Michael Allen, Asia Finance Editor of Cirium.