Two typhoons that have hit Hong Kong over the past four days have caused flights to be cancelled and delayed, but their impact has been a drop in the ocean compared to the more than 18 months of disruption caused by Covid-19-related travel restrictions.
The first tropical cyclone forced a British Airways Boeing 777 flying passengers from London Heathrow to Hong Kong on 8 October to divert to Manila after two failed attempts at landing in the Chinese special administrative region.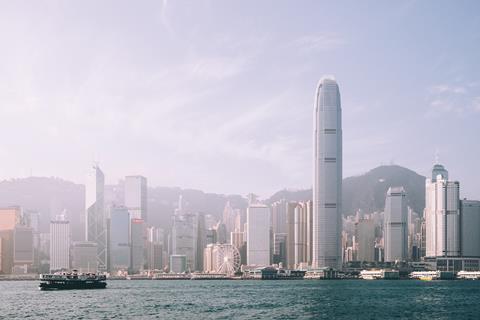 When the aircraft finally arrived in Hong Kong, the city's authorities maintained their hard line on quarantine, making no offer to adjust the mandated period to account for the night the weary travellers spent in the Philippines unable to leave the aircraft, according to an 11 October article in the South China Morning Post.
The deterrent effect on air travel of Hong Kong's quarantine policy, among the strictest in the world, is plain to see in travel statistics: passenger numbers at Hong Kong International airport were 222,000 in August, which was up 165% year on year but represents only 4% of pre-pandemic levels in 2019.
In a 10 October interview with Bloomberg, the city's top leader, chief executive Carrie Lam, said she and her government "are working very hard to resume normal travel in a gradual and orderly manner, both with the mainland of China and with overseas places".
Despite those efforts, rival aviation hub Singapore is pulling ahead, thanks to its move towards "living with the virus", rather than insisting on aiming for zero cases of Covid-19, as Hong Kong and the mainland continue to do.
The Southeast Asian city-state has expanded its so-called vaccinated travel lane (VTL) network to 14 cities in 11 countries, with additional points expected to be announced in the coming weeks.
While this is still a far cry from the opportunities for air travel available pre-pandemic, those travelling in the VTLs can go to destinations including Amsterdam, Barcelona, Copenhagen, London, Los Angeles, Milan, New York, Paris and Rome starting 19 October – destinations Hong Kongers can only visit with a one-way ticket unless they wish to endure a lengthy and costly quarantine upon their return.
Hong Kong appears unlikely to bow to peer pressure and will reopen at its own pace. Lam said in the 10 October interview that as Hong Kong's leader, she was "duty-bound to protect my people, so any fatality or increase in fatality will cause a major concern in society".
Government data shows Hong Kong has reported 213 deaths from Covid-19, while Singapore has reported 172, according to World Health Organization data.
Singapore's death rate has increased in recent weeks as daily cases have climbed to the thousands. Hong Kong's deaths mainly occurred during earlier waves of the pandemic, and the city has reported mostly single-digit daily caseloads for the past few months, many of these cases imported rather than local cases.
Lam said the Hong Kong government's priority was to "resume some normal travel with the mainland". This would come before a reopening with international destinations.
She said this was the "common aspiration of the Hong Kong people", although she did not explain how she had arrived at that conclusion.
Some residents, including expatriates and locals with overseas ties, as well as business people needing to make business trips, have criticised publicly and privately the travel restrictions and called for a quicker reopening with international destinations.
Others have argued the low numbers of Covid-19 cases make them feel safe and they do not want to risk reopening borders.
Lam said that international companies based themselves in Hong Kong for its ease of access to the mainland market.
"So if I open up the border for the international arrivals, but at the same time you cannot travel into the mainland, that really is not the best arrangement for our business people," she said.
GOVERNMENT CONFIDENT IN HUB STATUS
Despite not yet being willing to ease quarantine requirements to help airlines generate more revenue, Lam said in her annual policy address on 6 October that she remained confident that Hong Kong's status as an international aviation hub "could be consolidated and enhanced".
She pointed to the construction of the third runway at Hong Kong International airport as being a "strategic investment" that would increase capacity and "enhance the competitiveness" of the airport.
Full completion of that project is scheduled for 2024. It remains unclear whether quarantine would still be mandated at that time, but presumably this would need to be lifted for the airport to enjoy the competitive edge to which Lam referred.
She also mentioned that the Airport Authority of Hong Kong was injecting equity into Zhuhai Airport, and that the Hong Kong government wished to work with the government of Guangdong province to establish a "high-end aviation industrial cluster" in Zhuhai, a nearby city to Hong Kong on the mainland.
This would encompass fields such as aircraft maintenance, manufacturing and the distribution of aircraft parts and components, as well as "research on aircraft engineering", she said.
Key aviation players including the Airport Authority and flag carrier Cathay Pacific threw their support behind Lam and her government's plans for Hong Kong's aviation development.
Cathay Pacific, which has received billions of dollars of pandemic-related government support, said in a 6 October press release that it "welcomes the Hong Kong SAR government's confidence in and commitment to Hong Kong's status as a leading international aviation hub".
Jack So, chairman of the Hong Kong Airport Authority, issued a similarly supportive statement that same day, thanking the government and the Chinese government and adding that the Airport Authority "spares no effort to reinforce the airport's position as a leading international aviation hub".
OTHER REGIONAL REOPENINGS
Beyond Singapore, other governments in the Asia-Pacific region have recently signalled moves towards reopening, moving Hong Kong and China further towards outlier status.
Thailand's prime minister Prayut Chan-o-cha on 11 October announced a plan to allow quarantine-free entry for fully-vaccinated tourists from countries deemed low risk from 1 November.
Malaysia on 11 October lifted restrictions on domestic travel, leading to an increase in scheduled flights. Restrictions on international travel were also eased for vaccinated citizens and residents, although they will still need to quarantine upon their return.
Australia, previously a member of the zero-Covid club, will let fully vaccinated residents enter the country without quarantine from November.
Hong Kong's government says it must first sort out the border reopening with the mainland before making similar moves.
Lam, in her Bloomberg interview, cited a "very high vaccination rate" as one of the "parameters" the Hong Kong and mainland governments had agreed upon for a reopening of their shared border.
She declined to give a specific figure for that vaccination rate and said Hong Kong's vaccination programme was "still lagging behind". The city has fully vaccinated nearly 64% of its population with two-dose vaccines, according to government data extracted on 13 October.
Lam added that the second parameter was "infection-control measures". This would be "both in terms of arrivals and also in terms of preventing a spread in the community".
The third parameter is the effectiveness of the city's contact tracing regime. In addition, there needs to be clarity on the mechanism for suspending cross-border travel in the event of an outbreak.
She said: "The discussions between the two sides are meant to find a way forward that, respecting the differences in the systems between the two places, that there could be assurance that we would not be thought of as the weak link in terms of Covid-19 control."
Analysis by Michael Allen of Cirium