Faced with an immediate drop in revenues from the virtual of grounding of international scheduled passenger flights, governments around the world have stepped in to find ways to keep their country's airlines in business through the coronavirus crisis and beyond.
In Europe that was in part facilitated by European Commission regulators in March agreeing to temporarily ease existing state aid rules. The new temporary framework cleared member states to introduce several measures, such as setting up schemes to grant up €800,000 ($900,000) to a company to address urgent liquidity needs, as well as providing state guarantees for loans taken by companies from banks.
As the crisis has continued, and with scheduled passenger services only now slowly starting to be restored, a string of actions covering a range of European carriers have been initiated or remain under consideration.
Aegean Airlines
Aegean Airlines at the end of May said it planned to utilise Greece's Covid-19 Enterprise Guarantee Fund for a state guarantee to support €150 million in loans.
Air Baltic
Latvia's government, the majority shareholder in Air Baltic, in May agreed to invest up to €250 million into the equity of the carrier to counter the impact of the coronavirus crisis.
Air Baltic says each investment tranche will be provided in line with market rules and will not exceed the losses caused as a result of Covid-19. The investments will increase the Latvian state's shareholding in Air Baltic from 80% to 91%.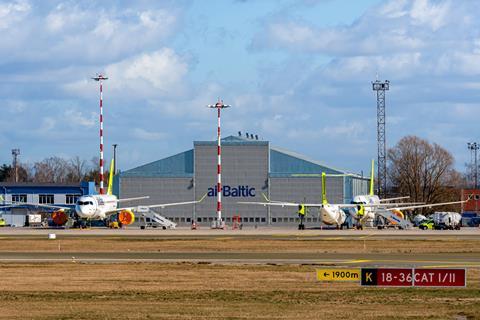 Air France
France's plan to provide €7 billion ($7.7 billion) of government-backed loans to help Air France-KLM through the coronavirus crisis was approved in early May by the European Commission.
The airline group has negotiated a French state-backed loan of €4 billion from a syndicate of six banks to be distributed to Air France-KLM and Air France. The French government is guaranteeing up to 90% of the loan, which has a 12-month maturity.
There will also be a direct four-year shareholder's loan of €3 billion from the French government to Air France-KLM.
The French government has said that Air France must slash domestic flights and agree to work towards becoming the world's "most environmentally friendly" airline, in order to access the bailout funds.
Alitalia
Italy's government has taken emergency action and plans to renationalise Alitalia, which has been in extraordinary administration and seeking fresh private investment since May 2017. Italian transport minister Paula de Micheli has indicated it will look at potentially integrating some of the assets from Air Italy, which collapsed in February even before the coronavirus pandemic took hold in Europe, into the new Alitalia.
Austrian
Austria's government has agreed with Lufthansa Group a financial support package for Austrian Airlines worth €600 million ($667 million) to secure its future operation as a network carrier in Vienna.
The package includes €150 million in state aid from Austria's government to cover coronavirus-related losses, and repayable loans worth €300 million from multiple local banks, Austrian says. Lufthansa will inject another €150 million in equity capital.
Austria's government will guarantee 90% of the loans via the state's COFAG agency, a special purpose vehicle to provide liquidity assistance to companies during the coronavirus crisis.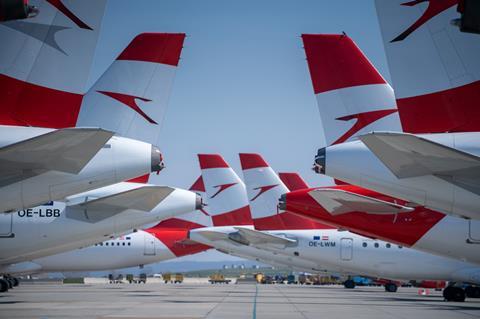 Brussels Airlines
The Belgian carrier is the last remaining Lufthansa Group subsidiary in which an agreement on state support is still to be reached. Belgian daily De Tjid reports negotiations over a €290 million support package stalled over the Belgium government's desire for a mechanism to ensure Lufthansa complies with the agreement.
Condor
European Commission regulators in April approved a €550 million ($595 million) loan from the German state to help struggling leisure carrier Condor through the coronavirus crisis.
Condor says the package, granted under the federal government's Corona-Schutzschild (corona shield) programme, secures its flight operations after Polish group PGL withdrew from its planned purchase of the carrier. The German airline has been seeking a new investor following the collapse of its parent Thomas Cook Group last year and in October had required a €380 million bridging loan.
It says it will "receive a loan of €294 million as corona aid as well as €256 million to fully refinance the bridging loan that the leisure airline received for last winter following the insolvency of Thomas Cook".
Czech Airlines/Smartwings
Smartwings Group, which operates national carrier Czech Airlines as well as the former Travel Service operation, is seeking state support for a loan or guarantee.
Czech daily Lidovky reports the transport ministry and Smartwings are close to reaching agreement on the state providing guarantees to banks for loans of Kc800 million ($33 million). It reports conditions the ministry is looking to attach to the support include commitments on job levels and the group taking the Czech Airlines name.
A transport ministry spokesperson says these talks are still ongoing. "The discussion covers the state guarantees between Kc500-900m, incluind increasing the marketing potential of Czech Airlines," the spokesperson says.
Finnair
Finland's government was cleared by European regulators on 10 June to participate in Finnair's €500 milion share issue. The Finnish goverment is the largest shareholder with a 55.8% stake in Finnair and will subscribe to new shares worth €286 million - corresponding to the current size of its shareholding - as part of the refinancing.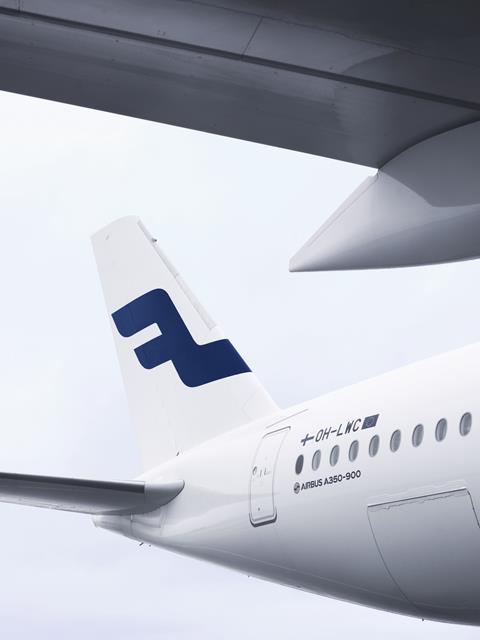 Iberia and Vueling
IAG's Spanish carriers Iberia and Vueling secured financing of €750 million ($817 million) and €260 million respectively under a syndicated agreement with banks, guaranteed by Spanish state-owned Instituto de Credito Oficial (ICO).
IAG says the banks involved in the syndicate will ask ICO to grant guarantees for these loans and the financing is conditional on those guarantees being made available. The airline group says the financing arrangements have a five-year term, amortising from 30 April 2023, but are repayable at any time on notice from Iberia or Vueling respectively.
KLM
The Dutch government in April pledged an aid package to KLM to come in the form of state guarantees and loans amounting to between two and four billion euros.
Lufthansa
Lufthansa Group's supervisory board at the start of June approved a €9 billion ($10 billion) stabilisation package offered by the German federal WSF fund, accepting the conditions attached by the European Commission.
The company is formally recommending that shareholders similarly approve the measures during an extraordinary general meeting set for 25 June.
Under the agreement the WSF will contribute up to €5.7 billion to Lufthansa's assets including €4.7 billion in equity. The measure will be supplemented by a syndicated three-year credit facility of up to €3 billion, provided by private banks and KfW – yet to be approved.
Lufthansa says the "silent participation" is unlimited in time and can be terminated by the company – either in whole or in part – on a quarterly basis.
WSF will acquire shares to build up a 20% shareholding in Lufthansa Group at a price of €2.56 per share – equating to an overall cash investment of some €300 million. It will be able to increase the shareholding further, to just over 25%, if there is a takeover of the company.
Norwegian
Norwegian in May completed a financial restructuring under which it converted NKr12.7 billion ($1.27 billion) debt into equity to enable it to access NKr3 billion in lifeline state aid.
The cash-strapped carrier had embarked on the debt conversion programme to meet equity ratio criteria required to unlock the second and third tranches of state aid. It had previously warned it would run out of cash in May without securing the remainder of the state aid package.
Norwegian has entered into a NKr2.99 billion state supported term facility agreement arranged by DNB Bank.
Russia
Eighteen Russian operators have been approved to receive subsidies under a Rb23.4 billion ($339 million) government programme to ease financial pressures during the coronavirus crisis.
Another 13 have applied, says federal air transport regulator Rosaviatsia, but the documentation for these applications is still undergoing review.
The government set out the conditions for the subsidies in a 13 May decree, which details a formula to calculate the size of the support. At least 60% of the funding should be put towards compensating labour costs, up to 30% to cover leasing payments and no more than 10% for airport expenses relating to aircraft parking.
The 18 approved operators will collectively receive Rb9.45 billion to cover expenditures to April 2020. These carriers include Aeroflot, Rossiya, Azimuth, Red Wings, Ural Airlines, S7 Airlines, Utair, Nordwind, and Smartavia, among others. The other 13 applicants are seeking subsidies totaling Rb238 million.
SAS
Sweden's and Denmark's governments are backing a capital increase for Scandinavian carrier SAS, which is seeking around SKr12.5 billion ($1.33 billion) in support funding.
The Swedish government has submitted a proposal to the country's parliament for support amounting to SKr5 billion, says SAS. It adds that the Danish government has signaled "political unity" for the recapitalisation measure.
The Norwegian government was a former shareholder in the airline, but sold its stake two years ago. SAS says, however, that it is trying to obtain funding support from the Norwegian government.
Swiss
Switzerland's government has proposed providing 85% guarantees for loans totalling Swfr1.5 billion ($1.52 billion) to Lufthansa subsidiaries Swiss and Edelweiss.
The loans would be provided by a consortium of Swiss banks "at market conditions" for a term of up to five years, says Lufthansa.
The loans would be secured by Swiss and Edelweiss shares held by Lufthansa, it adds, noting that "no intra-group dividend payments must be made for the period during which the credit facility is drawn down".
TAP Portugal
EC regulators in June cleared Portugal to provide a €1.2 billion state rescue loan to its national carrier TAP to address "immediate liquidity needs".
Due to its "financial difficulties", TAP Air Portugal is not eligible to receive support under the Commission's temporarily relaxed state-aid rules. Instead, the government loan was approved under the bloc's rescue and restructuring guidelines, which exist to "support companies in difficulty" as long as support measures are "limited in time and scope, and contribute to an objective of common interest", says the Commission.
"This €1.2 billion Portuguese rescue aid will help TAP Air Portugal face its liquidity needs and pave the way for its restructuring to ensure its long-term viability," states EU competition chief Margrethe Vestager.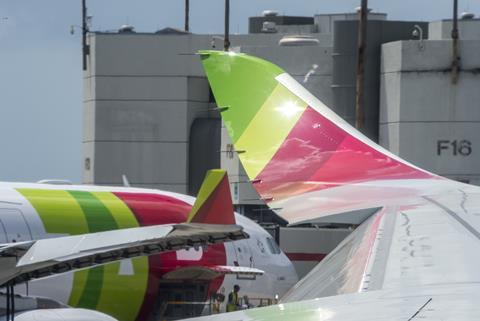 TUI
German travel operator TUI at the end of March secured a €1.8 billion government guaranteed loan to enhance its liquidity amid the chaos caused by the coronavirus pandemic.
The German-guaranteed loan is being provided by KfW, and requires the airline to suspend dividend payments. Including the loan, which is subject to banking approval, TUI will raise its total liquidity to €3.1 billion.
Earlier this month German daily Frankfurter Allgemeine reported TUI Germany was looking for further state support, potentially seeking a further €1.2 billion from the WSF stabilisation fund.
UK
Several carriers have tapped the UK government's Coronavirus Corporate Finance Facility support scheme.
EasyJet issued £600 million of commercial paper through the scheme, while British Airways parent IAG has applied for £300 million ($370 million) fund the initiative. Jet2 qualified for a €300 million loan under the programme to provide "standby liquidity" if required. Wizz Air has also said it is eligible to qualify for an initial £300 million under the scheme.
To be eligible for a loan under the scheme, companies must prove that they make a "material contribution" to the UK economy and they must have had an investment-grade rating as of 1 March 2020.