Indian low-cost carrier IndiGo is not worried that new entrants into India's domestic market will have a major impact on yields.
The largest carrier in India and the sixth biggest in the world as measured by passenger volume, IndiGo had a tough 2022 financial year to 31 March amid continued Covid disruption. The carrier's net loss widened to of Rs61.6 billion ($794 million) from Rs58.2 billion a year earlier.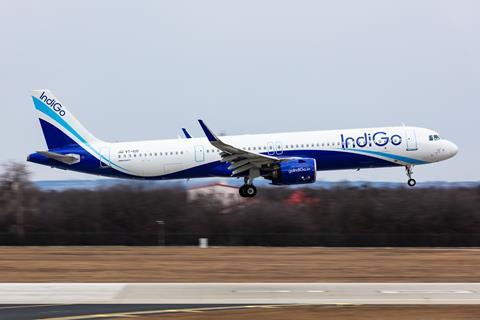 This was despite revenues from operations leaping 77% to Rs259 billion. The carrier blamed the losses on the Delta and Omicron variants of Covid-19. Although the pandemic is abating, the carrier faces sharply higher fuel prices and a falling Indian rupee.
Amid this environment IndiGo will continue to add capacity, while start-up Akasa Air and a rebooted Jet Airways are poised to join the fray. IndiGo chief executive Ronojoy Dutta, however, is confident that despite the increase in competition things will not get out of hand with ticket prices.
"The industry has been behaving quite rationally," he says. "We have a lot of players already. Everyone recognises that with fuel doing what it is doing and with the large losses we've incurred we all need to repair our balance sheets. If you look at the management at both Akasa and Jet and so forth, they are seasoned players. I expect the rational behaviour to continue and we won't see crazy price wars or anything like that."
Bother carriers are headed by industry veterans, with former Jet Airways chief Vinay Dube leading Akasa and former Vistara strategy chief Sanjiv Kapoor at Jet.
Dutta, speaking during a call with analysts, indicates that perhaps the greatest challenge facing IndiGo (and Indian carriers generally) is pricing domestic tickets amid high fuel prices and a weak foreign exchange environment.
"There is a tug of war going on between very good revenue performance and a very challenging fuel price and a weak rupee," says Dutta.
He notes that fuel costs in April were 11% higher than March, while May's fuel prices rose 6% from April's.
"The key to profitability is to keep managing on the revenue side," he says. "Of course costs need to be kept under control, but we won't save ourselves into profitability, we have to get it on the revenue side. And, at the same time, hopefully we get a break on fuel and on the rupee."
From a competitive perspective, he feels IndiGo's broader network and customer service acumen give it an edge, particularly for higher-yielding late bookings.
With the coronavirus pandemic fading, IndiGo expects capacity as measured in ASKs during the 2023 fiscal year to be 55-60% higher than in FY2022. Some of this will be as a result of the increasing presence of higher capacity Airbus A321neo in its fleet.
This adds to capcity growth of 54.9% in the 12 months to 31 March.
International capacity is also set to increase, with the carrier already operating 90% of its pre-Covid international network following New Delhi's removal of travel restrictions at the end of March. Dutta says international traffic – which offers better yields than domestic - will keep growing, but notes challenges with both Sri Lanka, which is facing economic meltdown and civil unrest, and China, which is effectively barred itself from international travel.
Longer term, Dutta sees international playing a bigger role in the carrier's capacity mix. International traffic accounted for 25% of capacity before the pandemic, but this will grow to 40% within the next five years.
The airline is also encouraged by the return of corporate travel on India's key 'metro-metro' routes, ie. routes between top cities such as Bengaluru, Delhi, Mumbai, Hyderabad, and others.
Dutta reiterates the growing importance of IndiGo's routes from secondary cities into big metros. He feels the country is only at the very beginning of a major shift, whereby Indian travellers elect to save time by flying, as opposed to undertaking a long, arduous journey by ground transport. Despite short term challenges, he remains optimistic.
"The dynamics of the Indian aviation market see more people travelling, more people travelling more frequently, and more people willing to pay a higher price. So when I put all these things together, what is the confidence level? Very, very high."
Dutta is poised to retire from IndiGo, where he will be replaced by KLM's departing chief Pieter Elbers from October.