Indian low-cost carrier IndiGo is enjoying a strong domestic rebound as the subcontinent continues its recovery from a painful Covid-19 outbreak earlier this year, according to chief commercial officer William Boulter.
The carrier has actually expanded its domestic network to 71 local destinations, up from 60 it operated before the pandemic, says Boulter. He estimates the carrier has gone into ten all-new points in the last half-year, the latest being the city of Kanpur.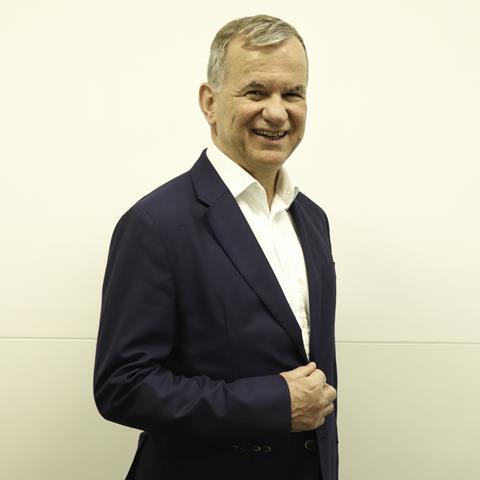 "This is part of our strategy to get into what we call 'tier two' or 'tier three' markets in India. It was driven to an extent by the collapse in corporate traffic a year, year and half ago…it's quite a change in our network."
IndiGo also welcomes the government's move to end capacity caps for domestic travel, put in place in 2020 and 2021 amid major waves of Covid-19, including the emergence of the Delta variant.
Fare caps, however, are still in place, capping the cost of tickets both on the high and low side. This takes a bit of flexibility out of IndiGo's playbook.
"Given the flexibility to offer lower fares, we would be looking to stimulate demand at the lower end, and that's important – especially for a low-cost carrier."
He also adds that lower fares are better for consumers. And, of course, in certain periods or seasons the airline might also like to charge more.
In any case, it's clear that Indian air travel is getting back on its fleet. According a research note from ICICI Securities using government statistics, average daily flyers are over 90% of pre-pandemic levels.
For the week ended 27 November, there were an average of 374,000 per day. Before the pandemic, this metric was consistently over 400,000. During big coronavirus outbreaks, however, the number of daily flyers dipped well below 100,000.
According to Boulter, a good deal of the domestic traffic is visiting friends and relatives, and business travel is also showing some resilience.
Boulter adds that overseas leisure travel is also going well, particularly to Male, the capital of the Maldives, to which IndiGo is operating four or five flights daily, up from two daily before the coronavirus pandemic.
"People do want to get out, they do want to travel, they do want to have a holiday," says Boulter.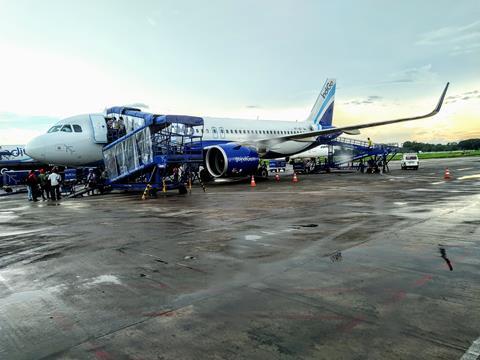 Whereas travel to other leisure destinations such as Europe and Thailand has been more difficult, the Maldives took what Boulter calls a "quite advanced approach" to vaccinations and opening for travel, and this has stimulated Indian traffic.
Within India, the coastal city of Goa has been strong. To the west, IndiGo is picking up operations to the Persian Gulf, flying nine flights daily to Dubai, compared with 12 or 13 before the pandemic. It serves Doha eight times daily, whereas previously it had 10 flights.
"Those numbers are pretty close to where we were, so that's very encouraging."
To the east, Southeast Asia's recovery is markedly slower. Before the pandemic, IndiGo had six flights daily to Singapore. Now it has two services daily, only one (from Chennai) of which is 'Vaccinated Travel Lane' flight, allowing vaccinated passengers to avoid quarantine in the city state.
The big question hanging over IndiGo – and, indeed, the entire industry – is the new Omicron variant of Covid-19. Boulter indicates that IndiGo has seen "a little weakness" in booking patterns, but it's too early to assess what the implications of the new variant will be.
As for IndiGo's fleet of 279 aircraft, Boulter says none are in storage. That said, utilisation is not quite as high as the carrier would like, namely because of greatly reduced flights to regional destinations that were formerly served overnight.
"The fleet is running pretty hard. We don't have any stored aircraft. And during the day the fleet is on the domestic tasks we have, and some of the international routes flown during daylight hours."
Rising travel demand has also allowed IndiGo to take passenger aircraft it had been using for cargo charters – Boulter says the carrier operated 7,700 such services – and return them to passenger use. Nonetheless, IndiGo is committed to cargo, and will introduce four Airbus A321P2Fs from early 2022.
Longer term, IndiGo remains very bullish on the opportunity India offers. Boulter says that market is under penetrated, and the sector is bound to grow. Moreover, the eventual arrival of the A321XLR will greatly broaden the airline's international options, allowing it to reach points in Europe, as well Asian destinations such as Japan and South Korea.
"We're going to stick with our strategy, which has always been very clear to everyone in terms of providing on-time performance, hassle-free service, and affordable prices," says Boulter. "We're very committed to that."