It seems like a scene from a Korean drama series: the long-suffering lead character suddenly receives a helping hand from someone unexpected — her nemesis.
But on 16 November, reel life became real life in South Korea, when the country's airline industry witnessed a massive shake-up: flag carrier Korean Air was to acquire its embattled rival Asiana.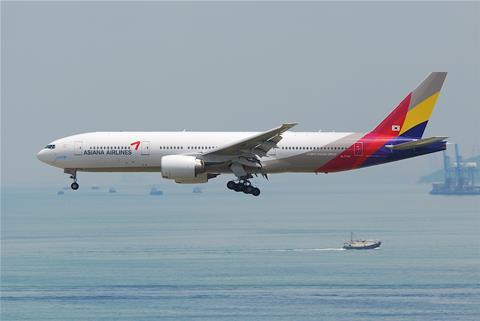 In announcing the W1.8 trillion ($1.62 billion) move, Korean Air says it decided to take over its rival to "stabilise the Korean aviation industry", which like many others around the world, has acutely felt the impact of the coronavirus outbreak.
It touts many other advantages to the acquisition, including a lowering of costs from streamlined operations, as well as increased competitiveness on the world stage, among others.
"More slots secured at [Seoul] Incheon International Airport, a transport hub in Asia, through the consolidation of the airlines, may lead to an increase in joint ventures with global airlines and greater transfer demand, which will also spur the growth of the domestic aviation industry," it says.
As the dust of the proposed acquisition settles, questions begin emerging. How will Korean Air integrate the Asiana operating model? What will the future fleet look like, especially given that Korean Air is predominantly a Boeing operator and Asiana primarily an Airbus operator?
More importantly, is this a sign of further consolidation — both in South Korea and in the region?
FINDING THE RIGHT ONE
Korean Air's announcement on 16 November ends months of speculation and wrangling over who might acquire Asiana.
Since April last year, Asiana parent Kumho Industrial had been trying — to no avail — to sell its cornerstone stake in the carrier. It came as part of a wider self-rescue plan for the heavily-indebted Kumho conglomerate, which owned about 33% of the carrier.
Asiana itself was under financial scrutiny early last year, after auditors refused to sign off on its accounts due to issues over the accounting of lease and maintenance provisions. That forced it to revise its statements and led to the resignation of Park Sam-koo as a co-chief executive.
So began Kumho Industrial's journey to find a suitor for Asiana. It came very close to doing so at the end of 2019, after it picked a consortium led by Hyundai Development (HDC) as its preferred partner.
The deal closed on 30 December, with the consortium aiming to complete the acquisition by April this year.
Then the coronavirus outbreak hit, starting first in China, and spreading across Asia-Pacific and the rest of the world. South Korea was badly hit at the onset, with daily cases peaking at more than 1,000 around February.
By June, the HDC sale seemed to be off the table, as it sought to renegotiate acquisition terms, a move reportedly sparked by an increase in Asiana's debt burden.
In September, the deal collapsed, forcing Kumho Industrial back to the drawing board to find a suitable owner.
Things were in limbo for the month or so under, until rumours surfaced that a Korean Air acquisition seemed likely. Neither carrier commented on the matter, until news of the actual deal broke.
MARRIAGE OF STRANGE BEDFELLOWS?
Industry watchers tell FlightGlobal that the acquisition was only natural, given the nature of the South Korean airline market, itself already saturated with two full-service carriers, and a plethora of low-cost carriers both independent, and owned by Korean Air and Asiana.
Indeed, Korean Air raised this point in justifying its acquisition, stating that unlike other countries with a population below 100 million, South Korea had two full service carriers.
This, it argues, "gives it a competitive disadvantage compared to countries like Germany, France and Singapore, with a single major airline".
It continues: "However, Korean Air's acquisition and the expansion of its routes, fleet and capacity will give the airline the competitiveness to compete with global mega airlines."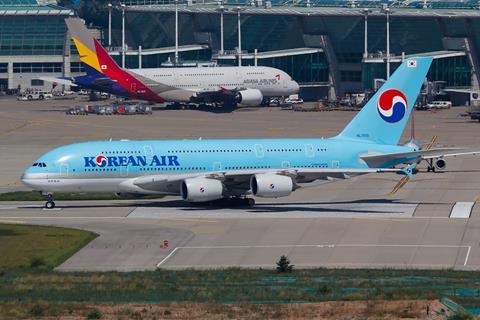 Joanna Lu, head of consultancy for Asia at Ascend by Cirium, tells FlightGlobal the consolidation of two full-service carriers is "sensible", as the market is already "quite competitive".
Both Korean Air and Asiana are already heavily impacted from a collapse in international traffic demand, owing to the coronavirus pandemic. Asiana's finances, despite returning to profitability in recent quarters, have been shakier in light of the crisis.
"As the pandemic prolongs, the major market still available [to the carriers] is likely to be domestic for some time, so the consolidation plan seems sensible ," Lu adds.
Concurring, independent aviation analyst Brendan Sobie says consolidation in the South Korean market "is overdue".
He adds: "Consolidation was needed before Covid-19 and is needed now more than ever. The merger would improve the position of both airlines and the overall South Korean market."
Along with the merger, Lu feels that both carriers' low-cost units should also be consolidated. Between Korean Air and Asiana, there are three low-cost brands: Air Seoul, Air Busan and Jin Air.
The analysts also agree that integrating two large carriers, each with their own operating models, will be no mean feat, and might even meet with resistance.
Sobie says: "The challenges would be securing all the required approvals. Implementing such a large airline merger is also always difficult."
He notes that such a merger "will be controversial and may not be approved by competition authorities".
Korean Air chief executive Walter Cho himself has appeared to quash rumours of a jump in fares or workforce restructuring, and downplayed any inkling of reduced competition. He was quoted in a Korea Herald report saying that while there may be concerns about such a monopoly, "there will be no [lower] customer convenience or price hikes".
The analysts note that even with Asiana and Korean Air merged, there will be still competition from within the country and the region.
"There is ample LCC competition on routes within Asia and plenty of foreign airline competition on long-haul routes as well as potential new competition from LCC/hybrid long-haul start-up Air Premia," says Sobie.
Another potential challenge is to integrate the carriers' fleets, especially given that both carriers operate very different aircraft types.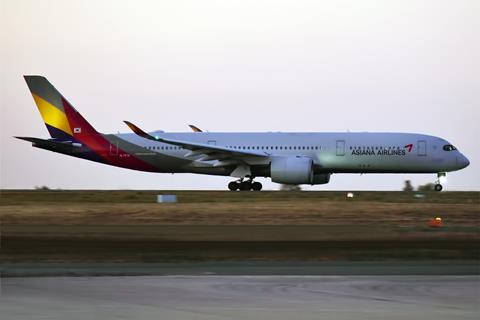 One way to mitigate this, says Sobie, would be to "focus certain AOCs on certain aircraft types".
"Keep in mind there are five AOCs when including the three LCCs. As is the case with so many airline groups at the moment, which are pursuing fleet and financial restructurings, there could be some streamlining," he adds.
Lu also says some streamlining of fleet types will be inevitable, as the newly-merged mega-carrier will seek to minimise operational costs.
A PORTENT OF THINGS TO COME?
When news of the proposed acquisition broke, some quarters were left wondering if this could be the start of many pandemic-driven consolidation moves in the airline market, especially given the shaky finances among various carriers in and around the region.
Industry watchers FlightGlobal spoke to are divided about the matter. Head of the Association of Asia Pacific Airlines (AAPA) Subhas Menon told reporters in a conference call on 16 November that he disagrees more consolidation is on the cards.
"[It is] very difficult to see airlines pursuing mergers and acquisition at the moment, because I think they are focused on survival. They're focused on making sure that they conserve cash and they are able to withstand this crisis. So consolidation in the usual sense of the word, I think it's not going to be a widespread phenomena," said Menon.
It is a sentiment echoed by Sobie. "Several Asian markets were ripe for consolidation before Covid-19, but in several cases, consolidation now seems less likely as the focus is more on everyone getting their own house in order. In some cases airlines may collapse rather than being taken over," he tells FlightGlobal.
Ascend by Cirium's Lu, on the other hand, offers a slightly different take. "It is likely for the industry to see more consolidations as the pandemic continues to impact the market," she says.
"Even for a strong domestic market like China, there is still a chance for airlines to consolidate, as the overall capacity is greater than the demand of a domestic market."
For now, while they await an imminent marriage, both Asiana and Korean Air will have their work cut out for them — to chart their future, and to get back to better financial health.