Low airline appetite for nose-loading freighters means the Boeing 747-8F is currently on course to be the capability's swansong in terms of purpose-built commercial aircraft, despite it featuring on around 250 in-service airframes today, according to speakers at The International Air Cargo Association's (TIACA's) Executive Summit in Brussels.
During a panel discussion at the event on 8 November, Boeing's regional director of marketing Tom Hoang said the capability would be available to airlines for some time yet, given the service life left in 747 production freighters, but added: "We do not have any plans to have a nose-loader on any new airframes at this point."
Among airlines that offer freight services, the vast majority simply do not see the capability as critical, Hoang explains, which makes its inclusion uneconomical.
Indeed, speaking on the same panel, Qatar Airways' vice-president of cargo network planning and strategic partnerships, Elodie Berthonneau, says: "If we look at the nose-loading type of cargo that we have, it represents only 1% to 2% of the cargo we carry, so the justification of having a nose-loading capability for the next-generation aircraft… as an airline we do not really want it.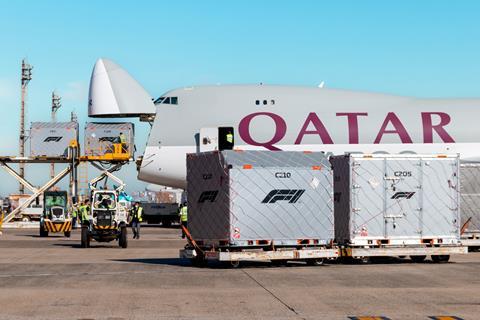 "The value of it does not really justify [the cost], so from an airline point of view, we are not asking Boeing or Airbus to develop this kind of option."
Lufthansa Cargo's director of sales and handling Georg Theis concurs with Berthonneau's assessment.
"The door is pretty large on the 777, so it comes down to the 1% to 2%," he says of the market Lufthansa is missing out on by not operating 747 production freighters.
Theis acknowledges that some airlines might think differently – "I know there are friends in the Benelux that prefer those aircraft," he says, in reference to 747 operator Cargolux – but Boeing's Hoang confirms that demand for nose-loading capabilities was not strong enough to justify its inclusion in the next generation of freighters.
"When we designed the 777-8F, that was one of the questions that we asked the working [group]: how important is the nose-loader to you and what percentage of it is being used?" Hoang recalls. In reference to the assessments offered by Berthonneau and Theis, he states: "And that's the type of message that we received."
He continues: "Some airlines, it's more important, but overall it's a relatively small market for outsize cargo that really requires the nose-loader."
With Boeing's incoming 777-8F having no nose-loading capability, Airbus focused on bringing its A350F into service – having never offered a nose-loading capability on its commercial aircraft – the only Antonov An-225 destroyed in the Russia-Ukraine war and 22 An-124s left in service with an average age of 32 years, according to Cirium data, Hoang emphasises that the capability nevertheless has at least two decades to run, based on existing Boeing airframes.
"When we look the 747-400 production aircraft with the nose-loader, there are about 140 still in service," he says. "Average age is about 20 years old, so we're looking at still 10 more years left for the 400 nose-loader.
"The 747-8F, we delivered about 107 examples… the average age of that is about seven years, so you're looking at 20 more years of life for the 747-8F," Hoang continues.
"And so we think that there's still going to be a significant number of 747s that will be in service to carry such cargo for the next 20 years."
A decision by Airbus suggests the outsize cargo requirements from the airframers themselves could offer a path to limited nose-loading capacity entering the market, even if no new-build commercial offers are forthcoming.
Last year the airframer set up a new commercial outsize transport service intended to capitalise on the remaining flying life of its A300-600ST Beluga fleet, which it has been phasing out of its internal logistics operations as it brings A330-700L BelugaXLs into service.