The country's airlines are powering out of Covid-19 but airport and competitive challenges complicate the outlook
Mexico's commercial aviation industry finds itself in a position of envy among its Latin American peers despite what some call government overreach and over-regulation.
Operating in one of just a few countries that never completely shut down during the global Covid-19 pandemic, Mexican carriers were able to benefit from tourism throughout the crisis – albeit at lower-than-normal levels – and then quickly ramped up when travel restrictions across the region and around the world eased.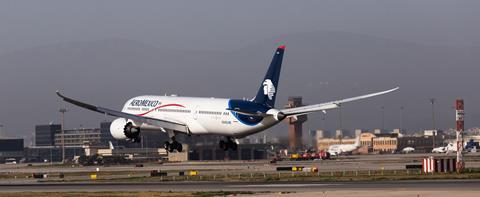 Aeromexico, the first of three Latin American Airlines forced to voluntarily file for bankruptcy protection in mid-2020, successfully completed its restructuring almost two years later, and is currently in growth mode. Volaris and VivaAerobus are also looking to expand their networks as the industry stabilises.
GOVERNMENT INTERVENTION
But while the country's carriers are once again looking to the future with confidence, some government interference in the market has puzzled experts and observers of the Mexican aviation and aerospace sector.
"Looking at the totality of recent decisions, it's just a little bit difficult to follow the logic," says Citi aviation analyst and managing director Stephen Trent.
On the one hand, the country's recent re-elevation to Category 1 safety status by the Federal Aviation Administration has already spawned new routes and additional connectivity across the border to the USA. On the other, the government's restrictions on traffic movements at the country's busiest airport in Mexico City, a recent increase in the tarriff system, including passenger fees, airport services for use of runways and leasing spaces to airlines and suppliers, as well as the launch of a government-run airline, Mexicana, leaves observers asking questions.
Media reports in recent weeks said that the resuscitated brand – which ceased operations in 2010 – will operate with 10 leased 737-800s from Boeing, and will be run by the Mexican Army.
In an August note, Citi's Trent says that new airline, set to launch by the end of the year, plans to offer fares that are about 20% below current competitors' (even though officials are not sure if this airline would be profitable) and focus on flights to the new Felipe Angeles Airport in Mexico City, a planned airport in Tulum and other underserved routes.
"Although it is too early to gauge the potential competitive impact on Volaris and others, there also seems to be a lack of clarity on legal and regulatory issues associated with this launch. These issues could include subsidies for the government's airline, but not other carriers, along with government ownership of an airline and an airport installation," Trent writes.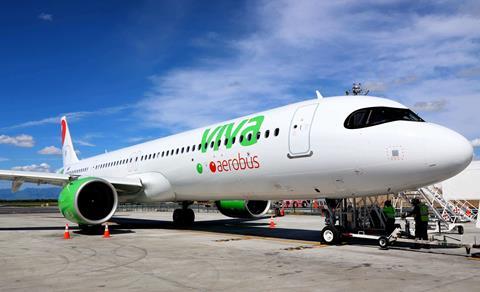 Deutsche Bank's Michael Linenberg adds that the new Mexicana "a solution looking for a problem" since Mexico is already a well-supplied market with low fares readily available. "Mexico's airline capacity is the most recovered of any major global market," he adds, saying that the domestic market is "clearly oversupplied".
Investors also fear unfair competition, and that the government carrier will have additional financial support and favourable agreements with vendors, suppliers and other partners including airports and fuel service companies – especially given the government's ownership stake in some of those operations – where the commercial carriers will not.
Where the carrier will get its pilots remains an open question. In late September Mexicana posted a basic website saying that it will initially serve 20 destinations in Mexico. The website allows bookings to the first destinations from 2 December.
Another thorny issue for airlines is the recent throttling down of hourly operations at the country's busiest airport, Mexico City Benito Juarez International airport in favour of the newer but more distant Felipe Angeles International airport.
Last year, the older airport accommodated 62 aerial operations per hour. In early 2023, the number was reduced to 52, with the explanation being that there would be some infrastructure improvements made, says Peter Cerda, IATA's regional vice-president for the Americas. Those never materialised, and now the authorities have decided to reduce the hourly operations to 43. That new rule was to have gone into effect in October, but airlines have successfully been able to lobby to push those changes back to January.
"Mexico City is not suffering because of capacity," Cerda says. "The Mexico City International airport is suffering because of antiquated infrastructure and needs."
The terminals need to be upgraded, and the aprons and runways also require refurbishment, he says.
Mexican flag carrier Aeromexico also complained about the reduction in August, saying: "In the first instance, the measure will affect all passengers using that airport, industry employees and the attraction of new investments that depend on having legal certainty and adequate air connectivity."
The reductions impact customers beyond those travelling to and from Mexico City.
"Airlines will cancel routes and put them somewhere else," Cerda says. "So you're going to have less flights from Mexico City to other domestic markets and ultimately that is going to increase the price of a ticket because there is less capacity available."
WIDER EFFECTS
That will have knock on effects on international travel too. "A large percentage of the international flight passengers that come into the country are then going on to domestic flights to other parts of the country," Cerda notes.
Anticipation is also building as Mexicans go to the polls in less than a year to elect a new president for a six-year term. That vote is scheduled for June 2024.
"It's hard enough to manage a business in this space, and if you have chaos in terms of the predictability of aviation policy that kind of makes it all worse," CIti's Trent adds. "So it will be interesting to see what kind of strategy the next president is going to undertake."
Finally, one recent positive development will help support the country's industry going forward: the FAA's reinstatement of Mexico's Category 1 safety status. The US regulator lifted the restriction in September, and almost immediately Mexican carriers went to work expanding their networks.
In the past weeks, low-cost carrier VivaAerobus announced numerous new routes, all of which will begin operating in the first half of 2024. Shortly thereafter, Aeromexico announced 17 new routes to nine US cities in the framework of its joint venture with Delta Air Lines. The country's third major carrier, Volaris, was expected to introduce new routes soon as well.
All airlines have been eagerly waiting for the change, and have repeatedly expressed interest in expanding their presences to cities north of the border.
"The recovery of Category 1 represents a great opportunity to encourage air dynamism and the role of this industry as one of the main levers of economic development in both countries," Volaris chief executive Enrique Beltranena said after the announcement.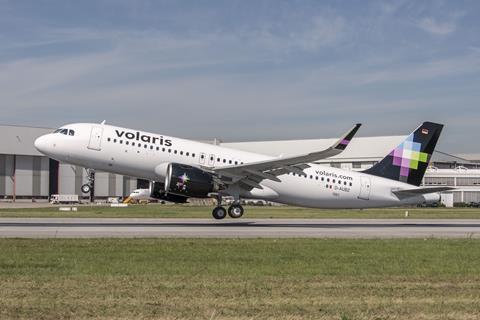 The change will allow the sector to support "the advantages that this industry brings to the development of fundamental activities for our economy, as well as to strengthen the connectivity necessary" for tourism as well as visiting friends and family.
"Going back to this more normal situation should allow code sharing, and the ability to launch new northbound service. There's been a two year hiatus on that, which has certainly impacted growth plans," Citi's Trent says. "Not only because some of these northbound routes are lucrative, up but also [there's been] too much capacity in the domestic network.
"Everyone has been keeping their powder dry, waiting for the green light on Category 1, so it's going to be good to see this get resolved," he adds.