The senior management doors are revolving as the three global alliances focus on knitting together the customer experience for a largely established set of members
Taking stock of the success of the airline alliances as they pass, reach or approach their 25th anniversaries, airline bosses insist they are relevant, contribute significantly to annual revenues and are a great help in retaining high-spending business travellers.
However, the excitement of recruiting new members is over, barring the odd resignation and change in ownership. The airline networks of each alliance are broadly in place and attention over the past few years, and the prime focus for the new leaders, is the complex slog of knitting the customer experience together across all members.
At IATA's AGM in Istanbul, United Airlines boss Scott Kirby presented Theo Panagiotoulias to the media as Star Alliance's next chief executive. A veteran of American Airlines and Sabre, Australian Panagiotoulias joins Star Alliance, the oldest and largest of the three big groupings, from Hawaiian Airlines, where he had been senior vice-president for global sales and alliances since 2014.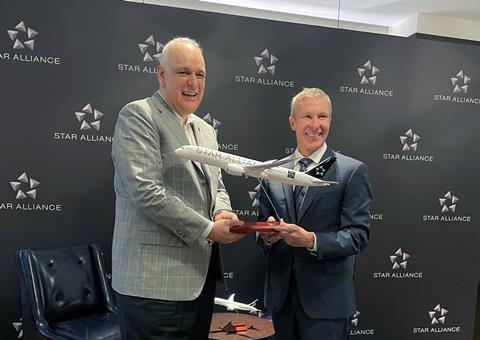 At SkyTeam, the youngest but still 23-year-old alliance, Patrick Roux is nine months into the chief executive role. Like Panagiotoulias, Roux is a veteran of the alliance scene, having spent the past six years (out of 20 at the carrier) as senior vice president alliances at Air France-KLM.
Oneworld is beginning its search for a new leader after Rob Gurney, the ex-Emirates and Qantas executive, announced his departure from the alliance in May. Gurney remains in post until 1 July when American Airlines chief commercial officer Vasu Raja will become interim chief executive and lead the search for Gurney's replacement.
Oneworld is in significant flux with Gurney's departure coming after the relocation of its global headquarters in October 2022 from New York to Fort Worth, Texas, joining founding member American at its Robert L Crandall Campus adjacent to Dallas Fort Worth International Airport.
Gurney, who led his final Oneworld board meeting during the IATA event, is working with Raja on a smooth transition to Fort Worth. The move will inevitably put founder American in a more influential position.
Alliances are the lighter touch of airline relationships, bringing benefits to the customer experience compared to the harder-edged commercial one of forging joint ventures or taking equity stakes.
COMMERCIAL INTEGRATION
Gurney observes that the joint business arrangements with deep commercial integration, network planning and revenue management fit neatly with the Oneworld product: "What Oneworld does is provide an ecosystem for those partnership models to exist in, and how the benefits can be surfaced to the customer in a way that's branded within a clear framework."
"I don't see that one is better than the other but rather you've got an ecosystem now with multiple options, which is a natural evolution of alliances themselves," says Star's Panagiotoulias.
While harder to calculate, and seldom publicly announced, alliances do deliver significant revenue. SkyTeam's new chairman, Andres Conesa, chief executive of founding carrier Aeromexico, stresses the "huge plus" of the network halo effect of being part of the SkyTeam "club", and while he concedes it is hard to measure the direct dollar impact, it is in the millions.
SkyTeam's Roux tells Airline Business his team is working on quantifying the revenue benefit per airline of being part of the alliance, which is estimated at hundreds of million of dollars per year across all members, and is growing exponentially.
"We are working on it because it's a question of justifying new projects, explaining business cases, and also to attract new members," he says. Roux is aiming to have this completed by the end of this year.
Oneworld is not planning to go public with numbers, but Gurney stresses members are explicit about the critical nature of partnerships for their future commercial and strategic development. "In an industry that's inherently margin challenged, the interline flows that accrue across the Oneworld network are really important," he explains.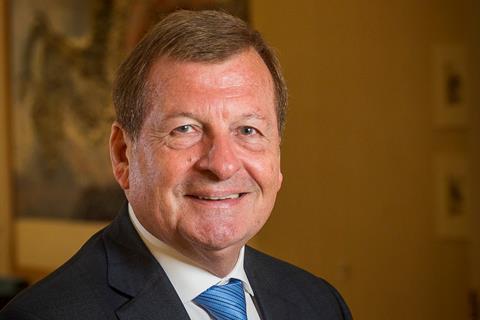 While seeking out new members is not the prime focus for alliance chief executives, new recruits are filling in network white spots, and acquisitions and airline consolidation are having an impact.
In March, Virgin Atlantic joined SkyTeam, becoming the first UK-based carrier to join the alliance. "It is that global reach which is crucial, especially for mid-sized carriers like us. And then it is all about the loyalty consistency," says Juha Jarvinen, the airline's chief commercial officer.
Oneworld, which is the smallest alliance in terms of member numbers, will see Oman Air formally join in 2024, while Royal Air Maroc and Alaska Airlines have come on board in the past two years.
It is talking with airlines all the time, including all the players in India, which Gurney visited recently. "Not necessarily because any are about to join Oneworld, because they are not, but they obviously want to maintain a good dialogue with everybody and watch as things develop," he says.
"It's about being thoughtful and strategic about the partners we want," explains Gurney. "There are some advantages in being a little smaller. I think we can be a bit more agile."
Lufthansa's late May announcement that it has agreed a deal to acquire a 41% stake in Italy's ITA Airways, when consummated, will see the Italian carrier shift its alliance membership from SkyTeam to Star.
Once effective control of a carrier is formally changed, the alliance rules on ownership kick in and a carrier with significant ownership by an airline in another alliance must leave. For instance, Oneworld's IAG has a 20% stake in SkyTeam member Air Europa, but as a full takeover has yet to be agreed, the Spanish carrier can, for now, remain in SkyTeam.
Alliance partners are not restricted to airlines and have started to include rail operators. The long-awaited arrival of a multi-modal connection with alliances has started with Star and Germany's Deutsche Bahn signing a partnership a year ago. The opportunity of expanding its multi-modal relationships is a trend Panagiotoulias believes has significant promise and SkyTeam is looking into it too.
SUSTAINABLE PRIORITIES
Meanwhile, the issue of sustainability is at the top of airline chief executive priority lists and features to a lesser extent for alliances. One of the most concrete and sensible moves for alliances appears the joint buying of sustainable aviation fuel (SAF), just as the alliances do with regular Jet A-1 fuel.
SkyTeam is already working on it. "I think there is a great opportunity to work together and see how we can join forces," says Aeromexico's Conesa.
Star too is looking into this area, but it is Oneworld that is leading the way with its two significant SAF purchase deals involving a subset of alliance members.
Oneworld's SAF negotiations were led by one member and included some, but not all, members, because of the "opt-in, opt-out" approach introduced after Covid.
"Historically, our alliance has been consensus driven by a group of people who've got great chemistry and a great set of relationships," says Gurney. "But we also recognise that sometimes it doesn't enable you to move as fast as we need to."
According to Gurney, Oneworld introduced opt-in, opt-out into its governance in 2021. It means that "providing you have a minimum number of shareholders, representing a minimum amount of shareholding, that's sufficient to green light a Oneworld initiative, providing those airlines fund it, the other members have the opportunity to opt-in at the inception or in the future either as a proof of concept or in full production," he says.
Other initiatives may come out of SkyTeam's Sustainable Flight Challenge, and it ran the second one for two weeks in May, says Roux.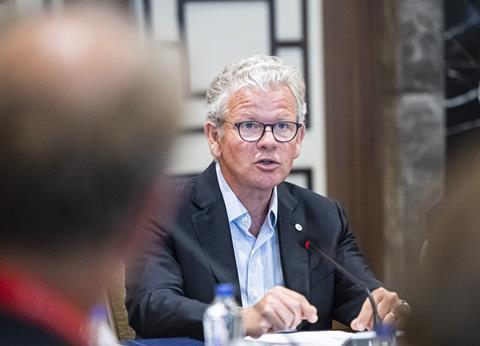 In what is described as a "friendly competition" aimed at helping share best-practice, 22 member carriers operating a regular service are judged against criteria such as lowering CO2 emissions and best in-flight waste management. There will be an award event later this year.
While a clear understanding of the revenue creation of SkyTeam was top of mind for the member airlines in Istanbul, says Roux, in addition the chief executives told him they want "acceleration, a focus on technology and the customer experience and the development of products that bring them more business".
One of the products developed by SkyTeam is China Corporate Connection, a tool that has brokered fare deals with 100 Chinese corporations, says Roux. The product enables corporations to contract with SkyTeam, which acts as an independent third-party, and access the networks of alliance members.
SkyTeam is looking at rolling out the product globally, says Roux.
At Oneworld the focus is to restart a product roll-out – which began with Qatar Airways and Cathay Pacific in 2019 but stalled during the pandemic – that enables customers to transact all their flight management tasks, such as check-in and rebooking, seamlessly on the website and mobile app of another Oneworld member, explains Gurney.
"We want to connect Oneworld with our customer's digital life," says Gurney. This capability is one all the alliances are chasing and is not seen as a differentiator but more of a hygiene factor in the customer relationship.
The transitions at the top of the alliances reflect the changing nature of the chief executive role, the way that member airlines view the value alliances bring and the development of the alliance product. It is a job that has altered as alliances mature, turning from the membership land-grab and network expansion, to delivering the commercial returns and high-quality customer experience airline members desire to win and retain high-value passengers.
"When I started, we did a fundamental reset on how the alliance was functioning and operating and where it would be prioritising its efforts," Oneworld's Gurney explains. "And that was really creating an enabling infrastructure to support the partnership ecosystem.
"That sounds simple, but there's a lot of complexity and effort required, not just the central effort that's required in building the infrastructure, but also ensuring that the member airlines are engaged and equally committed to doing it," says Gurney.
MISSION STATEMENT
The mission, as stated by United's Kirby, is to create an alliance "that feels more and more like a single airline instead of a lot of airlines under the umbrella of Star".
"The real opportunity all of us [airline chief executives] believe is to really focus on making the customer experience seamless and so that if you buy a ticket on United no matter which Star partner you're flying around the world, it looks, feels and behaves the same as if you bought a United ticket," says Kirby, and so on for any member carrier.
The task of achieving this is something the new leaders have at the very top of their to-do lists and is far from a job done.