FlightGlobal's latest survey of women in the C-suite shows a rise in female chief executives being offset by reductions in other key roles
A significant rise in the number of women leading airlines at the end of 2022 was undermined by falls in female representation elsewhere in the C-suite, according to FlightGlobal's latest survey, with weaker data from the Asia-Pacific region weighing on the global performance.
For the second year running, the number of female chief executives across the top 100 airlines and groups doubled year on year. Overall, however, when five further C-suite roles are taken into account, women accounted for 15% of incumbents at end-2022 – a figure flat with end-2021.
When the HR director role, or equivalent, is removed from the data, women accounted for just 10% of incumbents – a figure also flat with end-2021, but masking a small drop in the absolute number.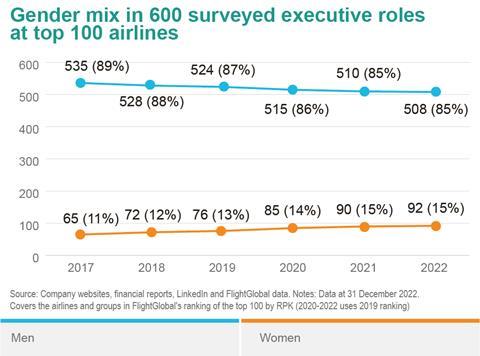 Among the key developments over the past 12 months, the number of female chief executives rose from six to 12 – the latter figure some four times higher than the three female airline leaders recorded in the first year of FlightGlobal's survey, 2017. Meanwhile, JetBlue Airways retained its position as the only carrier to employ a majority of women in the six surveyed roles, as North America continued to lead the way globally.
Also noteworthy were the high number of women working in top roles at Australasian carriers, which belied weaker year-on-year data from the Asia-Pacific region as a whole.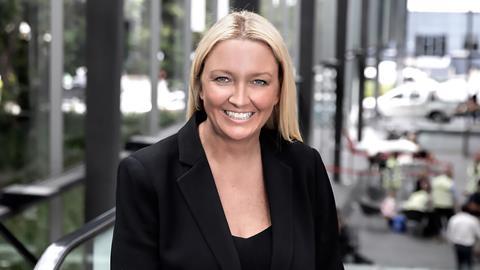 Also offsetting the positive developments were falls in the overall number of women employed in the chief operating officer, chief commercial officer and chief information officer roles, or their equivalents, in the global data.
They were among the talking points to emerge from FlightGlobal's latest survey of women in the C-suite at airlines, which looks at the gender balance among the top 100 passenger carriers – taken from FlightGlobal's World Airline Rankings based on 2019 traffic for the third year running, to avoid short-term Covid impacts – across six executive roles.
Overall, the data marks a year of mixed progress towards the industry's efforts to meet the goals of IATA's landmark 25by2025 initiative, which has a headline target to increase the number of women in top airline roles.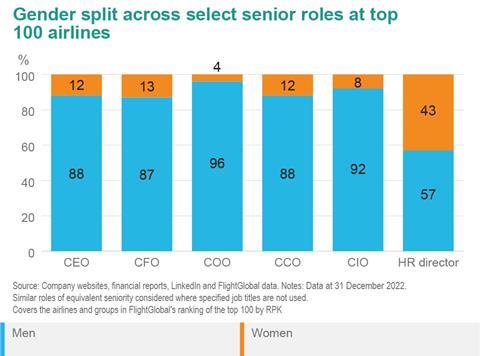 Speaking during IATA's Global Media Day at the end of 2022, the organisation's vice-president of people, performance and development, Anton Grove, said that around 50% of member airlines are signed up to the initiative amid a growing appreciation of the need to act on the issue.
Indeed, more airlines are recognising that addressing gender diversity is "not only the right thing to do, but it is also a business imperative", Grove says.
"DE&I no longer sits in the fringes, but has become central to business operations," he states. "We have seen a shift in this being supported and pushed by HR, to CEOs leading the drive across the organisations."
Crucially, Grove suggests that future talent wants to work for businesses and in industries that take the concept of gender diversity seriously.
"But it's about more than that," he continues. "It's about business results. Better innovation, better product design, better customer experience and better employee experience, and that's why I am pleased to see that the conversation is shifting."
Grove further highlights an IATA survey that suggests people were more likely to travel with an airline that is a leader in gender diversity.
"What is interesting is the awareness of gender diversity today among customers when they are choosing an airline," he states.
Notably, he says that the younger the passenger, the more strongly they feel about gender diversity at the airline they are choosing.
"There is a clear indication about the purchasing decisions made by travellers and the growing role of making an airline diverse and inclusive," Grove states.
At IATA itself, the next chair of the board of governors will be a woman: RwandAir chief executive Yvonne Makolo.
RwandAir is not among the top 100 airlines by traffic, so data for its C-suite is not included in the FlightGlobal survey.
HEADLINE FIGURES
Women accounted for 15% of the 600 positions surveyed based on data for 31 December 2022 – covering chief executive, chief financial officer, chief operating officer, chief commercial officer, chief information officer and HR director, or their equivalents – marking the first time in six years of surveys that the percentage has not improved year on year.
Indeed, in each of the previous five annual surveys, the number of women had ticked up by one percentage point each year.
In absolute terms, 92 of the 600 roles at end-2022 had female incumbents, versus 90 of the 600 at end-2021, meaning that the survey does at least reflect a continuation of the improving gender mix.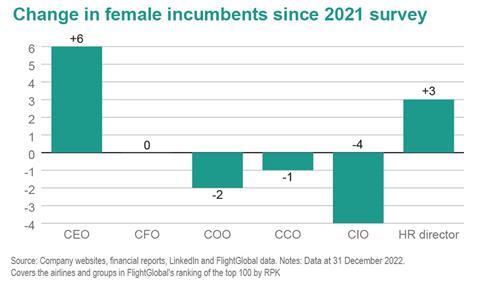 But the total of 92 women in C-suite roles marks a further slowing in the year-on-year increase – at 2%, or two women – from that seen in the 2021 survey, when the 90 female incumbents marked a rise of 6%, or five women, from the 2020 survey. The recent numbers compare with rises of 12% (nine women) in 2020, 5.5% (four women) in 2019 and 11% (seven women) in 2018.
In terms of the geographic split, a fall in the number of women working in top roles at Asia-Pacific airlines was a key development that offset small improvements in the other largest airline markets of Europe and North America.
TOP AIRLINES
Having reached the milestone last year, JetBlue this year retained its status as the only airline with female incumbents in more than 50% of the six surveyed positions in the history of FlightGlobal's surveys.
The New York-based carrier employs Ursula Hurley as chief financial officer, Joanna Geraghty as president and chief operating officer, Carol Clements as chief digital and technology officer and Laurie Villa as chief people officer.
JetBlue's performance in employing women in four of the six surveyed roles stands out even more because only a handful of carriers have achieved a 50:50 gender mix in six years of FlightGlobal surveys.
JetBlue chief executive Robin Hayes has previously explained that achieving diversity in its management team is a long-term project, involving a concerted effort to ensure "a strong pipeline of diverse candidates when those positions come up".
In a slight improvement from last year's survey, five carriers employed women in three of the six surveyed positions, with Air New Zealand and Southwest Airlines being joined by Alaska Airlines, Jetstar Group and Cathay Pacific.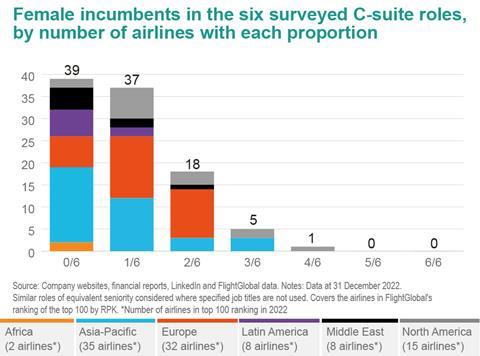 That left 94 airlines with two or fewer female executives in the six surveyed roles
Within that number, some 18 airlines or groups employed women in two of the six positions, while 37 employed women in one of the six roles.
Some 39 employed men in all six positions.
CHIEF EXECUTIVES
The success story in this year's survey is the significant rise in the number of women leading airlines and airline groups.
FlightGlobal identified 12 women leading airlines among the top 100 carriers at the end of 2022 – doubling an end-2021 figure that was itself the highest number in five years of data.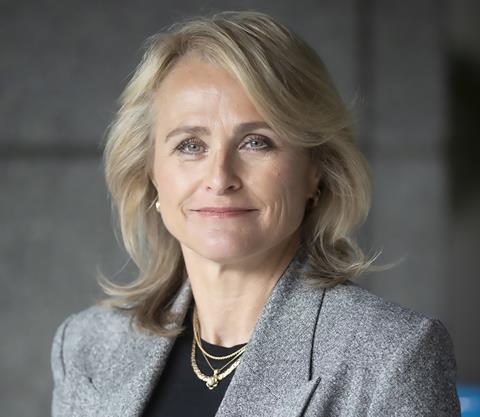 The new appointments during 2022 were Stephanie Tully at Jetstar Group, Marjan Rintel at KLM, Guliz Ozturk at Pegasus, Annette Mann at Austrian Airlines, Dina Ben Tal Ganancia at El Al and Katarzyna Lewandowska as acting chief executive of LOT Polish Airlines.
Christina Foerster's return as interim chief executive of Brussels Airlines in late January was outside the time period covered by the survey.
Speaking to FlightGlobal in mid-2022, Pegasus' Ozturk said of gender diversity at airlines: "I am more optimistic because globally this is an issue on the agendas of corporations and on leadership agendas."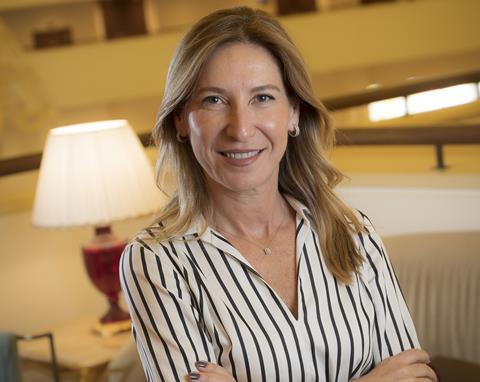 Today, however, she says the airline sector is still "very male-driven… there is too much gender-associated thinking".
Ozturk continues: "If the top managements of companies believe in this and promote this, then I think we can change lots of things.
"Otherwise just talking about having the balance on different parts of the airline but not taking active initiatives on that – that will not help."
In the case Pegasus, "we are working actively not only to have that balance and to increase the female participation at head-office level, but also in the cockpit and in the technical units of the airline", Ozturk explains.
Aer Lingus's Lynne Embleton, Air France's Anne Rigail, Air Transat's Annick Guerard, TAP Air Portugal's Christine Ourmieres-Widener, VietJet's Nguyen Thi Phuong Thao and Virgin Australia's Jayne Hrdlicka were the other female chief executives among the top 100 airlines and groups.
Ourmieres-Widener's departure from TAP came after the end-2022 survey date.
OTHER ROLES
The news is less positive, however, when looking beyond the chief executive position.
The largest fall in female representation was seem among chief information officers at the top 100 airlines and groups, with the eight recorded at end-2022 representing a fall of four year on year.
The fall was partly driven by activity in North America, where Maya Leibman left American Airlines and Linda Jojo moved to the chief customer officer role at United Airlines.
The number of female chief operating officers – a role where representation has always been relatively low – dropped by two to four, while the number of female chief commercial officers fell by one to 12.
The number of women working as chief financial officers was flat at 13.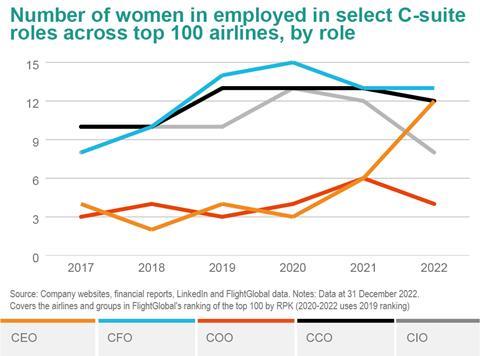 The survey recorded 43 women working as HR directors – a rise of three from end-2021. Indeed, female HR directors are close to accounting for half of the women – 92 – identified across the 600 surveyed roles.
Removing the HR director role from the overall data – because it is often excluded from the group of top decision-makers among executive teams – leaves a decrease of one female incumbent year on year, from 50 out of 500 at end-2021, to 49 out of 500 at end-2022.
REGIONAL SPLIT
The top 100 passenger airlines and groups ranking is dominated by carriers based in Asia-Pacific, Europe and North America, with the latter two regions seeing an improvement in female representation year on year.
Indeed, despite the aforementioned loss of female chief information officers, North America continues to outperform other regions in terms of gender mix, even if it features just one woman in the top chief executive role across the 15 airlines and groups included in the survey, at Air Transat.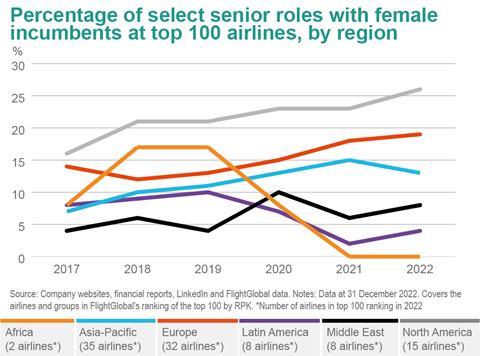 Some 23 of the 90 surveyed positions – or 26%, up from 23% in 2021 – at North American airlines and groups had female incumbents, although 12 of those women were working in the HR director role, which has traditionally seen stronger female representation even before the industry identified gender diversity as a focus.
Still, North America is ahead of the global trend in terms of women employed as chief financial officers (at three of 15 airlines), chief operating officers (two of 15), chief commercial officer (two of 15) and chief information officer (three of 15).
The consolidated nature of the North American industry compared with other regions means it has a smaller influence on the overall survey data than Europe and Asia-Pacific, from where a larger proportion of the top 100 airlines are drawn.
After North America, Europe is the next strongest performer, with 19%, or 36, of surveyed roles taken by women among the 32 airlines in the top 100. That marks a continuation of a gradually improving dataset since the 2018 survey.
Europe is the runaway leader in terms of female chief executives, with seven of the 32 surveyed airlines employing women in that position – more than half of the 12 in the global top 100.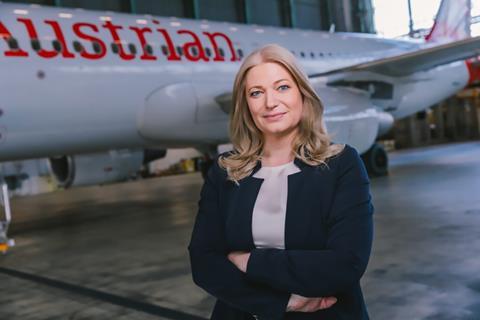 The region with the most airlines in the top 100, Asia-Pacific saw a drop in the number of women employed across the six surveyed roles year on year. The survey recorded some 27 female incumbents across 210 roles – or 13% – at the 35 Asia-Pacific airlines in the survey, versus 31 – or 15% – in 2021.
Carriers in Australia and New Zealand had an outsized impact on the region's total, contributing two female chief executives – at Jetstar Group and Virgin Australia – plus seven further women in C-suite roles across the four airlines covered by the data.
Demonstrating how those handful of airlines boost the region's overall performance, some 17 of the 35 Asia-Pacific airlines included in the survey did not employ a woman in any of the six roles, with 12 employing just one. The data from countries such as China, Japan and South Korea contrasts sharply with that from Australasian operators.
Nevertheless, Asia-Pacific once again accounted for seven of the 13 female chief financial officers in the global top 100.
Just two of the 48 executives identified at the eight Latin American airlines in the top 100 were women, alongside four of the 48 executives at Middle Eastern carriers.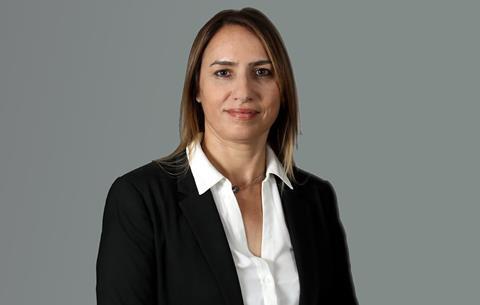 No female executives were recorded among the two African carriers in the top 100. The region is, however, known for demonstrating a better gender mix when smaller operators are considered.
OUTSIDE THE TOP 100
Examples of female airline leaders outside the top 100 carriers include RwandAir's Yvonne Makolo, Uganda Airlines' Jenifer Bamuturaki, HK Express's Mandy Ng, Lynx Air's Merren McArthur, Lufthansa Cargo's Dorothea von Boxberg, Cape Air's Linda Markham, Indonesia AirAsia's Veranita Yosephine Sinaga, Atlantic Airways' Johanna a Bergi and Hahn Air's Kirsten Rehmann.
WIDER ECONOMY
The sudden increase in the number of women leading top airlines does not stop the industry lagging overall C-suite trends.
According to an McKinsey & Company report released in October 2022, for example, some 26% of C-suite roles were taken by women, compared with 15% in FlightGlobal's survey.
And Grant Thornton's latest global report on women in business at mid-size companies says some 32% of top executive roles have female incumbents.
By some distance, airlines lag wider trends for every role considered by Grant Thornton's survey, apart from HR director, where airlines are ahead by 4 percentage points, at 43%.
Grant Thornton data shows 37% of chief financial officers being women, for example, versus 13% at top airlines. When it comes to chief operating officer, some 23% were women, versus just 4% at airlines in FlightGlobal's survey. The story is similar across the other three roles surveyed by FlightGlobal.
When it comes to chief executive, however, the airline industry now fares better in comparison with wider economies, according to many datasets.
Data from Catalyst, for example, shows that in early 2023 some 7.5% of S&P 500 firms had female chief executives, versus 12% in FlightGlobal's survey of the airline industry.
And analysis from Sustainable Stock Exchanges – based on 2021 data – showed companies in all of the world's largest stock markets lagging the airline total of 12%, most by several percentage points.
NOTES: FlightGlobal's survey of gender diversity in the top 100 airlines is based on publicly available data. The primary sources are company websites, financial reports, LinkedIn and FlightGlobal data. Data is for 31 December 2022. Given the fluid nature of employment, the survey can only give an indicative snapshot of the industry. For the third year running, the 100 airlines and groups surveyed are drawn from FlightGlobal's 2020 ranking of carriers by full-year 2019 revenue passenger-kilometres (RPKs). This is to avoid the data being skewed by the impact of Covid-19 on the RPK data. Where airlines ceased operations between surveys, or in the rare situation where data on incumbent executives is unavailable – such as for several Russian carriers that have removed such information from their websites in recent months – carriers from just outside the top 100 have been incorporated into the data. Similar roles of equivalent seniority are considered where the specified job titles are not used. Where a vacancy exists, the previous incumbent's gender is recorded.