Tata Sons' successful bid for Air India is transformational for the country's airline sector, possibly resulting in a serious rival to market leader IndiGo.
Announced on 8 October, the deal will see the Indian conglomerate – through its Talace special purpose vehicle (SPV) – obtain the long-ailing Air India for INR180 billion ($3.2 billion), of which it will pay INR27 billion in cash, while assuming INR153 billion of Air India debt.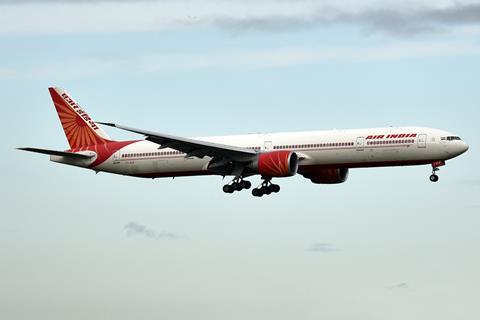 New Delhi, for its part, will remain on the hook for most of Air India's remaining INR463 billion in debt, which will be shunted into a government SPV.
The deal is expected to close by the end of the year, giving Tata Sans 100% of Air India, 100% of low-cost unit Air India Express, and 50% of the Air India SATS ground services unit.
SpiceJet managing director Ajay Singh also bid for Air India. Reports suggest his bid was INR29 billion short.
Tata's victorious bid will add to its airline portfolio. It also owns 51% in Vistara, a joint venture in which Singapore Airlines owns the other 49%, and 84% of AirAsia India.
Cirium fleets data indicates that Air India has 100 in-service aircraft, and Air India Express, 24.
Tata notes that two-thirds of Air India's revenue comes from international routes, with strong connections (slots, in other words) to North America, Europe, and the Middle East.
In a government document about the sale issued in January 2020, officials noted that in the pre-Covid-19 era, Air India was using 2,738 international slots per week, including 74 per week in the United Kingdom, 72 in the USA, 76 in continental Europe, and 358 in the Gulf and Middle East. It also had 1,838 international slots in India, and 4,486 domestic slots.
Government statistics suggest that the average monthly domestic market share – as measure by passengers carried – for Air India and Air India Express this year is 12.6%, or 5.8 million passengers for the January-August period. This makes it a distant second to IndiGo, which had 55% domestic market share and carried 25.3 million passengers during same period.
Tata's Air India acquisition by the numbers
INR180 Billion – Tata SPV Talace's winning bid

Talace to assume INR153 billion in Air India debt
Talace to pay INR27 billion in cash

INR616 Billion – Air India's total debt
INR463 million Air India debt moved to government SPV
24,000 – Air India/Air India Express employees
124 – Combined fleet of Air India/Air India Express
46 – Vistara fleet
2,000- Vistara employees
27 – AirAsia India fleet
2000 - AirAsia India employees
Combined, Air India, Air India Express, Vistara, and AirAsia India control a respectable 25.1% of the domestic market, putting them well ahead of SpiceJet, with just 11.3%. Tata's grouping also has the potential of becoming a viable competitor to IndiGo.
In a research note entitled 'Can Tatas make the elephant dance?', ICICI securities notes that Air India, Vistara, and AirAsia India command 64% of India's international market, as compared with IndiGo's 29%. As the world emerges from the coronavirus pandemic and travel restrictions wind down, this positioning should pay dividends.
Still, ICICI believes Tata will have work quickly to streamline operations and improve utilisation of Tata group aviation assets in order to limit Air India's debt burden.
It points out that the culture of Air India and Air India Express will be a challenge, given they employ over 24,000, all of whom have to be retained for at least a year. Following this, Tata will need to offer a voluntary retirement scheme. ICICI notes, however, that over, 5,000 employees are due to retire over the next five years.
Vistara and AirAsia, meanwhile, have around 2,000 employees each.
Air India/Air India Express in-service Fleet
A320 family
37
A320neo family
27
737-800 (Air India Express)
24
747-400
1
777-200LR
3
777-300ER
11
787-8
21
Total
124
Source: Cirium fleets data
Though Tata has not disclosed its plans, analysts have long believed that its ultimate intention will be to merge the full service brands of Air India and Vistara, while also merging the low-cost brands of Air India Express and AirAsia India. This will create a powerful full-service airline with a strong international network, as well as a low-cost unit to tackle India's tough domestic market.
While such an undertaking would produce a powerful rival to IndiGo, particularly on the international market, it would raise serious questions about SIA's involvement in India. SIA managers have traditionally run Vistara, which has an extensive relationship with SIA, including a proposed commercial cooperating framework signed in December 2020.
With the acquisition of Air India, Tata returns to its roots. Company founder JRD Tata set up the carrier in 1932 as Tata Airlines, only to see the government nationalise it in 1953. Airlines – and Indian taxpayers – will also be pleased to see the elimination of an irrational player, an airline that was always confident of government backing, irrespective of losses.
Tata's winning bid marks both a new chapter for Air India, and the country's airline business.