While the USA has been grappling with a severe flightcrew shortage since before the coronavirus crisis, other regions too will be facing a dearth of candidates to fill their cockpits in the coming years. The global pilot shortage could make itself felt as early as 2023.
"The return of airline demand combined with substantial pilot supply shocks means the pilot shortage has already emerged in North America and is expected to grow throughout the decade," says Geoff Murray, Oliver Wyman partner and aerospace sector leader in the management consultancy's transportation practice.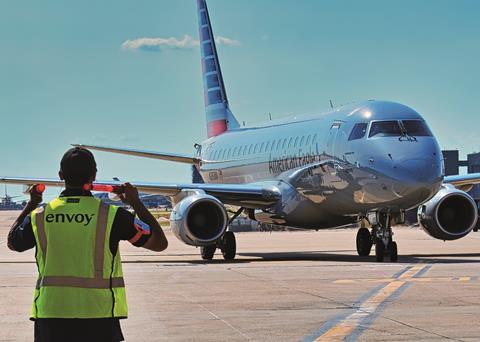 An Oliver Wyman analysis shows that the difference between supply and demand in North America will be about 17,000 pilots by 2032. Jefferies, however, puts that figure at closer to 26,000. In any case, it is a sizeable number, with no easy solution.
Most other regions, too, are poised to experience a shortage of flightcrew. Oliver Wyman says the number of missing pilots could rise to 68,000 globally.
"After North America, the next region to be affected will be the Middle East," Murray writes in a report published on Brink News. "Driven by a projected sharp increase in air travel demand over the next few years, the region could face a shortage of 3,000 pilots by 2023 and 18,000 by 2032."
In Europe, that shortfall will be only about 1,000 pilots in the short term, rising to around 19,000 over the next 10 years.
With travel in Asia currently still curtailed due to ongoing Covid-19-related restrictions, there is a surplus of flightcrew in that region. That, too, will shift towards the end of the decade, as passenger demand once again returns. Murray adds that Latin America and Africa will probably not face similar issues.
The most significant problem will still lie in North America – the largest air transport market in the world.
With mainline carriers like Delta Air Lines, United Airlines and American Airlines recruiting aggressively and competing for a small pool of applicants, it is their regional partners – airlines which with they contract to fly shorter routes in smaller aircraft, and which tend to pay their crews lower wages – that are suffering most.
The Regional Airline Association (RAA), which represents US-based regional carriers, says that 324, – or 76% – of US airports have lost service in the past three years due to airlines permanently cancelling flights because of crew shortages.
"We now have more than 500 regional aircraft parked without pilots to fly them and an associated air service retraction at 324 communities," says RAA chief executive Faye Malarkey Black. "Fourteen airports have lost all scheduled commercial air service – a number that is still rising."
"We are on the precipice of a wholesale collapse of small community air service," she adds.
Murray agrees. "Absent a downturn in future demand and industry efforts to bolster the supply of pilots, travellers should anticipate continued near-term cancellations and delays until airlines are better able to accommodate traffic with scaled-back flight schedules," he says. "These would more accurately reflect the size of the pilot workforce and are likely to involve further reductions in service to smaller markets."
Airlines complained about the shortage even before Covid-19, and some carriers have had to change their post-pandemic growth plans because of it. In early November, regional carrier Republic Airways cancelled an order for 31 Embraer 175 jets due to a dearth of pilots. The Brazilian airfamer said the move was a joint decision between the companies, and that the order was "no longer suitable" for either party.
A slew of new pilot salary contracts in 2022, which improved pay and working conditions, offered new bases, better benefits, aircraft upgrades and enhanced promotion opportunities, has raised the attractiveness of a pilot career.
"Weighing job offers against each other has become akin to watching the stock market, as figures are ever-changing while companies try to outsell each other," says pilot consultancy Future and Active Pilot Advisors (FAPA). As of the end of November, FAPA says the top 12 US airlines filled 11,372 pilot roles, with the projected total for 2022 at 13,646. In 2021, that number was 5,426.
"What we have seen this year is a pilot hiring frenzy," says Raymond James managing director for global airlines Savanthi Syth. "This was a pilot shortage on steroids.
"The pilot supply was tight before the pandemic, and I think it's going to remain tight well into the latter part of this decade," she adds. "But I think we need to differentiate between tight supply and what we saw this year."
LOST CAPACITY
Airlines were rattled as passenger demand exploded with 'revenge travel' and the carriers quickly realised there was no way to restore their capacity to pre-pandemic levels with the staff they had.
The biggest need right now is for captains – professional pilots who have several thousand hours of flight experience. In November, Piedmont Airlines, PSA Airlines and Envoy Air – all regional carriers for American – raised eyebrows when they announced sign-on bonuses of between $75,000 and $100,000.
But will these higher wages and other incentives be enough to alleviate the shortage? And more importantly, will regional airlines be able to continue to pay them? Experts say maybe not.
"The regional industry just has to be smaller than it was in 2019 because of economics 101," Syth adds. "You have to shrink or at some point some of these regional airlines go bankrupt and you reset pilot rates through bankruptcy or the threat of bankruptcy."
At the moment, there is no sign of that, and commercial pilot certificate holders will continue to ride on a wave they hope will not crash for a very long time.