AirAsia X hopes to hold a creditor vote on its restructuring by the end of October, but three of its lessor creditors tell Cirium they think the airline may need more time.
"Some other lessors that I've spoken to are in a similar place to us, which is continuing to engage with the airline on the restructuring negotiations and not being particularly close to signing documents, but still speaking with the airline about it," one of the people says.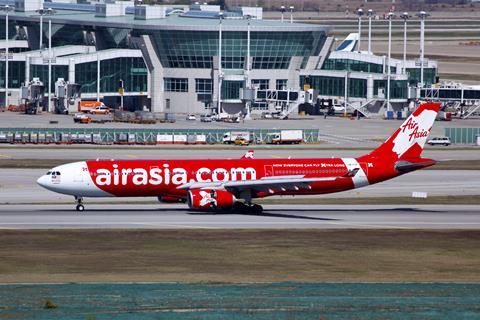 "Every lessor is looking at their options, looking at the restructuring process and making judgements around how likely the airline will recover and respect the restructuring arrangements it is entering into."
A second lessor adds that the proposed timeframe of end-October "will be tight – unless they make some accommodations in a hurry".
The end of October is "a little optimistic", according to a third lessor, who adds that they have been talking to other lessors about the progress they are making in the negotiations, but none have said they have reached the stage where they are signing documentation.
In theory, AirAsia X could hold the meeting later than the end of October, given that the High Court of Malaya has granted an extension of a restraining order on AirAsia X's creditors until 17 March 2022 to allow it to address its debt obligations.
"Whilst good progress has been made on substantial issues with lessors, Airbus, Rolls-Royce and service providers, final negotiations are still ongoing, particularly with respect to commercial arrangements going forward," the airline said in a 17 September filing to the Bursa Malaysia, which also noted its hope to hold the meeting at the end of October.
AirAsia X declined to comment for this article.
AIRCRAFT LEAVING AIRASIA X
Some lessors have already taken their aircraft out of AirAsia X. Some have been lucky enough to find new homes for hard-to-place A330s. Others have not.
On 30 August, Stratos announced the delivery of an A330-300 converted freighter to Geodis (France) on long-term operating lease. The 2006-vintage aircraft was returned from AirAsia X through an early termination agreement in mid-2020 and converted to a full freighter.
Cirium understands that other aircraft formerly leased to AirAsia X will be leased to carriers including VietJet and T'way Air. VietJet told Cirium it is "currently work[ing] on [a] commercial flight and fleet plan" and did not comment further, saying it did not have a timeline to share for when that plan would be ready.
Cirium has contacted T'way Air for comment.
Meanwhile, other aircraft that lessors have taken out out AirAsia X have yet to find a home.
"Lessors have either given up on [AirAsia X] or are only bearing with them for now as they don't have any other alternatives," says Brendan Sobie, an independent analyst at Sobie Aviation.
"Some of the latter also view AirAsia overall as strategically important so they want to cooperate as much as possible in order to maintain a good relationship with the AirAsia family."
Sobie adds that even if AirAsia X does not survive, lessors could have an opportunity to move their aircraft to AirAsia or Thai AirAsia X, with the process of securing approval from the Malaysian authorities to add A330s to AirAsia's operating certificate underway.
One lessor who took their aircraft out of AirAsia X tells Cirium they did so because they thought AirAsia X "has simply no chance of surviving and going back to where it was" before the pandemic.
While the person does not see the carrier returning to its pre-pandemic state, they say that "it may survive and become a completely different animal".
A second lessor who is taking aircraft out of AirAsia X says that given the challenge the airline is facing, they decided that placing their aircraft elsewhere was a better option.
"To be very honest, from our side the chances look very narrow for AirAsia X to survive this Covid situation," the person tells Cirium.
"I'm not saying that they are not able [to survive], but it's just been very hard for them, so if there are any other chances [where] we can [place] the aircraft to a better credit lessee, then we will do it."
NO NEWS ON FRESH INVESTMENT
Lessors still exposed to AirAsia X have been waiting months to hear about new investment that is going to be pumped into the carrier.
On 1 June, it secured shareholder approval to raise up to MYR500 million ($120 million) in equity funding, first announced in December and the details finalised in April, according to Bursa Malaysia disclosures.
Asked last week whether AirAsia X had provided any new details on where it planned to source its fresh equity, one lessor with exposure to the carrier tells Cirium: "No. The answer is no."
"They've continued to provide assurances that they will be able to receive the necessary equity, but we've received no further details on that," they say.
A second lessor concurs, saying: "From the June meeting with Seabury until now, there is no additional information. We don't know anything."
This person says the lack of information in this regard has put his company into a "very nervous" mindset, as they had received internal guidance that Malaysian banks may be wary of lending to airlines given the industry downturn.
Back on 2 June, AirAsia X and its restructuring adviser Seabury Capital held a virtual town hall during which they outlined plans to slash the airline's orderbook and refocus its route network. That was the last time they held a townhall meeting, although there have been bilateral discussions in the interim and one lessor says they received an information pack this month, which included a frequently asked questions (FAQ) section.
"In between, they have been negotiating with creditors and lessors on the restructuring terms but they haven't held any further townhalls or Q&A sessions, apart from this negotiation," the person says.
ROAD TO RECOVERY
AirAsia X Group posted an operating loss of MYR24.5 billion ($5.85 billion) for the quarter ended 30 June, widening significantly from a loss of MYR323 million in the year-ago period.
Whether and when AirAsia X can recover will partly depend on Covid-19-related travel restrictions in its home base of Malaysia, as well as overseas.
Chief executive of AirAsia Group Tony Fernandes has apparently had enough of such restrictions, saying in a LinkedIn post last week that he hopes Asian governments "will start freeing us as soon as levels of vaccinations hit the right levels", adding that "governments that are brave will reap the rewards".
"Europe is open and I hear the USA is even more open. I never felt so free," he wrote in the post, which included a photograph of him in Toulouse, France.
Reuters reported on 17 September that Airbus had agreed to cut prices or reschedule delivery for hundreds of jets ordered by AirAsia, citing industry sources. Cirium has not independently verified that report.
Airbus tells Cirium it cannot comment on AirAsia X's restructuring as "the process is ongoing".
Fernandes' post continued: "It's funny actually so much liberty has been taken away during this Covid. So many decisions have been taken away from us. I have become very negative in controls, lockdowns and the like. Maybe there was a time for it but once we get vaccinated it's time to move to [a] freer and endemic world. And people have to evaluate their own risks like any other disease."
The problems at AirAsia X predate the pandemic and its associated travel restrictions, says Sobie, the independent analyst.
"The Covid-related travel restrictions obviously have exacerbated the situation as AirAsia X is entirely an international operator," he says.
"Once international travel restrictions are lifted, it will still have to overcome very intense competition and some of the other issues that it struggled with over the years."
Analysis by Cirium's Michael Allen, with additional reporting by Naomi Neoh