Kingdom will welcome low-cost services from European operator as part of effort to create huge commercial aviation hub
Low-cost carrier Wizz Air recently announced a string of new routes between Europe and Saudi Arabia, in one of the first concrete steps towards the kingdom's ambitious aviation targets, which form part of a wider economic diversification.
The development came after Wizz signed a preliminary agreement with Saudi authorities in May this year to investigate the expansion of airline services to the kingdom under the state's Vision 2030 programme.
That programme outlines ambitions to create a new global aviation hub in the country – which would pitch it against the operations of regional rivals Emirates and Qatar Airways – via the tripling of passenger numbers by 2030, the establishment of a new flag carrier, the setting up of a local aircraft lessor and investment in key infrastructure projects.
And while Saudi Arabia already has its own low-cost carriers in the shape of Flynas' operations from Riyadh and Flyadeal's from Jeddah, the kingdom is keen to tap the expertise of established airlines elsewhere in its bid for more connectivity.
"I see the kingdom as a long-term strategic market for Wizz Air, where we will continue to innovate and carry the flag of low-cost flying for the benefit of Saudi residents and visitors as well as the country's diversifying economy," says Wizz Air chief executive Jozsef Varadi.
DEVELOPING PRESENCE
Moreover, the Wizz chief told Reuters on in late August that the airline is considering applying for an AOC to base an operation in Saudi Arabia. That would complement the Wizz Air Abu Dhabi joint venture with Etihad, which has already given the European carrier a Middle Eastern presence.
In the meantime, Wizz Air estimates that the newly announced Saudi flights will bring an additional 1 million passengers to the country in 2023.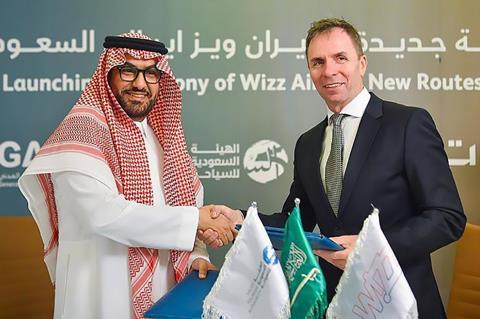 Augmenting already announced services from Rome and Vienna to Dammam, which were due to start in September alongside a Wizz Air Abu Dhabi service to the city, Wizz plans to begin operating a further 20 routes to Saudi Arabia from later this year.
Launching from December through to July 2023, they feature flights from Bucharest, Budapest, Catania, Larnaca, Milan, Naples, Rome, Sofia, Tirana, Venice and Vienna, variously to some or all of Dammam, Jeddah and Riyadh.
The majority of the services will be either once- or twice-weekly, with only Vienna-Riyadh operated thrice-weekly.
Meanwhile, newly established Saudi Arabian lessor AviLease in July identified Flynas as its first customer, to which it will supply 12 Airbus A320neos.
AviLease has been set up by the Saudi sovereign Public Investment Fund.
The company hosted a formal launch event in London during the Farnborough air show.
The dozen Flynas jets will be the subject of a sale-and-leaseback agreement, with deliveries to the Saudi carrier taking place over 2022-23.
AviLease says the launch of the lessor "marks the start of the journey to become a leader in the aircraft leasing market". It says it will have a "critical role" in advancing the Saudi aviation strategy and contributing to Vision 2030.
Indeed, deals for the local lessor and the launch of Wizz services are some of the first steps towards what the country hopes will be an industry transformation that will give it a global standing in airline markets.
INVESTMENT DRIVE
Speaking in May during the country's Future Aviation Forum, Saudi minister for transport Saleh bin Nasser Al-Jasser outlined a government plan to drive more than $100 billion of public and private investment into the country's aviation sector by 2030.
"Over the next 10 years, the kingdom will emerge as the Middle East's leading aviation hub," he predicts.
As part of that effort, "an additional national carrier" will be launched alongside continued operations by Saudia, Al-Jasser says, while the country's two main airports – Riyadh and Jeddah – will receive significant investments.
The new carrier will be based out of Riyadh, with Saudia continuing to operate from its main Jeddah base, reports suggests.
"We forecast to fly more than 330 million passengers in 2030 and 5 million tonnes of freight, establishing connections to more than 250 destinations," Al-Jasser says.
Amid Wizz Air's move into the market, Cirium schedules data shows Saudia and Flynas are operating the vast majority of the kingdom's connections with Europe this year. Data also reflects Saudi Arabia's strong connections to Turkey, with Turkish Airlines and Pegasus offering a range of routes.
Cirium data also shows the scale of the task ahead, if Saudi Arabia is to truly scale up to the size of other Middle Eastern powerhouses. In September this year, for example, there are some 4.9 billion available seat kilometres on services touching Riyadh, versus 18.3 billion on services touching Doha and 29.5 billion on services touching Dubai.
Saudi Arabia's Vision 2030 programme covers the kingdom's entire economy and is aimed at shifting its focus towards non-oil revenues in the coming years, including through the embrace of private investment.