Global passenger levels plummted in 2020 as international travel markets collapsed when the pandemic hit, though Chinese carriers fared better than many aided by a strong recovery in the country's large domestic market
Passenger traffic among the 100 biggest airline groups collapsed by almost two-thirds in 2020, the World Airline Rankings show.
In terms of passengers, the fall was slightly less pronounced at around 60% among leading operators. That reflects the fact that international, longer-haul routes have borne more of the hit from ongoing travel restrictions.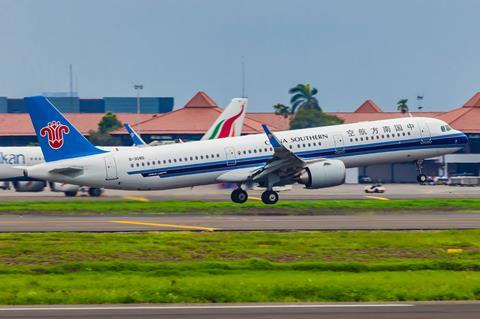 Load factor across these carriers stands at 64% – a figure from a bygone era, after the recent highs of 80%-plus. This reflects not only reduced demand, but airlines operating services in support of repatriation efforts, or to ensure minimum levels of service – in some cases a stipulation of securing government financial support packages – or on routes where lower passenger volumes could be offset by enough cargo demand to make flights cash-positive.
The top seven airline groups in terms of passenger traffic are from China or the USA, illustrating the relative demand and size of their respective domestic markets during the crisis. This was particularly the case in China, which was the first market where domestic capacity returned to and surpassed pre-crisis levels.
China Southern Airlines Group, the seventh-biggest operator in 2019, led the way in terms of passenger traffic in 2020. China Southern is based at Guangzhou, which surpassed Delta's Atlanta hub as the biggest airport in the world last year as well. However, China Southern group passenger traffic was still some 46% down during 2020, compared with 2019.
Biggest airline groups by traffic (RPKs) 2020
Group
State/territory
2020 RPKs (m)
Change v 2019
Source: World Airline Rankings, data sourced from Cirium
China Southern Airlines Group
China
153,442
-46%
American Airlines Group
USA
147,746
-62%
United Airlines Holdings
USA
118,878
-69%
Delta Air Lines Group
USA
118,120
-69%
Air China Group
China
109,832
-53%
China Eastern Airlines Holdings
China
107,302
-52%
Southwest Airlines
USA
87,242
-59%
Air France-KLM
France
81,212
-69%
IAG
UK
72,262
-75%
Lufthansa Group
Germany
69,462
-77%
China's two other biggest operators, Air China and China Eastern Airlines, were the fifth- and six-biggest operators. Nine of the 50 biggest airline groups in the world were from China.
The US majors – American Airlines, United Airlines and Delta Air Lines – were the three biggest airline groups behind China Southern. However, traffic across the three majors was down by at least 60%.
It was European airlines, non-Chinese Asia-Pacific long-haul operators and the Gulf connecting carriers which lost the most ground last year.
The World Airline Rankings, based on financial and traffic data for the 100 leading airlines groups, are published by FlightGlobal and Airline Business using data sourced from Cirium. Click here to download the Top 100 airline groups by revenue and traffic in 2020
World Airline Rankings: How deeply the crisis hit the industry in 2020
1

2

Currently reading

World Airline Rankings: Passenger traffic slides two-thirds in 2020

3

4

5

6