Near-term aircraft availability and attractive purchase terms ultimately drove Allegiant Travel to ditch its all-Airbus-fleet strategy by ordering 50 Boeing 737 Max jets.
The deal, disclosed on 5 January, also highlights the Max 7's pricing edge against the competing A220, one analyst says.
"Boeing had an enormously creative package solution for us, which offers a family of aircraft," Allegiant treasurer Robert Neal tells FlightGlobal on 5 January. "They had near-term availability, which is something that is pretty rare."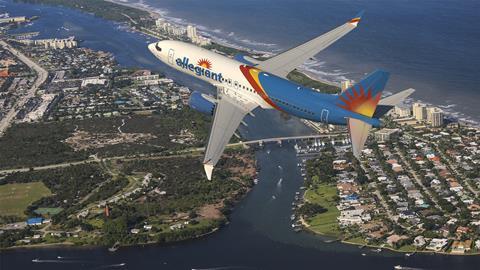 Allegiant Travel, parent of discount airline Allegiant Air, has no intention of switching to an all-Boeing fleet, but intends to continue operating Airbus and Boeing jets, he adds.
The 50-strong 737 order includes 30 Max 7s and 20 of Boeing's high-density 737 Max 8-200, which can carry up to 210 passengers. The airline also took options to buy a further 50 jets.
Deliveries will start in 2023 with 10 jets, followed by 24 deliveries in 2024 and the remaining 16 jets in 2025.
Allegiant's fleet now includes 123 Airbus jets, among them 38 A319s and 85 A320s, all powered by CFM International CFM56 turbofans, according to Cirium data. The airline previously operated a mixed fleet of 757s and McDonnell Douglas MD-80-family jets, but transitioned to the Airbus narrowbodies last decade.
NARROWBODY NEGOTIATIONS
Allegiant spent much of 2021 plotting its next fleet move, negotiating with Airbus, Boeing, CFM and Pratt & Whitney, which makes the A220's PW1500G powerplant.
The competition pitted 737 Max 7s and 8s against A220s and A320neos, Neal says. (The carrier generally does not need the extra capacity afforded by larger narrowbodies like Max 9s, Max 10s and A321neos.)
Capable of carrying 172 seats in a single class, Max 7s compete most-closely with A220s, while Max 8s compete with A320neos.
In the end, pricing, operating economics, engines and aircraft availability tipped Allegiant toward Boeing, Neal says.
Neal calls A220s and A320neos "incredible" machines with per-trip costs comparable to those of the Max. But, he says, Max 7s and Max 8s cost less per seat to operate than the Airbus products, largely because the Boeing jets can carry a handful more seats.
"It was certainty the most-efficient airplane when it came to… unit cost," Neal says of the Max.
He also notes new 737s will still leave Allegiant with a fleet entirely powered by CFM engines.
Availability was also critical to Allegiant's decision, says Neal, adding Airbus has made no secret of being essentially "sold out" for years.
Six or seven years is how long aerospace analyst Michel Merluzeau estimates customers placing orders today will wait.
By contrast, Boeing has been seeking to offload 737s it accumulated during the Max's 20-month grounding, and to rebuilding the Max's reputation. Amid the Max crisis and subsequent pandemic, many airlines cancelled orders, leaving Boeing with more delivery flexibility.
Neither Allegiant nor Boeing have disclosed how much Allegiant will pay for its new Max.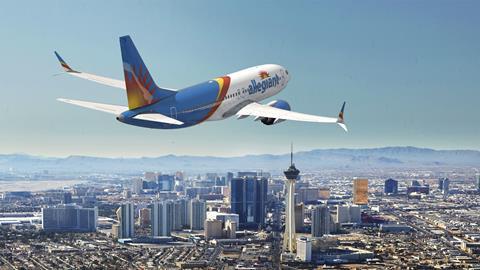 "A Max 7 is certainly going to be cheaper than a 220," says Merluzeau, who works at consultancy AIR.
Since acquiring the A220 programme from Bombardier, Airbus has been vocal about its intention to cut A220 production costs.
A220 production "is too bloody expensive," adds Merluzeau. "There are still fundamental issues with some elements of the pricing."
Cirium pegs the value of a new A220-300 at $36 million and of a new A320neo at $48.6 million. That compares to $44.3 million for a new 737 Max 8. Cirium does not publish values for the Max 7, which remains in the certification process. Boeing plans to deliver the first Max 7 this year.
REPLACEMENTS, EXPANSION
Allegiant will use the incoming Boeing jets for expansion and to replace retiring aircraft.
The carrier first plans to get rid of its 156-seat A319s, which are its least profitable jets, and about 20 of its eldest A320s. Those A320s – which have 156 seats, fewer than Allegiant's other A320s – "are natural candidates for retirement as they come due for their 24-year airframe check", Neal says.
While a dual-type fleet will add some cost to Allegiant's operation, the carrier's unique network will enable it to minimise complexity, says Neal.
Allegiant does not operate hubs but flies out-and-back routes from numerous US airports, with aircraft and crews returning to small bases each night. The carrier can therefore assign 737s to specific bases, keeping the Boeing jets at least partly separate from the Airbus operation, Neal says. "It's more efficient than you might expect."
Story updated on 6 January to specify that Merluzeau thinks A220 production costs are too expensive. Also corrected to note the 737 Max 8-200 can carry up to 210 passengers, not up to 197.