After a traumatic two years for Boeing and its 737 Max programme, some of the airframer's top customers have signed up for hundreds more of the jets, delivering key endorsements as the type returns to service.
Notably, Southwest Airlines' decision, disclosed on 29 March, to replace 737-700s with 737 Max 7s came after follow-on Max orders from key customers Ryanair and United Airlines.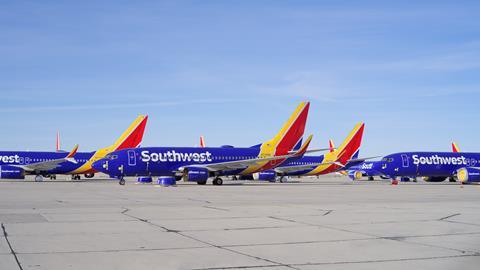 But a further batch of Max order cancellations in March – from the likes of Turkish Airlines and aircraft lessors CDB Aviation and China Aircraft Leasing – again highlight the pandemic's continued impact on the aerospace industry.
Meantime, news in April that Boeing recommended some airlines remove a subset of Max from service pending maintenance related to an unspecified back-up power control system added a fresh setback. While the manufacturer has not specified how many or which aircraft this involves, it appears to impact aircraft delivered after the US Federal Aviation Administration lifted the grounding in November 2020.
The news came as Boeing has been attempting to shift the Max's narrative away from the jet's earlier troubles, which included two fatal accidents and the resulting 20-month global grounding.
A string of airlines have now returned the Max to service, following Brazilian carrier Gol, which in December 2020 became the first operator to restore commercial flights with the type.
Airlines in North and Latin America were by early April operating more than 150 Max aircraft – representing around two-thirds of their combined fleets. However, those carriers' in-service fleets had dipped to little more than 100 Max as of mid-April, as aircraft were temporarily taken from service due to the back-up power issue.
Globally, about 170 Max are back in the skies, with airlines holding another roughly 300 in storage, Cirium shows.
SOUTHWEST BACKS MAX WITH FRESH ORDER
The Max programme's turnaround accelerated in December 2020, when American Airlines became the first US carrier to return the jet to service. United put the Max back into its schedule in February, and Southwest – which holds more Max orders than any airline globally – followed, launching Max flights in mid-March.
Within three weeks, Dallas-based Southwest ordered 100 737 Max 7s, converted orders for 70 Max 8s into orders for the smaller Max 7s, and took options to buy a further 155 Max jets.
The orders, which came even before the US Federal Aviation Administration certificated the Max 7 – Boeing hopes to achieve that milestone this year – bumped Southwest's firm Max order book to 349 jets, comprising 200 Max 7s and 149 Max 8s.
The carrier intends to take delivery of 30 Max 7s annually from 2022 through 2025, and to have 135 in the fleet by the end of 2026.
Southwest already operates 33 737 Max 8s and intends this year to receive another 28 of those, including 19 from Boeing and nine from lessors. But after 2021, Southwest will halt Max 8 deliveries until 2026 while it takes Max 7s, its latest fleet plan shows.
Southwest's broader Max delivery timetable now includes deliveries through 2031, adjusted from through 2026. The incoming jets will replace a "significant" number of the 462 737-700s Southwest expects to retire within 10 to 15 years, it says.
Though Southwest has operated only 737s for nearly all its existence, executives said in recent years they were evaluating other types for a potential order, including Airbus A220s. The degree to which Southwest was seriously considering other types, or to which it intended that message to strengthen its negotiating leverage, remains unclear.
In the end, single-type-fleet benefits pushed Southwest back to Boeing.
"Our refreshed order book with Boeing allows Southwest to preserve the low-cost advantages of a single-fleet type, and the balance of firm orders and options – along with flexibility with 737-700 retirement plans – allows the opportunity to manage our fleet needs over the next decade," said Southwest chief financial officer Tammy Romo.
Southwest's order "brings more stability for our biggest commercial programme and will ensure that our entire 737 family will be building new airplanes for Southwest for years to come", Boeing said. It called the deal "a big vote of confidence for commercial air travel".
Southwest's order closely followed February news that United ordered another 25 737 Max and moved up deliveries of 45 previously-ordered Max jets.
That agreement helped Boeing land more aircraft orders than cancellations in February – the first month since November 2019 that the company's net orders were in positive territory. Boeing landed deals to sell 39 Max in February and logged 32 cancellations, including 15 from WestJet and seven from Panama's Copa Airlines.
March brought a further positive month as Boeing secured net order gains thanks to Southwest's order, Alaska Airlines firming a deal for 23 737 Max 9s and an order from Miami private equity company 777 Partners for 24 737 Max 8s.
However while the 196 orders for Max aircraft booked in March marked a high point for Boeing, the airframer logged a further 156 cancellations for the type. Those included 50 Max cancelled by Turkish Airlines and more than 50 axed by lessors.
NEW EUROPEAN MAX OPERATORS
European carriers too are returning the Max to service after regulators there, in late January, cleared the type's return. TUI Airlines became the first European carrier to restore Max service, in February, followed in March by Icelandair, Czech carrier Smartwings and LOT Polish Airlines.
Romanian budget carrier Blue Air, meanwhile, became a new Max operator at the start of April after taking delivery of the first of 10 of the type from Air Lease. The remaining nine aircraft will be delivered from April through 2022.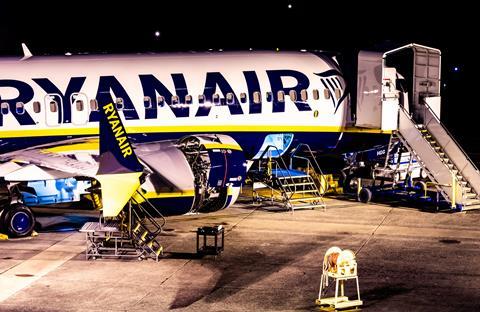 Blue Air will have the largest fleet of new Max 8s in eastern Europe once deliveries are complete, says Air Lease executive chairman Steven Udvar-Hazy.
Ryanair too will shortly become a new Max operator in Europe, having been on the verge of taking its first Max when the aircraft was grounded in March 2019.
The Irish carrier is expected to receive its first 737 Max 8-200 – a high density variant of the 737 Max 8 – in the coming days and to operate 16 of the type by the peak summer travel season. That goal moved closer when European regulators in early April cleared the Max 8-200 to fly. Ryanair is launch customer for the variant, which has an extra pair of exit doors and, in its configuration, will carry 197 seats.
Speaking during media briefing on 24 March, Ryanair chief executive Michael O'Leary said he expects the carrier to receive eight 737 Max 8-200s in April and the same number in May, with no further deliveries planned this summer.
That hesitancy to take more of the type – Ryanair previously talked of receiving 24 by summer – comes as the carrier expects to operate 80% of its pre-Covid capacity in the June-September period, O'Leary said.
"We don't need these aircraft, but we are anxious to get these aircraft delivered so that we can start training our pilots and our cabin crew can get familiar with them, and our customers can enjoy flying in them," he said.
O'Leary has been vocal proponent of the type. In December, shortly after the FAA lifted the grounding, Ryanair firmed orders for 75 Max, bringing its total Max orders to 210.
Boeing may have secured the Max's place with Ryanair. But the troubled state of the airline sector has raised uncertainty about the Max's future with other European carriers.
Chief among those is Norwegian, a critically important Max customer that, prior to the grounding, operated 18 of the jets – more than any European airline. But Norwegian has since embarked on a major restructuring, ditching long-haul operations. Norwegian does not plan to use Max as part of its initial operational ramp up and has not commented on plans beyond summer.
Last year, the carrier said it was cancelling 92 Max orders. Boeing has not actually removed those orders from its books but has shifted an undisclosed number into a special accounting bucket reserved for uncertain sales.
Neither has there been apparent movement by two European customers to firm Max order commitments made during the grounding. Those include Air Astana's commitment to acquire 30 Max for its low-cost unit FlyArystan, and IAG's headline-stealing letter of intent, finalised during the 2019 Paris air show, to buy 200 Max.
"We continue having the option of the 737 Max – it's something that we need to consider for the future," IAG chief executive Luis Gallego said during a February results briefing.
STALLED RESTART IN ASIA-PACIFIC
Progress has been slower in the Asia-Pacific region, home to more than 20 Max operators prior to the grounding.
In late February, Australia became the region's first country to lift the Max's grounding. Days later, New Zealand followed suit, though it stopped short of a blanket approval to lift the grounding.
While no Australian carrier currently operates 737 Max, two foreign carriers – Singapore Airlines unit SilkAir and Fiji Airways – had previously flow the type to Australia. Virgin Australia, meanwhile, has 25 737 Max 10s on order, with deliveries to start in mid-2023.
By early April, signs of the type's return to service became clearer, with the Pacific island of Fiji lifting its grounding of the 737 Max. This meant that national carrier Fiji Airways, which has two 737 Max 8s in storage and another three on order, could soon resume Max operations: the airline operated the aircraft to Australia, and intends to fly them into New Zealand.
Though Singapore authorities have not cleared the Max for commercial flights, Singapore Airlines is preparing for the type's return. The carrier – which has been integrating regional unit SilkAir into its mainline operation – in March began shuttling its six 737 Max to Singapore from storage in Australia, as a cabin retrofit programme gets under way for the type.
The Max also remains grounded in India, where customer SpiceJet is based, and in Indonesia, home to Lion Air, a massive 737 Max customer. Lion Air, which operated the 737 Max that crashed in October 2018, has said little about its plan for resuming Max flights.
Crucially, the Max remains grounded in China, which was the first country to clip the Max's wings after a second fatal Max accident – the Ethiopian Airlines jet that crashed in March 2019. China's civil aviation regulator said weeks ago that it has been discussing with Boeing a plan to restore 737 Max service. However, it added that it remains insufficiently satisfied to clear the jet, leaving China's timeline for lifting the Max's grounding uncertain.
China is a huge market for the narrowbody; at the time of the Max grounding 12 Chinese operators had nearly 100 of the jets in service. Chinese carriers still hold orders for more than 200 of the jets, Cirium data shows.
Analysts agree the Max's long-term prospects in China remain strong because airlines there – indeed, airlines everywhere – will need the narrowbodies to expand in the decades following the pandemic. Boeing's only real current competitor, Airbus, cannot produce enough A320neo-family jets to meet demand alone, analysts say. And while China's domestic aircraft industry continues maturing – notably Comac with its C919 – that jet has not yet been certificated or operationally proven.
Still, Airbus has seemed to gain recent ground. In March, Air China struck a deal to acquire 18 A320neos from GE Aviation Capital Services – the airline's first planned acquisition of the competing Airbus narrowbody. Fleet plans issued at the end of March indicate Air China, which has 16 Max aircraft, will not introduce more from 2021 to 2023.
China Southern Airlines – the country's biggest Max customer with 24 in storage – has likewise provided no update. China Eastern Airlines, however, has hinted at resuming 737 Max deliveries from 2023.
Globally, more than 160 out of 195 civil aviation regulators have opened their airspace to the Max, Boeing says.
TACKLING THE BACKLOG
Had Boeing known the grounding would last as long as it did – for 20 months – the company perhaps would have slowed production much earlier, to avoid accumulating such an immense backlog of jets. Instead, for much of the grounding Boeing continued churning out new Max at a rate of 42 monthly. It finally paused production in early 2020 before restarting lines at unspecified "low" rates later that year.
By the time the FAA green-lighted the Max, the company had stockpiled some 450 produced-but-undelivered jets. Meanwhile, more 737 Max aircraft continue rolling off Boeing's production lines.
Boeing now faces the tough work of getting all those jets into customers' hands as quickly as possible – no easy feat amid a historic industry downturn that has left many airlines in no rush for new aircraft. Boeing has said it expects to clear its stockpile in about two years.
But the company is making progress, having whittled its inventory to about 360 Max jets as of the start of April, according to Cirium fleets data. And in recent months, some airlines have started to express eagerness to take new jets ahead of what executives hope will be a much-stronger summer travel season.
Additional reporting Alfred Chua and Jon Hemmerdinger