At its peak, the coronavirus crisis saw more than two-thirds of mainline passenger aircraft worldwide being parked. How many of the older jets will ever return to service is in question
The rapid spread of the coronavirus around the world in the early months of 2020 created a domino effect on the global airliner fleets. The result was the number of mainline jets in passenger service fell by more than 60% from the start of the year. The idle fleet reached a nadir during April and the gradual process of fleet reactivation recently saw the active mainline fleet back above the idle tally again.
Shipments from the major airliner assembly plants have also severely affected, dropping from a typical 90-100 aircraft a month in late 2019 to an average of less than 40 this year – and that average is a declining one.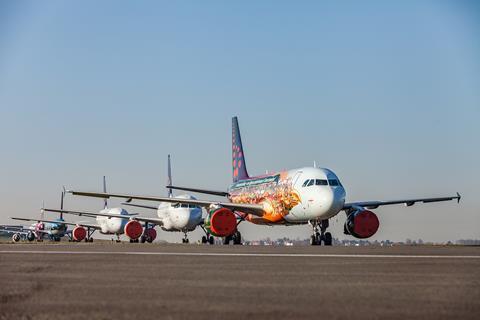 Analysis of Cirium fleets data reveals the impact the virus has had on the operating fleet and deliveries. It also shows that the tide has begun to turn as airlines slowly bring aircraft out of hibernation. But the pace of the fleet's recovery – and airlines' ability to continue with near-term delivery plans – will depend on many factors, not least the relaxation of local restrictions, corporate travel policies and the public's enthusiasm to start flying again.
At the turn of the year, Cirium shows the world's airlines had some 20,200 Airbus and Boeing passenger jets in active service. The size of this fleet plummeted during the first quarter, falling to just 7,400 passenger airliners in the middle of April, before beginning a gradual rise. This was driven by the Asia-Pacific airlines, which were impacted first by the pandemic so were at the forefront of the recovery.
Two-thirds of fleet parked
Cirium data reveals the extraordinary statistic that was illustrated by the many images published in recent months showing parked airliners around the world – at its peak, more than 14,500 (two-thirds) of the global mainline passenger jet fleet were stored.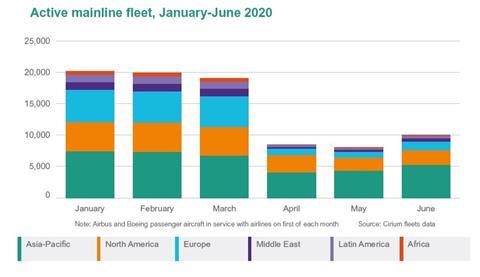 While some fleets are beginning to be reactivated, many thousands of airliners remain stored and a significant proportion may never return. Though the outlook for this metal is not absolutely clear, there is already a groundswell of opinion that relatively youthful examples of aircraft variants that only recently went out of production are likely to be severely impacted.
During an Ascend by Cirium webinar in April, global head of consultancy Rob Morris predicted that "four-engined widebody jets" would be most affected. "The passenger [Boeing] 747 is probably at the end of its line. The [Airbus] A340-600 is also threatened," he said.
Ascend's head of valuations, George Dimitroff said that "mid-life" twin-aisle aircraft such as the Airbus A330, Boeing 767 and 777 classic are "probably more threatened, because as traffic returns we see single-aisles return to service first, followed by twin-aisles".
Morris added that mid-life single-aisles could be "quite threatened as well".
Ascend by Cirium views the "mid-life" category as aircraft in the nine-to-16-year-old age group. Across both twin-aisle and single-aisle sectors, Cirium fleet data shows this category accounts for around a third of the total fleet.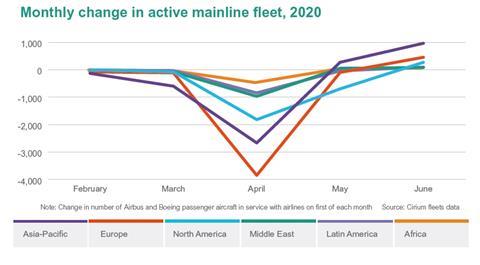 Cirium data also shows that the widebody passenger twinjet group (A330ceos, 767s and 777-200/300 classics, excluding the -200LR/ 300ER) comprises over 640 mid-life aircraft in service or storage around the world. A further 840 of these aircraft are older than 16 years. Asia-Pacific operators have the largest fleet of mid-life widebody twinjets (297 aircraft), while North America has most of the very old fleet (17 years plus) at 362 aircraft.
In the single-aisle category, around 4,700 mid-life Airbus A320ceo family aircraft and 737 classics/NGs are currently in airline fleets. The older-than-mid-life category accounts for another 2,800 aircraft. The Asia-Pacific airlines have the largest fleet of these types, so unsurprisingly account for the most mid-life aircraft (1,634). It also has the largest fleet of younger aircraft (less than nine years) in this category.
Uncertainty around fleet revival is reflected in near-term deliveries. Much will depend on the rate that airlines need to restore capacity and their ability to secure financing. Both Morris and Dimitroff at Cirium believe that financing permitting, airlines should continue with fleet replacement programmes and avoid retaining older aircraft as they restore capacity.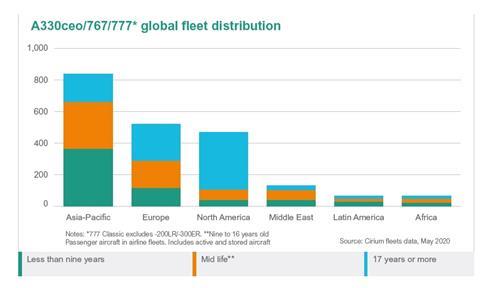 Peter Barrett, chief executive of lessor SMBC Aviation Capital, concurs: "Where interest costs are low and so acquisition costs are relatively low, new aircraft are going to remain competitive relative to older types," he says.
"If you are operating an airplane that in a narrowbody market is giving you a 10-15% benefit or in a widebody market a 20% benefit, even at a lower fuel price, in a challenging market that's going to make a real difference."
Declining deliveries
In the first five months of 2020, Airbus and Boeing delivered 205 commercial airliners, while Embraer delivered a further five. Cirium data shows that Airbus and Boeing's monthly deliveries (commercial aircraft) dropped to just 18 units in April before rising to 25 in May.
Speaking during FlightGlobal's Leasing Leaders on the Aviation Crisis webinar, organised in association with IBA Group, BOC Aviation chief executive Robert Martin predicted that mainline deliveries in 2020 would be "at the lower end of the 600-1,000" range.
Martin says delivery levels this year will not be determined entirely by "the demand side. There are also issues in the supply chain which will also impact the number of aircraft that can be delivered this year," he says.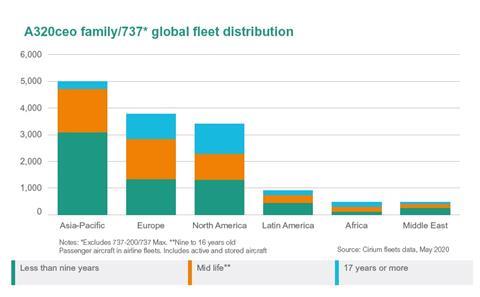 He believes that the sector into which many 2020 deliveries were headed will also influence the ability of airlines to take new aircraft: "On the demand side, a fair number were due to go to the low-cost carriers – the people who haven't been active in the debt capital markets and equity markets during Covid-19," he says.
Martin's forecast suggests that Airbus and Boeing's total deliveries are heading to their lowest levels for 15 years. Back in the 2002-2005 era they were shipping a combined 600-700 aircraft annually. Last year the two companies delivered 1,243 aircraft between them.
With the uncertainty surrounding the return of the Boeing 737 Max added to the equation, a true picture for 2020 is unlikely to emerge until much later into the year.