The airline industry's gradual recovery from the coronavirus pandemic passed a key milestone today when Emirates began returning Airbus A380s to service, initially on services to London and Paris.
The double-decker operated to Heathrow today for the first time since March, when Emirates flight EK001 departed Dubai at 07:45 local time. Emirates has also restarted A380 services to Paris. A second daily A380 Heathrow service will start on 1 August. The airline's global network from its Dubai hub currently comprises 50 destinations, and will extend to 58 cities by mid-August.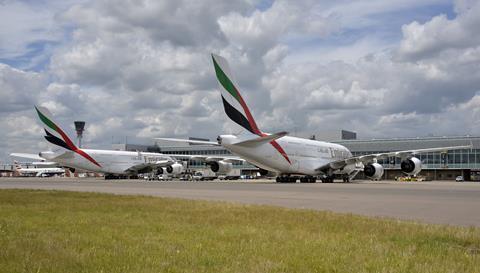 Emirates, like almost every other A380 operator, grounded its entire fleet in March as the pandemic swept around the world. At its peak, the A380 idle fleet accounted for almost the entire installed inventory of around 240 aircraft. Indeed, the only operators to continue regular A380 flights were China Southern (up to five aircraft) and Hi Fly (one aircraft), according to Cirium fleets data.
A380 fleet
Operator
In Service
Stored
Air France
0
9
ANA
0
2
Asiana Airlines
0
6
British Airways
0
12
China Southern Airlines
5
0
DS Aviation
0
3
Emirates
2
113
Etihad Airways
0
10
Hi Fly Malta
1
0
Korean Air
0
10
Lufthansa
0
14
Malaysia Airlines
0
6
Qantas
0
12
Qatar Airways
0
10
Singapore Airlines
0
19
Thai Airways International
0
6
Total
8
232
Source: Cirium fleets data/FlightGlobal (mid-July)
While several A380 operators have decided, in the wake of the crisis, to exclude the type from operations either near term or permanently, Emirates has always been clear that it intended to gradually return the aircraft to service. The airline has 115 A380s – plus eight more on order.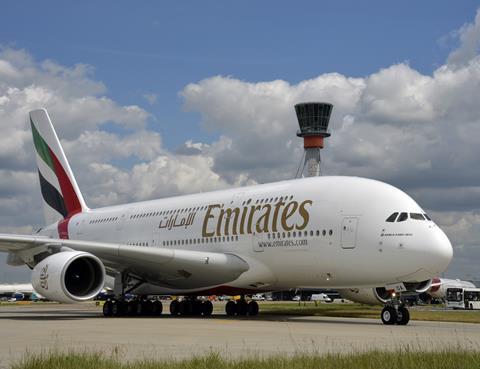 "The A380 has proven to be a hugely successful aircraft and if fuel prices were forever to stay at today's levels, this aircraft is hugely potent," said Emirates Airline president Tim Clark recently.
Air France has accelerated its A380 phase-out, with the type having already been permanently retired from its fleet. Operators such as Lufthansa, Qantas and Qatar Airways have indicated that there will be no early return to service for the aircraft and appear unlikely to ever reactivate their entire A380 fleets.