Norwegian estimates that disruption from the Boeing 737 Max grounding and ongoing issues with the Rolls-Royce Trent engines on its 787 fleet have led to a combined NKr1.7 billion ($183 million) net loss for 2019.
Chief financial officer Geir Karlsen told a financial results briefing on 13 February that the 737 Max grounding generated a net negative effect of "close to" NKr 1 billion.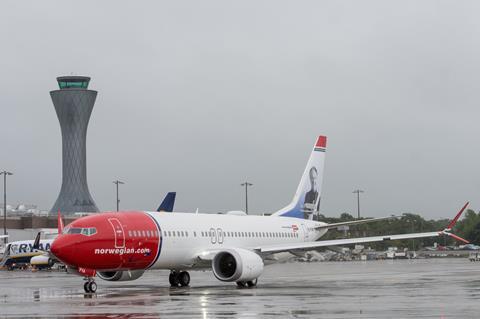 The budget carrier had received 18 737 Max-8s before the aircraft was grounded in March 2019, and Boeing has produced and parked at its facilities another 13 or 14 aircraft for the airline, Karlsen says.
For the current year Norwegian was scheduled to receive 16 aircraft, but Karlsen says that plan is now "completely unrealistic" as the airline does not expect to return its 737 Max jets to service before September at the earliest.
Meanwhile, discussions with Boeing over compensation for the airline's losses as a result of the aircraft's grounding have been delayed.
In December, Karlsen said that he hoped to reach an understanding with the airframer by the end of 2019. Now he says the talks will take at least another six months because the timeline for the 737 Max's return to service is "constantly changing".
Karlsen indicates that Norwegian is considering the possibility of cancelling orders for the 737 Max. As delivery delays for the airline will reach a 12-month limit "very soon," he says the carrier has a right to cancel orders.
Norwegian has orders for another 92 737 Max jets, in addition to the 18 already delivered. The airline plans to use the aircraft to replace its fleet of approximately 100 Boeing 737-800s, Karlsen says. But he warns: "In case the Max's are not coming back or delayed… if something even worse happens with Max's compared to what we know today, then we will just keep on flying the NGs."
With Rolls-Royce, Norwegian has reached an agreement about compensation for disruption caused by the technical issues with the Trent 1000 engine.
Karlsen describes the accord as "not fantastic", but an acceptable solution for the airline.
Norwegian estimates that the disruptions with its 787 fleet generated a NKr750 million net loss in 2019.
Out of 37 Dreamliners in the airline's fleet, 11 or 12 are parked to facilitate engine maintenance, says Karlsen. "These issues will continue into 2020 at least," he adds.
The carrier is scheduled to receive a further four 787s this year, leading to a planned fleet of 41 Dreamliners for both 2020 and 2021.
This analysis was written by Michael Gubisch, part of Cirium's London-based reporting team