Already a luxury of debatable value to many operators before the crisis, the A380 appears even less well-suited to a market featuring depressed travel demand and a focus on cargo
The Airbus A380's fall from favour among its limited group of operators has been unceremonious, to say the least.
Already considered on borrowed time at many airlines before the global pandemic devastated international air travel markets, the double-decker's demise has only been accelerated by events over the past 12 months.
Granted, dozens of Boeing 747s are similarly heading for retirement sooner than expected, but none of those departing -400s could be described as young. In contrast, the superjumbo's exit is supercharged: the A380's exodus from airline fleets is being discussed less than 15 years after its first commercial flight, with many examples barely reaching double figures in terms of age.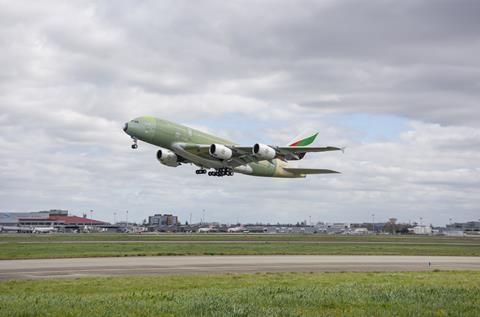 Today, with the last production A380 flying from Toulouse to Hamburg Finkenwerder in mid-March, for completion ahead of its delivery to Emirates, just how long does the type have left in the skies?
Issues with the Airbus jet's utility beyond a few niche markets were already well established before Covid struck, as new-generation widebodies provided network flexibility and superior economics over an aircraft that has proven viable only in limited hub-and-spoke operations.
EMPTY SEATS
Exacerbating that fundamental issue, reduced air travel demand during the recovery from the Covid-19 crisis means carriers are likely to need fewer large aircraft for some time – and the A380 is particularly onerous on the balance sheet when its hundreds of seats are not full.
There is also the type's relatively limited use as a cargo transporter in an industry where the majority of long-haul flying with passenger aircraft is currently being made viable by buoyant freight rates.
Furthermore, carriers with heightened awareness of their environmental impact are unlikely to see a four-engined superjumbo as the answer to any challenges in that regard, with government and wider scrutiny of the airline industry's sustainability efforts contiuning to intensify.
All these factors combine to further decrease the likelihood of a second-hand A380 market opening up, even if values have plummeted. Further damaging prospects in that regard, the high cost of refitting the superjumbo – likely to be a consideration for many carriers as the post-pandemic passenger mix shifts away from business-class travel and towards leisure markets – are a barrier for the type's continued utility.
Amid these issues, the vast majority of the world's A380s remained grounded at the end of March 2021, despite Cirium data showing that 61% of widebody passenger aircraft were in service at that point.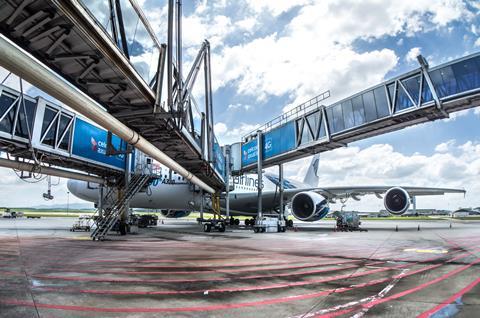 Indeed, of the 233 A380s that were in service on the eve of the Covid-19 crisis on 1 January 2020, just 23 were operating on 31 March 2021.
"I think if all A380 operators could start over with a blank sheet of paper, none of them would have the A380 in their post-pandemic fleet," independent aviation analyst Brendan Sobie says.
That said, formal decisions to remove the type from fleets have actually been few and far between since the Covid-19 crisis began, even if the mood music is incredibly downbeat for the superjumbo.
Air France is the only carrier to have explicitly retired its examples of the type since the crisis began, although Lufthansa has all but condemned its 14 superjumbos to never fly again, without removing them from future fleet counts.
Notably, the German carrier's plans suggest it will retain its 747-8s – some of which have been kept in service through the pandemic – in preference to its similarly aged A380s.
Thai Airways International meanwhile said on 12 March that it was gauging market interest for two of its six A380s.
ATTRACTIVE ALTERNATIVES
For those carriers and others, there are attractive alternatives to operating A380s. And with the recovery of long-haul international travel expected to take some years, many carriers will be tempted to wait out some or all of that period without their A380s, while allowing newer and/or smaller twin-engined types to pick up the slack.
"A look at the order books of erstwhile A380 operators gives a hint of what is to come – most operators are betting on the Boeing 777-8/9, 787 and A350 to power their future long-haul networks," states Arvind Chandrasekhar, associate partner at Lufthansa Consulting. "Many already have the Boeing 777-300ER in their fleets, which can take on the role of long-haul workhorse."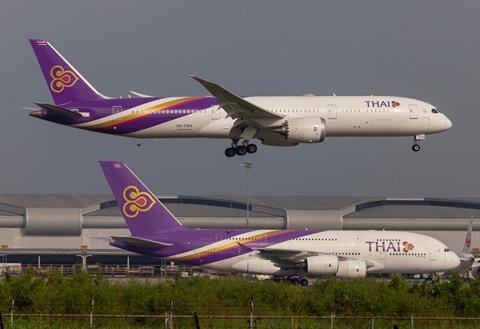 Smaller A380 operators flying older examples "will not bring back the A380 at all, or bring it back for a very brief period", Sobie believes. The age of those aircraft makes it "feasible and even sensible given the current situation… to phase the A380 out, although the costs associated with these early phase-outs are high".
Even airlines that are retaining the type will be at least partially motivated by the fact that the cost of an early phase-out would be "astronomical and therefore it makes sense for them to make the best of a difficult situation and use the aircraft as best as they can for at least five more years", says Sobie.
As this plays out, one of the dominant features of the A380's existence pre-Covid looks likely to persist for the next few years, at least: Emirates will continue to operate by far the largest fleet of the superjumbo.
Before the crisis, the Middle Eastern operator had 115 A380s in its fleet – essentially half of the world's total.
And Emirates president Tim Clark has made it clear that in his view, the airline's pre-pandemic business model still holds up.
Speaking in February, he predicted a future where Emirates is back "using the A380s on the trunk routes, barrelling through from east to west and north to south… with the 777X gradually slipping in to replace the A380s that eventually go and retire".
That could mean A380s being seen in Emirates colours well into the 2030s.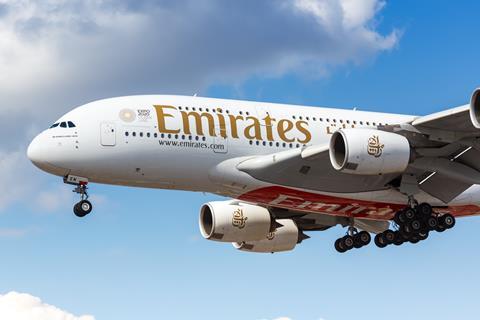 "The A380's USP has always been its ability to connect global megahubs with high traffic volumes – particularly in and out of slot-constrained airports – and the resulting reduction in the cost per seat," says Chandrasekhar. "Some airlines – notably, those in the Middle East – are more reliant on this business model than airlines with large 'local' and point-to-point markets."
Nevertheless, it remains unclear how many of Emirates' A380s will return to service – and at what speed.
In Clark's opinion, there is likely to be a shortage "on the supply side" of medium- and long-haul sectors in the coming years, as the demand side recovers more strongly than industry observers expect – giving Emirates plenty of opportunities to deploy its capacity.
John Strickland, director of JLS Consulting, notes that "the sheer size and scale" of the carrier's Dubai hub "maximises the number of connections it can offer and traffic flows which it can manipulate to fill up large amounts of capacity".
For Strickland, growth markets – particularly in Asia – and "very important" point-to-point traffic to and from Dubai mean "Emirates has a better opportunity than any other carrier to sustain large-scale A380 fleet capacity".
And he suggests that Emirates will be using the current grounding of most of its A380s "to retro-fit its new premium economy cabin to more aircraft", noting that "this will become an important source of high-margin revenue" in the post-pandemic market.
But Strickland also thinks it is too soon to say whether Emirates will restore its entire fleet of A380s, and other analysts concur.
"It remains too early in the recovery phase to determine whether Emirates can rebuild its network and volume," says Rob Morris, global head of consultancy at Ascend by Cirium. "But it is already clear that even if they are able to do so, there will be fewer A380s within the network since there will likely be some permanent loss of demand and thus fewer routes which can support the very largest aircraft in their fleet."
In the view of Lufthansa Consulting's Chandrasekhar, Emirates' ability to deploy A380s profitably "will be low, given the gradual recovery of traffic post-pandemic".
Despite those challenges, it is not just Emirates making positive noises about the A380's fleet role in the coming years.
LARGER MARKETS
British Airways chief executive Sean Doyle said in March that the A380 "works very well in a number of larger markets".
The type is therefore "an important part of our fleet, and at the minute our plans are to obviously fly [it again]", he says, without discussing a timeline.
Pre-crisis, the Oneworld operator's 12 A380s had been deployed to destinations including Johannesburg, Los Angeles, Hong Kong and Singapore.
In Strickland's view, BA's relatively young A380 fleet and its network dynamics mean that the superjumbo is still likely to be useful to the carrier.
"Given the number of high-volume routes which exist out of London and which will likely have a need for a more leisure-focused product in the years ahead, these aircraft could well perform a useful niche role for BA, especially as there are only 12 of them and now with the 747 fleet retired, no other aircraft in the fleet with close to the amount of capacity which they offer," he states.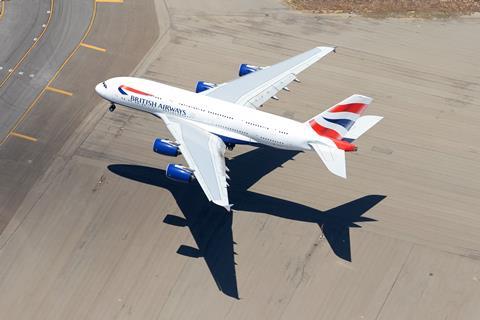 Elsewhere, fellow Oneworld operator Qantas has said that it is likely to fly its A380s again – but not for some time.
Speaking in early February, the Australian carrier's chief executive Alan Joyce said that while all 12 of the airline's double-deckers "are sitting in the Mojave desert… we do think, if you look at the Qantas network, there are going to be opportunities to deploy those aircraft".
"If you've ever been in LA between 10pm and midnight, you see six or seven Qantas aircraft departing for Australia, because it's the only time that works with curfews," he says.
"So, instead of flying multiple frequencies right on top of each other, an A380 that's fully or nearly fully written down, if it generates cash, will absolutely work."
He also cites the potential for A380s to return at "airports that have slot restrictions like Heathrow".
Having been "written down… a couple of times", the A380's burden on Qantas' balance sheet has also been reduced.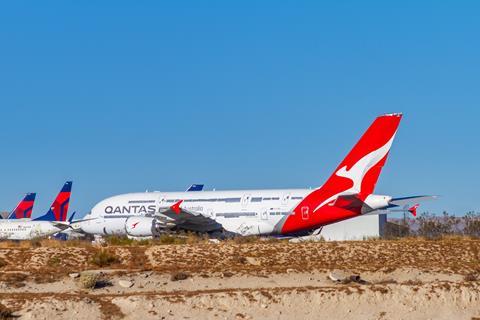 Joyce adds: "So we do believe that there's a need for that fleet and we do believe that it's going to generate cash, and it's all going to be about cash when we start up international".
For Qatar Airways, however, the A380's economics have become a limiting factor under any scenario.
The Middle Eastern carrier's chief executive Akbar Al Baker said in January that the airline only plans to retain five of its 10 Airbus A380s as it recovers from the Covid-19 crisis, with all of its examples of the type grounded for the "foreseeable future".
Al Baker cited the superior economics – and so lower environmental footprint – of the A350s and 787s in the Oneworld carrier's fleet versus those of the Airbus superjumbo.
"Even when we operate [our A380s], we will only operate half of the numbers we have," Al Baker states.
Al Baker and Qatar Airways have been particularly outspoken on the type's environmental impact – perhaps with one eye on the type's dominance in the fleet of rival Emirates.
In July 2020, Qatar Airways released analysis showing that its A380s emitted 95% more carbon dioxide per block-hour on its Melbourne, New York and Toronto routes than its A350s, and an average of 80% more across all services.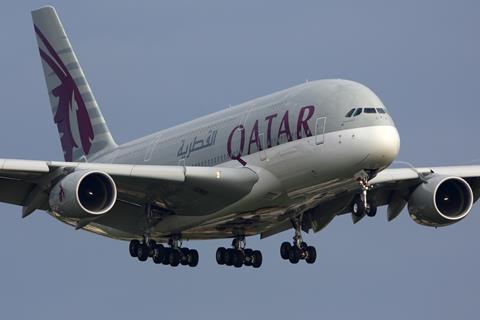 "The [A350s] and [787s] are very efficient airplanes when it comes to emissions, especially the [A350-1000]," Al Baker states. "We never expected that aircraft to [reach] the efficiency that it has today."
He describes the A380 as "one of the worst aircraft, when it comes to emissions, that is flying around today".
Al Baker's assessment reflects the fact that the A380 belongs in the same class as several older-generation types when it comes to CO2 emissions – an issue that would no doubt have been at least partially addressed if a long-discussed re-engining programme had not failed to get off the ground.
Richard Evans, senior consultant at Ascend by Cirium, tells FlightGlobal that the A380's fuel burn and CO2 emissions are "in the same class as the 777-300ER, 747-8 or A340-600 in terms of CO2/RPK", based on the current average seat count of 501.
"If flown with more seats, the aircraft would have lower specific emissions," he states.
Indeed, Strickland notes of A380s that "one argument in their favour, in this respect, is their high capacity and therefore ability to substitute for multiple frequencies on certain routes".
EMISSIONS ADVANTAGE
But Evans explains that newer twinjets such as the A330neo, 787 and A350 have "roughly 15-25% lower emissions per RPK", while they also "carry more cargo than an A380, so on a per RTK basis would be even better".
In the view of Chandrasekhar, "concerns about sustainability" will only nudge the A380 "closer to the end". Rather, "the primary argument for the phase-out of the A380s is likely to be the poor [economics]".
Indeed, the A380's poor commercial story is compounded by its lack of freight capacity.
Malaysia Airlines – which has for years struggled to find a role for its six examples of the type – operated some A380 cargo flights in the early months of the pandemic, but most carriers have focused such operations on their twin-engined widebodies.
Fundamentally, the superjumbo's supersized passenger cabins are not matched by a similarly impressive cargo capacity, when compared with other widebodies.
At the same time, the option to increase the A380's cargo capacity through seat-loading comes with strict constraints on what goods can be carried in the passenger cabin, weight restrictions and access issues, particularly when it comes to the type's upper deck.
And cargo-focused airports are unlikely to have invested in the infrastructure to accept A380 flights.
Hi Fly's decision to convert its ex-Singapore Airlines A380 – the only example of the superjumbo finding a second home – to a cargo configuration last year was followed only months later by the Portuguese wet-lease operator announcing that it would withdraw the jet from service completely.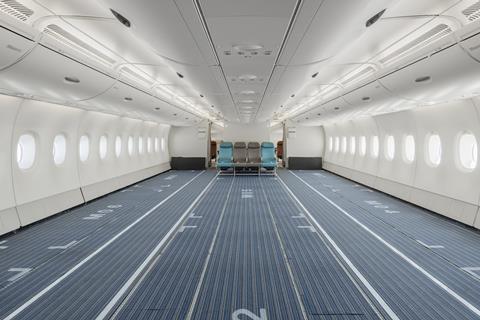 "It is not a good sign that only one A380 found a second home to date, and even that did not survive the impact of Covid-19," says Chandrasekhar. "Attempts to reconfigure the aircraft to a freighter have proven very challenging."
Of the chances for further second-hand sales of the type, most industry analysts suggest that such opportunities will be few and far between.
Rather than returning to service with other carriers, Sobie reckons most retired airframes are likely to end up as spare parts.
"There will be a lot of aircraft parted out, which will help support the remaining fleet and perhaps make it a bit less expensive for the likes of Emirates, [Singapore Airlines] and Qantas to operate the A380," he states. "I think what you will see is some airlines such as SIA opting to pursue part-out solutions themselves rather than sell the aircraft at a very cheap price and have to buy back the parts later at a potential premium."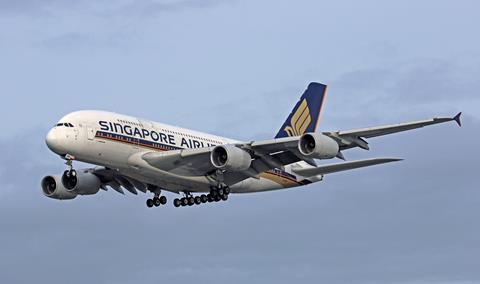 Ascend by Cirium's Morris says "the secondary market for such a large aircraft as the A380 would always be extremely challenging", with few aircraft expected to serve with carriers beyond the initial operators.
What was not expected, however, was the "dramatic demand dislocation" that is causing operators to remove aircraft from their operational fleets early.
Morris continues: "Curiously, the pandemic may in the fullness of time permit a few aircraft to transition, since A380 values have been driven down so quickly.
LIMITED OPPORTUNITIES
"This may mean that in a post-pandemic world the few operators who can support such large aircraft in their network may see opportunities to acquire the aircraft at very low price and then complete reconfiguration and maintenance."
He suggests that BA may "pick up one or two examples" on the second-hand market, at some point.
The consensus among analysts is, however, that while the A380 will be seen in some markets for the next few years, the focus will be very much on ramping down fleet sizes.
"A relatively small number of A380s are likely to continue operating for several years and I think some passengers will continue to seek these out, particularly given the remaining aircraft will have the latest inflight products," says Sobie.
The aircraft will be deployed on "high-density, slot-constrained routes in markets that recover fast or are so large even with a bit of a reduction [that] filling an A380 is feasible".
According to Chandrasekhar, the A380s that survive the Covid-19 crisis will be reduced to operating "some service on selected routes over the rest of this decade as global air traffic recovers".
But he concludes: "A decade from now, we may see more A380s in aviation museums than in commercial passenger service."
What are A380 operators saying about the superjumbo's future?
Air France (nine A380s in pre-pandemic fleet): The SkyTeam carrier announced in May 2020 that it would retire its A380s immediately, rather than in 2022 as previously scheduled.
ANA (two): The operator took delivery of its third and final A380 in October last year and immediately placed it into storage.
Asiana (six): With the Star Alliance carrier in the process of merging with compatriot Korean Air, details on future fleet plans have been sketchy.
British Airways (12): Chief executive Sean Doyle says the type has a future with the Oneworld carrier, with no retirements announced.
China Southern (five): The airline said in April that it is reviewing the future of its A380s amid concerns about the slow recovery of international travel, citing the type's excessive size and high operating costs.
Emirates (115): President Tim Clark says the type will play a key role for some time.
Etihad Airways (10): Chief executive Tony Douglas was quoted in UAE media in early March as saying it was "very likely that we won't see [A380s] operating with Etihad again".
Hi Fly (one): The Portuguese wet-lease operator last year announced it would withdraw its former SIA A380 from service.
Lufthansa (14): The German carrier has not explicitly said its A380s will not fly again, but has repeatedly downplayed chances of a return.
Korean Air (10): See Asiana.
Malaysia Airlines (six): The carrier's plans for its superjumbo fleet, which at one point included a special pilgrimage unit, have been in limbo for several years amid the airline's financial travails.
Qantas (12): Chief executive Alan Joyce has said the type is likely to fly in Qantas colours once a recovery in international markets is sufficiently advanced.
Qatar Airways (10): The Oneworld carrier's chief executive Akbar Al Baker has indicated that the operator will retain half of its A380s, but even those are unlikely to fly for several years.
Singapore Airlines (19): The Star Alliance carrier said in November last year that seven of its 19 A380s would not return to service. It later confirmed that a cabin upgrade programme would continue for the four aircraft in its remaining fleet of 12 jets that were yet to gain the new configuration.
Thai Airways International (six): Reports suggest a wider restructuring of the airline is likely to see A380s removed from Thai's fleet permanently. The carrier was recently "gauging market interest" in the acquisition of two of its superjumbos.