Three years after the global grounding of the Boeing 737 Max fleet began and more than a year into the type's return to service, there are more than 500 examples undertaking commercial operations around the world.
Despite recent setbacks – notably when it comes to Airbus narrowbody orders from Qantas and KLM – the Boeing programme has enjoyed some brighter times since Gol completed the first post-grounding flight in early December 2020.
But the status of the 383 CFM International Leap-1B-powered Max jets – 368 in service, 15 in storage – that were part of airline fleets in March 2019 helps to tell the story of a turbulent few years for the Boeing programme and the wider industry.
That story takes in regulatory challenges, airline failures, fleet restructurings, Covid-19 impacts and more besides.
So, where are those jets today?
In total, by late February 2022, 230 of the 383 Max aircraft that had been delivered to carriers by 9 March 2019 had re-entered service, according to FlightGlobal analysis of Cirium fleets data.
Evolution of Max fleets at operators of the type in March 2019
Source: FlightGlobal analysis of Cirium fleets data. Note: Data pulled on 22 February 2022. Data covers Max 8s and Max 9s.
Does not include operators that took Max jets for the first time post-March 2019 (see table below).
*Includes five ex-Jet Airways examples. **Transferred to parent Singapore Airlines
Operator
Status on 9 Mar 2019
(in service + storage)
Status of those jets
on 22 Feb 2022
Total Max fleet
on 22 Feb 2022
Southwest Airlines
34
34
69
American Airlines
24
24
42
Air Canada
24
24
32
China Southern Airlines
24
0+24
0+24
Norwegian
18
0+8
0+9
Air China
15+1
0+16
0+16
United Airlines
14
14
46
WestJet
13
13
14
SpiceJet
13
11+2
11+2
Turkish Airlines
12
12
25
flydubai
13+1
14
26+1
Shanghai Airlines
11
0+11
0+11
Hainan Airlines
11
0+11
0+11
Lion Air
10
0+9
0+9
Xiamen Airlines
10
0+10
0+10
Smartwings
7
7
7
Shandong Airlines
7
0+7
0+7
GOL
7
12*
28
Aeromexico
6
6
30
SilkAir
6
6**
9+2
Copa Airlines
6
6
16
Oman Air
5
5
8
TUI UK
14+1
15
30
Ethiopian Airlines
5
0+4
0+4
Shenzhen Airlines
5
0+5
0+5
LOT Polish Airlines
5
5
5
Aerolineas Argentinas
5
5
5
Icelandair
4+2
5+1
8+3
Thai Lion Air
3
0+3
0+3
Sunwing Airlines
3
3
6
China Eastern Airlines Yunnan
3
0+3
0+3
Air Italy
3+2
0
0
Lucky Air
3
0+3
0+3
Cayman Airways
2
2
4
S7
2
0+2
0+2
OK Air
2
0+2
0+2
Royal Air Maroc
2
1+1
1+1
Eastar Jet
2
0
0
Kunming Airlines
2
0+2
0+2
Enter Air
2
1+1
1+1
Fuzhou Airlines
2
0+2
0+2
Fiji Airways
2
2
5
MIAT - Mongolian Airlines
1
0+1
0+1
9 Air
1
0+1
0+1
Comair (South Africa)
1
0
0
Garuda Indonesia
1
0+1
0+1
Mauritanian Airlines
1
1
1
Corendon Airlines
1
1
1
SCAT
1
1
1+1
Jet Airways
0+8
0
0
All operators
368+15
230+130
431+137
The biggest factors affecting the in-service total of that original group – pulling it in both directions – are the continued grounding of the type by Chinese airlines and a bias towards airlines in the Americas in the remaining fleet.
Much of that dichotomy is down to the gap of more than 12 months between regulatory authorities in key Americas markets and those in China clearing the type to return.
In the USA, where the FAA cleared the Max to fly again in mid-November 2020, dozens of the type came back into service with airlines that have recovered from the pandemic ahead of wider trends, including American Airlines (24 in service pre-grounding), Southwest Airlines (34) and United Airlines (14).

On the other hand, of the almost 100 737 Max jets operated by Chinese carriers in March 2019, none had returned to service by late February 2022, despite their home country having lifted the ban on Max operations in December 2021.
Carriers including China Southern – which was one of the biggest pre-grounding operators with 24 examples in its fleet – and Hainan Airlines (11 Max jets) did, however, complete readiness flights earlier this year, suggesting that situation could change soon.
Telegraphing that return, Boeing said in mid-February that its 737 Max completion and delivery centre in Zhoushan, China, is ready to support deliveries of the narrowbody when they resume to the mainland.
The number of Max jets in storage globally in late February – 130 of the original 383 aircraft – is further explained by the continued grounding of fleets at other operators, notably including those of the two carriers central to the 737 Max story: Lion Air and Ethiopian Airlines.
In the case of the latter, its four Max jets have begun to re-enter service – but not enough for them to register as "in-service" in Cirium data by late February – with the Addis Ababa-based operator slowly bringing its examples back into action over the coming weeks and months.
In Indonesia, a Lion Air Max completed a readiness flight in January 2022, following the local regulator's lifting of the grounding in December 2021. It is unclear, however, when Lion Air plans to resume commercial operations with its nine examples of the type.
The in-storage total is further explained by Norwegian having taken its 18 examples out of service amid a restructuring of the business over the past two years as the Covid-19 crisis hit an already struggling carrier, with Cirium data indicating 10 of those jets are back in lessor possession. (Eight are still assigned to the carrier's Swedish unit, Cirium data says, although the airline's official line is that it has removed all Max jets from its fleet.)
Globally, 18 of the original 383 aircraft are back in lessor possession without new operators, Cirium data shows, on top of four being in Boeing ownership.
That leaves 360 of the 383 jets still with airlines in late February 2022, when the loss of Ethiopian Airlines airframe ET-AVJ on 10 March 2019 is also taken into account.
SWITCHING OPERATOR
Therefore, despite the upheaval in the airline industry since March 2019, remarkably few of the jets that had been delivered to airlines three years ago have new operators today. And even fewer have seen service with more than one airline.
Brazilian low-cost carrier Gol has five ex-Jet Airways 737 Max 8s in its fleet, but only two of them actually saw service with the grounded Indian operator prior to its financial collapse in the spring of 2019. The other three were delivered to the carrier but went straight into storage.
Elsewhere, one ex-Norwegian 737 Max 8 is due to enter service with compatriot Flyr later this year, while Latvian charter operator SmartLynx is due to take two jets that saw service elsewhere: one ex-Lion Air example and one ex-Jet Airways unit.
Six jets that were in service in March 2019 have received a new livery for a different reason: they were operated by regional carrier SilkAir but are now adorned with a Singapore Airlines livery following the former's merger into the group's mainline unit.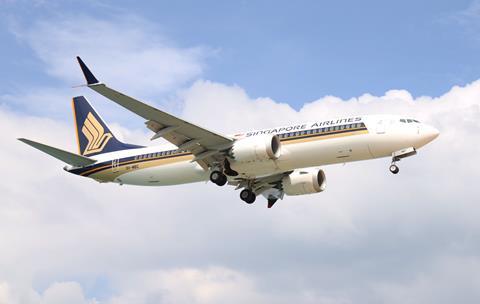 Elsewhere, one airline that operated 737 Max jets in March 2019 has ceased operations entirely.
Air Italy had five Max jets in its fleet, Cirium data shows, although only three of them entered commercial service. Of those aircraft, three are in storage today under lessor ownership, while two are back in Boeing ownership, the relaunched Meridiana having taken the aircraft via shareholder Qatar Airways.
A few carriers that were Max operators in March 2019 are no longer flying the type – for the time being, at least.
South African carrier Comair's single 737 Max – which flew in British Airways colours under a franchise agreement – is back in Boeing ownership, although the carrier retains orders for five of the type.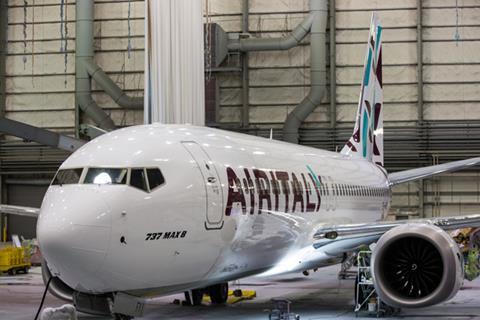 The two Max jets operated by troubled South Korean low-cost carrier Eastar Jet, meanwhile, are similarly back in Boeing ownership, although the operator retains orders for four of the type, according to Cirium fleets data.
The vast majority of the 737 Max jets that were delivered by March 2019 are, then, still with the same airlines – whether in storage or in service.
Notably, several of those airlines have added significant numbers of Max jets to pre-grounding fleets over the past 12 months or so.
That helps to explain why, despite only 230 of the pre-grounding Maxes being back in service in February 2022, some 527 were in service overall. The latter number is, of course, also boosted by new operators of the type, which account for around 100 units.
Operators in February 2022 that did not have Max jets pre-grounding
Operator
In service + storage
Ryanair Group
52
Alaska Airlines
13+1
SunExpress
9
Flair Airlines
9
Blue Air
5
Neos
4
Caribbean Airlines
2+4
Flyr
1
Korean Air
0+1
Lynx Air
0+1
Belavia
0+1
Total
95+8
Source: Cirium fleets data. Notes: Data pulled on 22 February 2022.
Includes Max 8s and Max 9s
Southwest Airlines, which was the biggest Max operator pre-grounding, has held on to that accolade, more than doubling its fleet of the type to 69 examples by 22 February 2022, according to Cirium data, in a top 10 list that is dominated by carriers from the Americas.
Close behind, however, is an operator that only began taking Max jets in September 2021: Irish group Ryanair. On 22 February 2022 it had 52 Max jets in its fleet, split between the mainline operation, Buzz and Malta Air, Cirium data shows.
United Airlines is the third biggest operator with 46 Max jets (+32 from its pre-grounding fleet), followed by American Airlines with 42 (+18) and Air Canada with 32 (+8).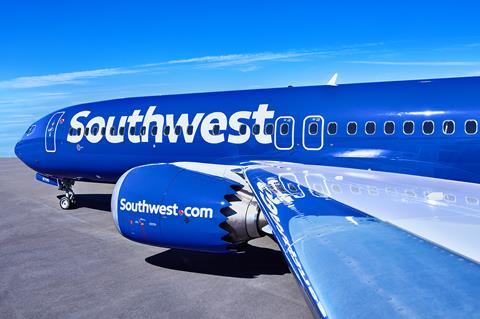 Latin American carriers have been among the most aggressive in terms of adding Max jets to pre-grounding fleets. Despite its financial restructuring, Aeromexico's fleet numbered 30 on 22 February – a rise of 24 since the global grounding – while Gol's fleet numbered 28 – a rise of 21. And Copa Airlines had 16 Maxes in its fleet in February, up from six when the grounding began.
Elsewhere, European leisure group TUI has doubled its fleet on the same basis, from 15 to 30, while Turkish Airlines has more than doubled its roster from 12 to 25 units.
FlyDubai is another to have added significant units, with 27 Max jets in its fleet on 22 February, up from 14 when the type's grounding began.
Alongside Ryanair, other carriers to have taken on Maxes for the first time post-grounding include Alaska Airlines, Canadian low-cost carrier Flair Airlines and Lufthansa-Turkish Airlines joint venture SunExpress. In the case of the latter, its German unit was set to take Max 9s, but the type's grounding and the unit's liquidation in the first months of the Covid-19 crisis put paid to that plan, with the Turkish unit now taking Max 8s.
NORWEGIAN RETURN
In the near future, the Max programme is going to see the first example of an airline removing the type from its fleet, then bringing it back in, as Norwegian readies to take Max 8s again for the upcoming summer season.
That is one of many indicators that the 737 Max programme has, undoubtedly, regained momentum over the past year or so.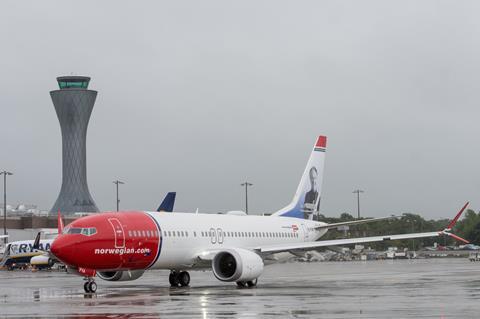 With concerns about the type's safety addressed, its strategic importance to many carriers is increasingly evident.
Of course, the data analysed here does not consider the fate of the long list of Max jets that were close to delivery in March 2019 and had, perhaps, already received the paintwork of a particular carrier, or the hundreds of Max jets on order.
But analysis of that pre-grounding fleet of jets helps to demonstrate how a core group of operators has kept its faith in the type and is driving a rapid increase in the in-service fleet – a group that will expand significantly when Chinese carriers bring their examples back into service and start taking new deliveries.