While the move by Etihad Airways to return Airbus A380s to service for the first time since the pandemic is a means of increasing capacity options, it also reflects the Middle East carrier's renewed growth ambitions.
Etihad on 25 July restored the first of a planned four A380s to service after a more-than-three-year hiatus, deploying the jet on its Abu Dhabi-London route.
The airline had grounded its 10 A380s indefinitely in April 2021, parking them as part of wider action when Covid-19 hit a year earlier. The type has now secured an unexpected stay, as strong demand convinced the airline that restoring some A380s to service will be "financially viable".
"It's a great opportunity to reinvest capacity into [the] London-Abu Dhabi [route]," Ed Fotheringham, Etihad vice-president Europe and the Americas, tells FlightGlobal after the ultra-large jet landed at Heathrow. "As we return from the pandemic, there is a huge amount of growth across the world, and one of the great options Etihad has is bringing back the A380 on a high-capacity route like London-Abu Dhabi."
Fotheringham says Etihad can use A380s to add flights on existing routes and to launch service to new destinations.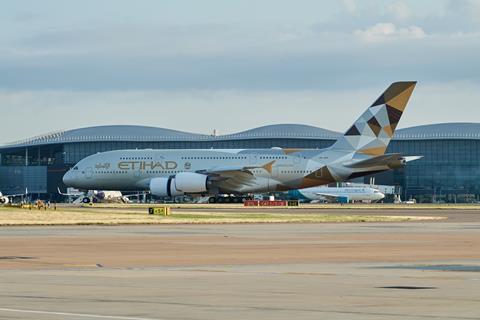 Etihad is not the only carrier to have given A380s an unexpected reprieve as a means of tackling post-pandemic aircraft-capacity shortages.
Fellow Gulf operator Qatar Airways did likewise in late 2021, partly to fill capacity lost to the grounding of some of its Airbus A350s. German carrier Lufthansa similarly brought A380s back in June after a three-year grounding. While Lufthansa is only flying some of the A380s – it plans to return up to six – it is deploying them on several routes from Munich, including, for the first time, to Bangkok.
By contrast, Etihad has only announced plans to use A380s on its Heathrow route. The airline plans to return a second A380 next month, and by November to have switched Boeing 787s for A380s on its four daily London flights.
Deploying the A380s, which seat 486 passengers in Etihad's configuration, significantly increases its capacity. The Airbus jets carry about 150 more seats Etihad's its two- and three-class 787s.
Fotheringham is confident demand is sufficient to fill A380s to and from London. "Post-Covid, we are seeing very robust demand," including for connecting flights through Abu Dhabi to destinations in India, Southeast Asia and elsewhere in the Persian Gulf region.
"We are revising some of our connection times. We are up-gauging some of the aircraft. We are getting better utilisation out of our fleet," he says. "That is offering the feed to go into the A380s and taking our customers where they want to go... Hence, you see additional frequencies to places like Manila, Jakarta, Bangkok and Japan."
Etihad's A380s have its three-room "Residence" suite alongside nine first-class and 70 business-class seats. It also features 405 economy seats, including 68 with additional legroom.
"Customers... want to fly on it," says Fotheringham. "In the premium cabins, the experience is just phenomenal, and being able to utlise that capacity as an airline is just a great opportunity to both make more money [and] be able to delight the customers onboard."
Etihad will redeploy the 787s elsewhere across the network. "That might be increasing frequency– like Frankfurt going from seven to 10 [flights per] day, because there is the opportunity. But there is also the untapped market – like Lisbon," he says. Etihad is "using our aircraft with agility to maximise, both for the customer and sustainability".
Etihad started thrice-weekly service to Lisbon in June using 787s. Initially added as a summer-only route, it will now operate the flight year-round. "It has been one of the most-successful route launches that Etihad has had, hence why we are moving that to a year-round service," Fotheringham says.
"As we move into the winter schedule, it allows the 787s... to return to Dusseldorf, four years after we left, [and to add] the new destination of Copenhagen," he adds. Etihad also plans to send 787s to Osaka, its second Japan destination.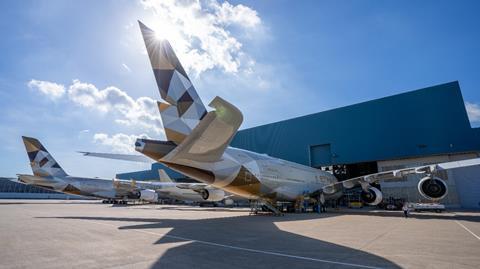 Fotheringham would not say if the carrier might return more A380s to service, nor how long the type might remain in active duty with the airline. But he does note ambitions highlighted by chief executive Antonaldo Neves, who has talked about Etihad doubling its fleet by 2030, part of a plan to grow again after consolidation following the collapse of its equity-alliance strategy.
"Right now, it is about, how do we release that extra part of flying?" he says. "As we continue to grow over the next seven years, the question is, what kind of capacity do we need, and where do we need to send our aircraft? And what delays are we having from the manufacturers for bringing in our new efficient aircraft? There is significant growth there, so we need as many planes to connect to those destinations," Fotheringham adds.