The proposed joint venture between All Nippon Airways and Singapore Airlines could offer substantial benefits to both Star Alliance carriers.
The chief executives of the two airlines, Yuji Hirako of ANA and Goh Choon Phong of SIA, announced the plan at a joint press conference at a Tokyo hotel on the last day of January. This followed media reports earlier in the month that the two wanted to work together more closely.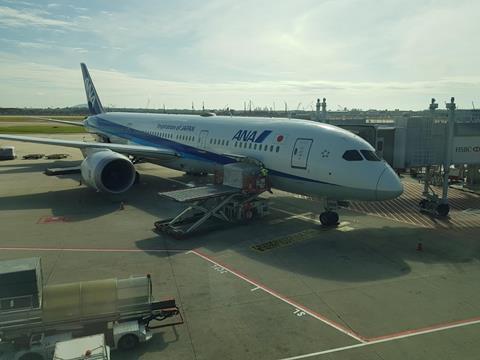 The event was overshadowed by the novel coronavirus outbreak, which has rocked the region's airlines with flight cancellations and in some cases bans on new visitors from Mainland China. Half the questions posed to the two executives had to do with how the two carriers are dealing with the situation.
Nonetheless, the pair hope to get regulatory approvals in various jurisdictions by the end of the year, according to Hirako. Key areas the revenue, metal-neutral joint venture will target include Japan-Singapore routes and Japanese domestic destinations. Other markets include Australia, India, Indonesia, and Malaysia.
The SIA Group dominates traffic between Singapore and Japan. Cirium schedules data show that in January 2020 it deployed a total of 234,000 seats on Singapore-Japan routes, with mainline SIA operating 219,000 seats and low-cost arm scoot 15,000. Overall, this comprises 66.8% of all capacity on the route, spread over 362 monthly services.
Far behind, in second and third place, are ANA, with 46,000 monthly seats spread over 186 services, and Japan Airlines, with 44,000 seats spread over 93 services.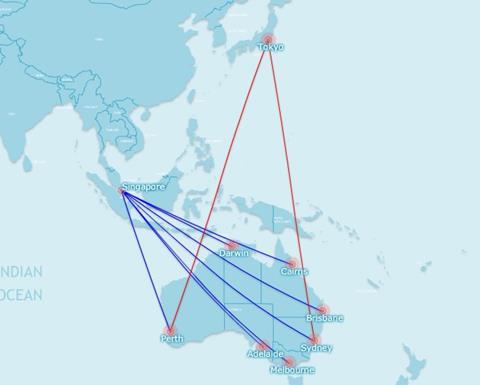 ANA has an extensive domestic network in Japan, which the joint venture hopes to leverage. SIA, for its part, has deep networks in Australia, India and Indonesia. SIA's Goh points out that SIA is the biggest operator to points in Australia after the country's domestic airlines.
ANA lacks depth in these markets. In Australia during January 2020, it operated daily services on two routes: Tokyo Narita-Perth and Tokyo Haneda-Sydney, for a total of 124 sectors. During the same month the SIA mainline carrier served seven Australian cities and operated 1,195 sectors.
SIA is in a similarly strong position in in Indonesia and India compared with ANA. In Indonesia, ANA only operates to Jakarta, with one daily flight from Haneda and one daily flight from Narita. As for India, ANA has just three destinations, compared with eight for SIA and Silkair.
"After departing in Japan [the JV] could minimise the connection time in Singapore, allowing customers to fly to areas beyond Singapore," says ANA's Hirako.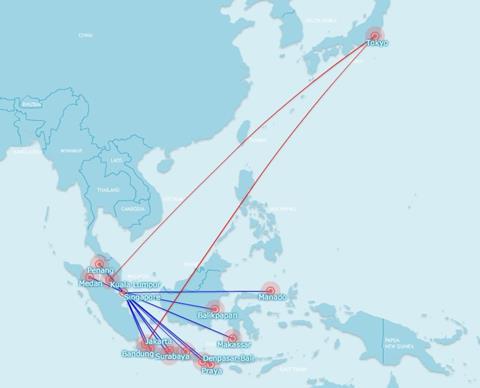 One potential wrinkle is ANA's extensive joint venture with United Airlines, which also covers ANA's services to Singapore. United dropped its remaining Narita-Singapore service when it launched its second direct San Francisco-Singapore service, but ANA also earns revenue on these direct USA-Singapore flights. The United joint venture also precludes the SIA-ANA joint venture looking at the US market.
"For [North America] we have exclusivity between [ANA and United] in the JV, therefore a third party, in other words Singapore Airlines, cannot be part of that joint venture," says Hirako. "The scope of the joint venture with Singapore Airlines will cover the area from Japan and beyond coming from North America."
Although United no longer flies from Tokyo to Singapore, it is a major player on USA-Japan routes. United deployed 245,000 seats on USA-Japan routes in January, followed by JAL with 236,000 seats and ANA with 227,000.
Irrespective of the United situation, ANA and SIA have highly complementary networks. During the Tokyo briefing SIA's Goh mused that people may wonder why it did not take place sooner.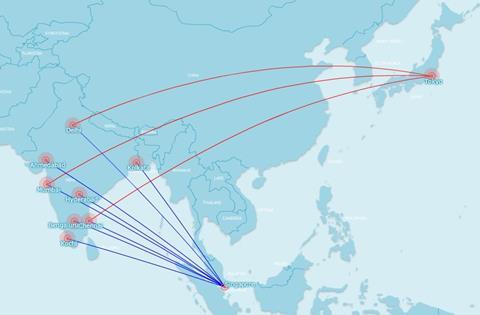 Goh also confirmed that SIA has gained traffic rights to operate Japan-USA routes, but says this is a separate issue.
"It's true that we have been granted rights to operate from Tokyo to New York," he said. "I have to stress that this is an independent development from our joint venture cooperation with ANA today. It gives SIA flexibility in employing capacity to New York. However, no decision has been made on exercising this traffic."
Independent analyst Brendan Sobie believes that the joint venture initiative is a positive development for both ANA and SIA.
"The JV is a sensible expansion of their partnership and will benefit both airlines in what is an important market for both," he says.
"Unfortunately the JV cannot include the US market due to the pre-existing and deeper JV between ANA and United. Managing overlapping JVs is always tricky and the fact the United-ANA JV includes Singapore with Competition and Consumer Commission of Singapore approvals made it difficult for ANA and SIA to pursue a JV earlier."